The Toppserien picks up where it left off last week in round 11, with another weekend of incredible significance.
A huge game at the very top and an equally big game at the very bottom; there's plenty more than just three points to fight for.
Big battle at the top; big battle at the bottom
The title race and the relegation race could both have another twist coming this week - with first and third clashing, ahead of an encounter between the sides third and second-bottom.
In the most illustrious of the two games, it's Stabæk hosting Avaldsnes - the latter leading the standings, the former having done so before defeat to Kolbotn last time out.
However, Avaldsnes have a poor record against those around them this season. They lost 3-0 to Kolbotn back in April, and could only muster up a goalless draw when they faced Lillestrøm recently.
Stabæk are the only side left in the top four for them to face, but they don't have a great record either - having lost to Kolbotn, as mentioned, and 2-0 to Lillestrøm in April.
However, it's the hosts who need to win the most in this fixture, with a victory to put them on the same points as their visitors. For the away side, a win will be seen as a huge result in the title race, but a defeat would not be the end of their challenge.
At the other end of the standings, Sunday's only game is a significant one as Medkila welcome Vålerenga.
A win for the visitors could pretty much decide the two relegation spots, with their hosts to then be eight points from safety - and bottom side Urædd to be at least nine away, if not 12.
With just one defeat from their last seven, Vålerenga have learned how to be tough to beat in recent weeks, while Medkila have lost all of their last five outings.
The former should have this one in the bag, but the latter really, really need the result if they want to have any chance of playing top flight football next season.
LSK and Kolbotn ready to pounce
As two of the top four clash, the other two in the top four will be primed and ready to capitalise on whatever the result is.
LSK and Kolbotn will know that wins this weekend for them will see them gain ground on someone and most likely jump up in the standings, with someone having to drop points.
They both have straight forward fixtures too. LSK host eighth-placed Trondheims-Ørn, while Kolbotn visit bottom side Urædd. Anything but a home win and an away win respectively in those games would be a huge shock, and it is highly unlikely that we'll see upsets in these fixtures this weekend.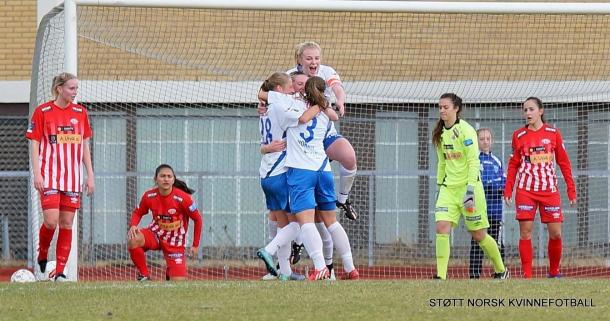 Two close games in the middle of the pack
So we've got two close and significant games, two games expected to be heavily one-sided - and we're left with two mid-table clashes sure to be well-contested.
Seventh placed Sandviken visit ninth placed Røa in one of these games, separated by two places and one point. Neither should be under any relegation threat this term, but they will want to ensure that's the case and push up the standings as the season goes by.
Their contrasting form reads Sandviken having just lost their first game in five, while Røa have just won their first in five. Were their latest results upturns in form, or simply anomalies? This weekend's result will give us some indication.
A little further up the standings, fifth-placed Klepp and sixth-placed Arna-Bjørnar clash this weekend - the latter with the chance to leapfrog their opponents.
The way their recent form reads - the two alternating between a win and a loss, Klepp for nine games and Arna for six - a win for the latter would fit the recurring pattern as they look to bounce back from defeat to leaders Avaldsnes. However, Klepp will be keen to put a stop to their inconsistent trend with a second successive victory.