Continuing our series of mid-season reviews, we look at how Notts County have fared so far.
Mixed fortunes
Notts started the 2016 WSL 1 season as they finished the 2015 season, losing by one goal away to Manchester City. Alarm bells were ringing throughout that match as Notts defended staunchly and lost to a last-minute Steph Houghton free-kick, but the Lady Pies offered very little going forward. Their next outing was a much improved performance in an FA Cup quarter-final against Arsenal, County still unable to vanquish a familiar foe when they were knocked-out on sudden death penalties.
Notts weren't back in action until three weeks later when once again, they couldn't find a win inside of ninety minutes and were forced to settle for a draw against Reading in their first home game of the season. County fared better in their next league outing when they were three goals to the good against Liverpool and cruising into the last fifteen minutes, but began to buckle and eventually saw out a 3-2 win, their first of the season.
County boast a strong record against the Reds (W8 D2 L3) and you'd assume are more than happy to play them every week, but they faced a sterner test in their next two games, home and away to a strong Birmingham City. Notts had only won two of their last fourteen games against the Blues and again struggled to overcome their opponents, falling to back-to-back 1-0 defeats.
Frustrating and inconsistent
Frustrating and inconsistent are the words that frequently spring to mind when one thinks of Notts County. The players and personnel may all be right but it just won't click on the pitch and the team repeatedly fails to fulfil their potential.
County were always going to miss what Alex Greenwood could offer at both ends of the pitch when she left at the start of the year and Rick Passmoor has done his best to make this side more competitive for this season. Bringing Rachel Yankey in on a short-term loan was smart business, and when Yankey slotted into a wide front three with Ellen White and Jess Clarke they posed a definite danger.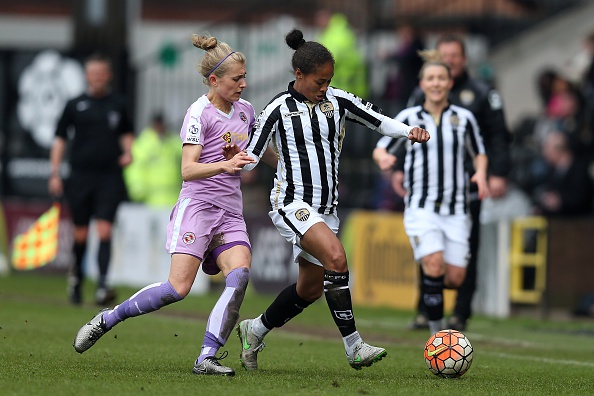 One of the biggest issues for Notts is the number of goals they concede which invariably sees them drop big points. So far this season Passmoor has played around with his backline, starting Dani Buet as a full-back, swapping Maja Krantz and Aviv Luik in and out of the set-up as well as moving Amy Turner around from full-back to centre-back and back again. The inconsistency won't be helping matters and, even though Passmoor has had to adjust for injuries and suspensions, it screams of a man who doesn't know who works best together.
Slightly higher up the pitch, he's been starting Laura Bassett in the defensive midfielder position – a vastly important role that Desiree Scott had been occupying in the last two seasons – but the entire look of the defensive side of the team seems experimental. When VAVEL spoke to Carly Telford after the first Birmingham defeat, she talked about the importance of consistency at the back. If Passmoor doesn't settle on one firm combination it seems inevitable that the Notts defence will continue to leak goals.
The inconsistency isn't just in the personnel but in the performances too; no two Notts games ever seem to be alike. The Lady Pies will routinely lose when they deserve to draw, win when they should have lost and draw when a win would have been a fairer result. If you look at each game they've played this year, what they've taken from each isn't necessarily consistent with the performances they've put in.
Although they rarely got out of their own half against Man City, they defended so staunchly for 89 minutes and 53 seconds that they deserved a point, and losing with the last kick of the game was a cruel blow. Similarly, they were very unlucky to lose to Arsenal, a controversial sending off a pivotal moment in the match, but in the same token they were probably lucky to take anything from their game against Reading.
The only thing you're certain of when you watch Notts is they'll leave everything on the pitch. They are one of the hardest working teams in the league and, as they showed against Liverpool, although they're happy for their opponents to have possession, they're very smart off the ball. Notts County are a puzzle, all the pieces are there but for some reason it's just not completely coming together.