Expectations were high for Chelsea at the beginning of the season after they won the WSL 1 and FA Cup last year. They may not be in pole position right now, but the Blues will be raring to go in the second half of the campaign and they know what it's like to come back and win.
As we continued our mid-season reviews, here's a look back on how the champions have fared so far.
Emphatic start
There were just two competitive matches in March for Chelsea and they were against the same opposition. Newly promoted Doncaster Belles faced them firstly in the FA Cup fifth round. Doncaster took the lead just five minutes into the game after Jess Sigsworth went on a good run and slotted it away. However, Doncaster conceded an own goal 10 minutes later and then goals from Karen Carney, Ji So-Yun and Eni Aluko ensured a 4-1 win for Chelsea and a place in the next round.
They then faced Doncaster again just four days later. Carney put Chelsea in front from a penalty before Doncaster drew level after a Chelsea own goal. Bethany England got her first Chelsea goal against her old club while Katie Chapman scored before half time to make it 3-1. Aluko scored a few minutes before time to ensure a repeat of the previous fixture's scoreline.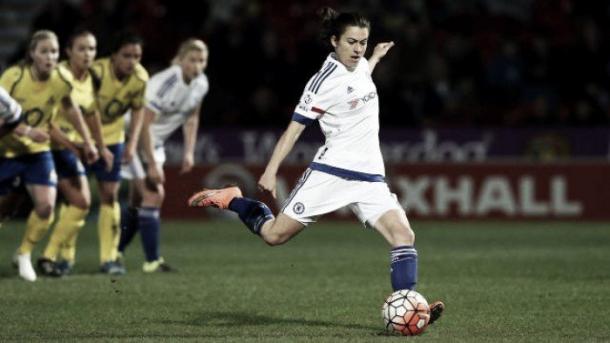 And the form soon follows
April was where things started to get going with a few fixtures. The first half of the month was dominated by FA Cup fixtures. Chelsea took on WSL 2 side Aston Villa and were held for most of the first half, but Drew Spence got the break through goal a few minutes before the break. Ji resumed the scoring in the second half, while Fran Kirby got her first goal of the season. Ji scored two more to get her hat-trick and Aluko also found the net to round off a 6-0 thrashing.
An FA Cup semi-final was next and it was one of the toughest matches yet. Chelsea and Manchester City met this time last season and Chelsea won 1-0 with a Ji goal a few minutes from time which sent them to their first ever Wembley final and, ultimately, silverware.
City took the lead this time through a scrappy goal that resulted in a tap in for Jane Ross. It wasn't long til the end of the match and may have looked to be it for Chelsea. However, Ji scored a stunning free kick almost at the same time as the goal she scored last season which meant the game would go to extra time.
Penalties looked almost certain to happen if it wasn't for Kirby. She passed to Ji, made a run into space then was patient and slotted home in the 120th minute to send Chelsea through to a second consecutive FA Cup final. This was one of the most important goals of her career alongside the goal she scored the previous year in the 2015 FIFA Women's World Cup against Mexico.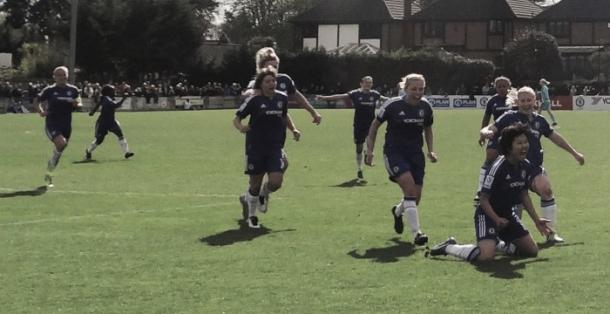 It was back to WSL action for Chelsea after that with two fixtures against big teams. The away game against Arsenal turned out to be an FA Cup Final rehearsal after Arsenal thrashed Sunderland 7-0 to book their place. Chelsea got the better of the Gunners this time as a brace from Kirby meant yet another win in the WSL. The striker's persistence paid off with the first goal, making sure it went over the line, while the second came after the break when she was in the right place at the right time after Drew Spence's shot was cleared off the line.
Another away trip for Chelsea next saw them travel to Liverpool. Claire Rafferty sat this game out due to injury worries because of the condition of the pitch and there were a couple of injuries in the game. Katie Chapman had to be replaced by Beth England after a clash of heads and later on Hedvig Lindahl was subbed after being unable to continue. The consolation for Chelsea was that they ended up 2-1 winners though, with goals from Ji and Gilly Flaherty.
Things turn sour
As we neared the mid-season break, Chelsea had a busy schedule in the run-up.
Liverpool were visitors to Staines in the first fixture of May - finally too, as this match had previously been postponed due to a waterlogged pitch. What a game it turned to be and a great one to watch.
Liverpool took a shock lead after just 57 seconds with an amazing goal by Katie Zelem which was unsaveble, but Chelsea soon got back into it when Carney equalised before Kirby was again on the scoresheet. Drew Spence and Eni Aluko then scored to make it 4-1 before half time in an incredibly emphatic turnaround.
Liverpool weren't giving up easily, however, as they scored two goals in two minutes to bring it to 4-3 in the second half. Kirby soon got her second of the game after a great run and assist from Hannah Blundell, and Spence added to this insurance goal to make sure of the three points for Chelsea in an hair-raising 6-3 result. It was a great advert for women's football and was highly attended too, with 2406 in the stands.
Chelsea then hit a blip at the worst possible time; the FA Cup final. Arsenal totally dominated the Blues and went on to win the FA Cup 1-0. Chelsea had won the trophy by the same scoreline the previous year, and beat the Gunners just the month before, but it wasn't to be this time around.
Following that was then the biggest game of the season for both teams as Chelsea faced Manchester City at home. Again, it wasn't to be against a City side that are doing extremely well this season. Demi Stokes and Jennifer Beattie scored either side of half time as they ensured their unbeaten run went on and Chelsea's ended.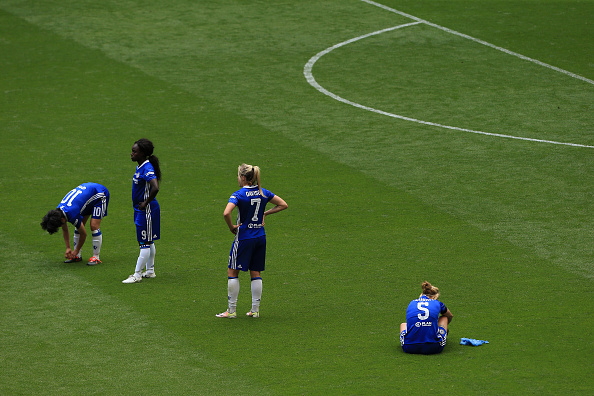 The Blues were able to go into the season's break on a high note however, a 2-1 win over Sunderland putting two sour results behind them.
The last time both times faced each other, it was the final game of the season. Chelsea thrashed Sunderland 4-0 to secure the title then and it could have easily been more. The Lady Black Cats did take an early lead this time around through Stephanie Roche, but Chapman scored almost instantly to equalise. The ever reliable Kirby scored yet again with a rare headed goal and she could have scored the goal of the season had her bicycle kick been successful - this one of several shots at 2-1 as the Sunderland net was peppered, but not yet seen bulging again.
What next?
After a decent rest for most players, they will be looking to get back into it with a win against Sunderland on the 29th. Kirby and Flaherty were unfortunately injured near the start of the month but should be coming back into action soon.
Continental Cup action follows that in a month full of football for Chelsea. They face London Bees at the Hive which should be a game full of goals. Previous fixtures have ended up 13-0 and 8-0 to Chelsea. They will be wanting to win this competition after missing out on the FA Cup.
Manchester City are Chelsea's main title rivals at the moment after winning all but one of their games and conceding no goals. City did drop points recently against Liverpool, who they face next, but that is the only game they have not emerged victorious in this season.
Chelsea are currently four points behind with a game in hand and they should catch up in July. They seem to have a good run of fixtures with a few crucial matches. The first is Arsenal on the 17th July, while the biggest game yet in the season will be when Chelsea travel to face City on 25th September. That match may decide the title.
UEFA Women's Champions League matches arrive in October and there is a nervous wait to see whether Chelsea may actually be seeded. The title race could even go down to the wire. If so, City's final match of the season is on 30th October. This is after they face Chelsea. The final game for the Blues will be on 6th November and they will face Notts County. They faced City last year on the final day of the season, however, by the time Notts come around, Chelsea will know what they need to do to secure the title.
For both City and Chelsea fans, it shall be a nervous few months but it will be yet another exciting WSL season.