While the Toppserien continues to take twists and turns, it's match day 12 this weekend, which means we enter the second half of the season.
As time starts to run out then, particularly for those at the bottom of the standings, it's even more important for teams to step up and give their all to achieve whatever their aims may be for this ongoing campaign.
Down and out?
The most significant outcome from week 11 was certainly at the bottom, where Medkila and Urædd were essentially cast ashore from the rest of the division after the former lost to Vålerenga - the side third-bottom in the standings.
Medkila are now eight points from safety, while the gap is 12 points for Urædd. The positive is that there are teams slowly losing form and falling down the table, even if those closest are starting to move away.
For the bottom two though, they must focus on improving themselves and getting the results required as we enter the second half of the season.
This week, Medkila face one of those sides dropping down the table - Sandviken. Defeats to Røa and Lillestrøm have seen Sandviken slip to eighth, and Medkila will be keen to capitalise on their loss of confidence to inflict a third successive loss and record just their second win of the season.
However, the Bergen-based outfit have shown their quality this season with results such as a narrow win over title-chasing Kolbotn, while they also defeated Medkila in week two. In their second meeting of the campaign, Sandviken should have few problems bouncing back from two defeats with a win.
As for Urædd, a victory for them - or even a draw - this weekend would be the shock of the season, as they face leaders Avaldsnes.
With seven wins from their last eight and only one loss all season, Colin Bell's side should comprehensively and emphatically come out on top, without a doubt. The fixture will also offer the leaders a chance to improve their goal difference, which is significantly less than LSK in second at the moment.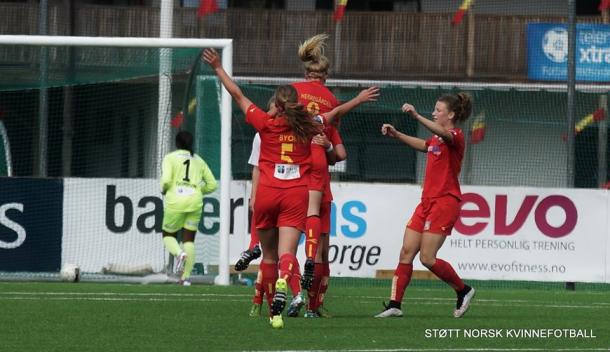 Uncertainty for the chasing pack
While the leaders are more than expected to get a win this weekend, the same cannot be said for those challenging them at the top.
LSK and Kolbotn will be predicted to emerge victorious, but their tasks will be much trickier than the side bottom of the standings that Avaldsnes encounter.
The former will come up against Klepp on Saturday, who have won four of their last seven to propel themselves into sixth. However, one of those three without a win was the reverse of this game, which ended with Lillestrøm thrashing them 7-1.
Meanwhile, Arna-Bjørnar are Kolbotn's opponents; a side who have moved up to fifth recently after three wins from their last five. With players such as Amalie Eikeland and Lisa Naalsund getting in and amongst the goals too, they are enjoying relatively big wins, scoring three in both of their last victories.
However, this is cancelled out by a struggle to keep clean sheets, which gives them a surprisingly low goal difference of minus one. They will need to be switched on this time around in particular then, with Kolbotn enjoying a rich vein of form that has them searching for a fifth successive win on Saturday.
Time for the stragglers to shape up
While Medkila and Urædd may look nailed on to be the bottom two this season, anything can happen in football, especially with a good 11 games to go.
Therefore, it's important that those seemingly safe from the threat of relegation do not switch off. Vålerenga, Tronheims-Ørn and Sandviken are all closest to the drop zone, each on 12 points, with the latter two in particular in need of improvements in form after successive defeats.
Vålerenga seem to be on the up after back-to-back wins over the bottom two, and they will want to add a third victory in succession when they host Røa on Saturday.
Røa are on 14 points, putting them just above the three on 12, with back-to-back wins of their own responsible for pushing them up the standings a little. Those wins came over the two directly below them - the two other teams on 12 points - and they will be keen to keep up their impressive record against teams around them recently.
Sandviken face second-bottom Medkila, as aforementioned, while the remaining fixture sees Tronheims-Ørn travel to face fourth-placed Stabæk in what will be a tricky game.
After back-to-back defeats to title rivals, Stabæk will be more than keen to bounce back. They may be out of the title race, and maybe even the race for the top two, but they will not want to think that yet and a win this weekend can give them some confidence back - which they desperately need.