The FAWSL is back this weekend after just over a month's break, and we are sure to be treated to drama and action almost immediately.
In WSL 2, the race for promotion is as intriguing as ever, with four teams firmly in the race, and they will hope to remain in that race at the end of a hectic week.
Time to blow the cobwebs away
There are two things that a break from football can do; recharge the batteries or switch players off.
While second-placed Everton and fourth-placed Bristol City might be allowed a few lapses in concentration though this weekend, facing strugglers Watford and Oxford United respectively, leaders Yeovil Town and third-placed Durham will see mistakes punished if made as they face each other in a high stake, and sure to be high quality, game.
The Lady Glovers - the visitors - are after a fifth successive win, while the Wildcats dropped five points in their last games before the break, drawing with London Bees and losing to Aston Villa. This game is certainly more important for them, and a win would put them level with the current pacesetters.
They will hope that Yeovil don't enjoy the treacherous journey from the South West to the North East then, one of the longest in the FAWSL this season, and will look to take advantage, especially granted their opponents have few other weaknesses.
Everton should comprehensively defeat a Watford side with one point to their name all season, but Bristol may struggle against an Oxford team that went into the break off the back of two wins on the bounce. They will be looking to pick up where they left off, while the Vixens look to recover from back-to-back defeats that heavily dented their promotion push.
A win for Bristol wouldn't be the worst thing for Yeovil though, as they face Oxford a few days later in one of three midweek games and will not want the U's full of confidence when they clash.
A draw will be what the Lady Glovers are rooting for then, with Bristol to take momentum into their action a couple of days later against Aston Villa otherwise. Six points for one of their title rivals would not be ideal.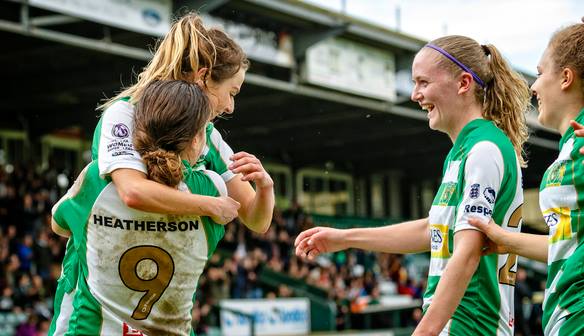 Underrated fixture of the week?
Despite Yeovil's trip to Durham being an eye-catching fixture, the clash of Aston Villa and London Bees is certainly one that promises to entertain.
Villa's recent rise was somewhat tarnished before the break by successive defeats, but they were far from shameful ones, coming against title contenders Yeovil and Everton.
The Bees, meanwhile, took two points off of Durham after hammering Watford, with their performances getting better and better week after week while the results come with.
Two teams that play good football and have shown they can compete with the very best in this division, this game is sure to be a good watch with plenty of goals and definitely one for the neutrals to head out to.
Both will be more than keen to produce a good display in the game too at the very least, as well as aiming to pick up points, as they both have tricky games in midweek that will be tough to bounce back in.
Villa have the harder game on paper, coming up against Bristol, but the Bees' clash with Millwall Lionesses won't be easy. A London derby, not only will this be a feisty fixture, but Millwall have shown in draws with Yeovil and Everton that they are tough to beat.
After five games without a win, the Lionesses will have done plenty of reflecting over the mid-season break and will be raring to go again and rectify their failings of the opening months.