It's been a season of surprises in WSL 2 so far this year, and Durham have been taking the league by storm, we take a look back at their great start to the 2016 campaign.
Early FA Cup Success
Durham started the year with a breathless 9-0 win in the early rounds of the FA Cup over the London Bees, although the hosts fielded a majority of development players the Wildcats would have been boosted by such a positive start. Their run in the prestigious competition continued when they hosted and bested WPL promotion-hopefuls, Charlton Athletic. Although that was to be their last win in the tournament as they were comfortably beaten by Notts County in the Round of 16.
It was a dream start to the WSL2 season for Durham who shot straight to the top of the table and were unmoved until their first league defeat at the start of May. The Wildcats were the only team in the division to win both opening-week fixtures, firstly edging out new-comers Sheffield in a 1-0 win before (once again) beating the Bees in an enthralling 2-0 at New Ferens Park. The Wildcats rounded off the month with a comprehensive 5-1 win away to Oxford United ensuring that they went into May as the only team not to have dropped a point but that was when their fantastic run came to an end.
When Durham next took to the pitch on May Day, they were humbled by a superior Aston Villa, although the Wildcats had their chances the result seemed inevitable and second-half strikes for Katie Wilkinson and Mollie Rouse was enough for Villa to claim the 2-0 win. One defeat fed into another as Durham were soundly knocked out of the Continental Tyres Cup preliminary round by Sheffield, although the Wildcats had their chances they couldn't overcome their opposition and fell to a 3-1 loss.
Back to winning ways
In their third meeting with Sheffield of the year, Durham completed their double over the Dronfield-side, another close run 1-0 win was enough to give the Wildcats a boost going into their next game. Just three days later Durham were facing yet another team for the third time in three months as they looked to replicate their form against Sheffield and complete the double over the London Bees.
In their last game before the mid-season break, Durham and the Bees found themselves in unfamiliar Northwood on a rather unforgiving pitch, somewhat absent in the first-half, Durham came out fight in the second and fought their way to a credible 2-2 draw – their goal difference confirming they'd be third going into the break.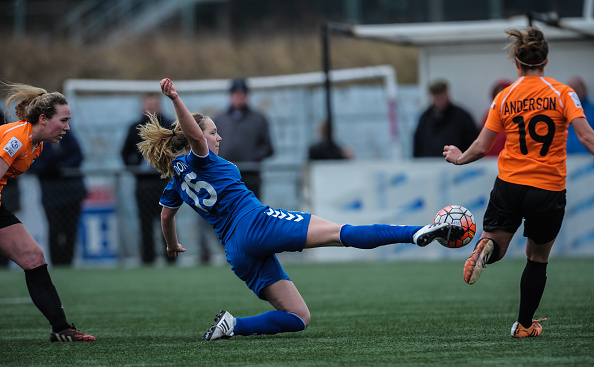 Hepple's on fire, your defence is terrified
Before the season started, Durham were the team I personally tipped to do big things this year, after watching them last season you could see a strong side that were finding their stride and looked to be going from strength to strength. Possibly taking heart from Sunderland's successive success the Wildcats looked to be a force to be reckoned with, tucked away in the North East, New Ferens Park can be an unforgiving place for traveling teams.
The away days, especially to any of the number of southern WSL2 clubs can be gruelling, hours and hours each way but Durham have grit and determination, they seem unfazed by conceding and if they struggle in the first-half they're almost guaranteed to put in a strong second-half performance.
Not really tested against the bigger teams yet this season it's far too early to start calling and predicting promotion hopes although it looks like the Wildcats will fall away from the top two or three, they are a side that will simply keep growing and getting stronger.
Whilst there may be questions about the strength of the overall squad, the Wildcats aren't for wanting in attack, having scored in nine of the ten games (in all competitions) they've played so far this year, they will always be a handful for the opposition's defence.
At 27, Nat Gutteridge's experience has proved to be huge for Durham since she joined from Sunderland last summer, with ten goals in as many games this year, she's never far from scoring and that knowledge in front of goal will be vital in any push for promotion.
Without doubt, Durham's danger-woman is Beth Hepple, an unpredictable attacker who always has a trick up her sleeve, the England U19 international is as tricky to mark as she in on the ball. Evocative of Yeovil's Sarah Wiltshire, with Hepple in flow, Durham will never be far from scoring.