With all of the outgoing news with regards to Paris Saint-Germain so far during this transfer window, the fans received some welcome news as Shirley Cruz signed a new two-year deal which will keep her in Paris until 2018.
The 30-year-old Costa Rica midfielder has been a stalwart for PSG's midfield and will look to help the team secure more trophies during the foreseeable future.
Both club and player delighted to continue their relationship
Speaking to the club's website fresh after signing her contract, Cruz stated the she hoped to continute to bring as much to the club and the fans as she had done in previous seasons and that she was happy to continue her adventure with Paris Saint-Germain.
Also on hand to witness her signing was PSG's Assistant Director General of the woman's team, Philippe Boindrieux. He commented that it was essential to keep Shirley at the club as she is not only a great footballer but an example for our youngsters and the rest of the team.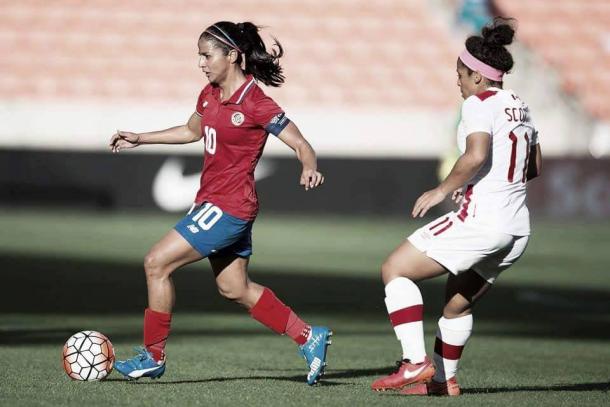 Cruz' career PSG so far
Cruz, who signed for PSG in 2012, has made sixty-two appearances for the club and scored twenty-one goals for the team. She was also one of the keys to success when PSG reached the UEFA Women's Champions League final in 2015 but unfortunately lost out to champions 1. FFC Frankfurt.
This pas season Cruz has feeatured in twenty-seven matches, scoring five goals and providing five assists in all competitions as PSG finished second in Division 1 Feminine and made it to the semi-final of the UEFA Women's Champions League.
On the international stage, Cruz has gained sixty-three caps and scored twenty-one goals. Cruz also helped Costa Rica reach the Women's World Cup for the first time last summer at the 2015 Women's World Cup in Canada where Costa Rica failed to get out of the group stage.