In the last of our mid-season reviews, we look at WSL1 newcomers, Reading, and how they've taken to life in the top flight.
More draws than IKEA
Reading started their year off well with a comfortable FA Cup win over Millwall at their new home in High Wycombe but their maiden season in WSL1 wasn't to be started with a win when they struggled against a dominant Arsenal and duly lost 3-1 in Borehamwood.
In their third match in six days, Reading registered their first point of the season following a close-run 1-1 draw away to Sunderland. The Lady Black Cats were their opponents again the following week in their FA Cup quarter-final tie. Sunderland, much improved, ran out easy 3-0 winners; Reading out of the tournament and free to refocus on the league.
When the Royals were next in action three weeks later, they displayed the same determination and desire against Notts County as they did when they met the Lady Pies the previous season. The match finished at 2-2 and, although Kelly Chambers would be happy with a point, there's an argument that Reading easily could have had all three.
It had been over a month since Reading had played at home, away for four matches on the bounce (including successive trips to Hetton-le-Hole), the Royals were looking for a home advantage when Arsenal travelled to Adams Park. But the match was to go the same way as their first encounter of the year, Reading reducing the defeat to a 2-1 as Arsenal thanked them for all six points.
Next up was Sunderland, for the third time in six weeks. Once again both sides were fairly evenly matched, going hammer and tong, but neither had the edge to claim all three points and both would have to settle for a point.
Reading had one last chance to add to their tally before the mid-season break when they journeyed to Solihull Moors to face a resolute Birmingham City who were going great guns. As could have been expected, Birmingham defended soundly but so did Reading. The Royals arguably had the edge for most of the match, but they couldn't make their dominance count and had to settle, once again, for a lone point.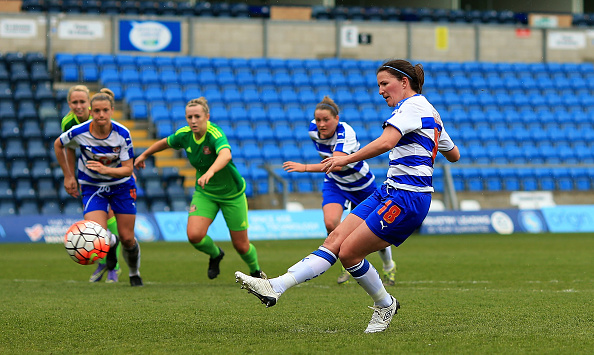 Taking stock
After their promotion, there was a lot of movement in and around the club, investments made as new players joined and pre-existing players were given full-time contracts, the news was all positive. Chambers is obviously an accomplished manager with big plans for her side and, although Reading ran rampant in WSL 2 last season, it's a big step up to WSL1. The team looks to have settled and found a comfortable rhythm going into the second-half of the season, however.
A problem could be Chambers' uncertainty about her best XI. Having signed Mary Earps from Bristol City, she's been trying to rotate the England international with the already established Republic of Ireland international Grace Moloney. Both top keepers, Earps has only managed three appearances to Moloney's five.
Likewise, Jade Boho Sayo (another former Vixen) signed before the season started and has only made three appearances, although she's scored twice. The disjointed season hasn't helped but stability in the squad personnel could easily be key to the stability of Reading staying in the top flight.
The real test comes when Reading square off against the likes of Manchester City and Chelsea. How the Royals conduct themselves could be key for their survival but it's still early days and they have only played six of their 16 league games. They may yet ruffle a few feathers this season and shouldn't be underestimated.