Following Everton's first loss of the season to Watford last weekend VAVEL spoke to Blue Girls' boss Andy Spence about the match, the improving standard of WSL2 and transfer business.
Frustrated
After a six-match unbeaten run, the loss was the Everton's first of 2016, the Blue Girls only lost three of their 18 league matches in 2015 and it was clear Spence was frustrated with how his side had lost their flawless record.

"You've got to look at why we've lost the game, especially when you think about the first 15-20 minutes where we absolutely dominated, we got our goal then gave away a silly one.
"Had one, two, three opportunities to deal with the ball but we didn't and then gave away a silly penalty. After that we just became a frustrated team and didn't play anywhere near to the quality we have.
"We got frustrated, gave the ball away too often played right into their hands and you can see where they've hit us on the counter. It's just way below what we're capable of."

With their next competitive fixture a Continental Tyres Cup derby against their WSL1 neighbours Liverpool, before travelling to Sheffield later in July, Spence asked for complete professionalism from his team.

"If you're a professional player then you've got to respond in the only way possible and that's just making sure your next performance is better than your previous, even if you've played well, you've always going to be pushing to be better. And today we haven't played well and next time we've certainly got to be a lot better.
"Every game is a must-win. It's been proved today, we've come here to Watford, bottom of the league, and they've won so you can't take any team lightly and this is what can happen if you do or if you don't play to the standards you're capable of. This league has gotten stronger and you can't take anything for granted."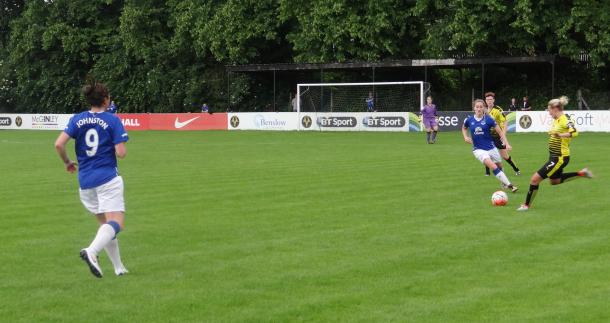 The match saw Krystle Johnston make her debut for Everton after only being announced hours before kick-off, her new boss was pleased with her contribution and hopes to get more business done before the window closes.

"It was a big ask of her, we only just managed to get her signed up in time for this game so she hasn't even had a chance to train with the squad yet so this was her first time with us.
"But she came on and she showed the qualities that she'll bring throughout the rest of the season. We're looking at bringing in at least one more – as a minimum – and if there are any other opportunities that come our way, for good players that will enhance what we've got then obviously we'd always be looking to sign. But as it is, we're hopeful at getting at least one more in early next week."