After their comprehensive win over Sunderland, VAVEL spoke to Arsenal boss Pedro Martinez Losa.
Arsenal better suited for European football?
Losa had wanted to get the WSL season started with a bang but couple of defeats early in the year had left the team adrift of the top two, but the confidence of the team never wavered, "We were frustrated, we started the pre-season fantastically, playing Wolfsburg and Bayern Munich and competing at the top European level, but when you play games in England, the games are very different."
He added, "So we were frustrated, we've also got new players in and it takes time for players to settle but we've got world-class players, we're winners and with the work in training and belief we know that we're in a strong position to go out and win games, whoever the opposition is."
But now the squad has had time to settle, the Gunners boss thinks they can cause any team problems, "The players enjoy playing together and working for each other, it can be hard getting the dynamic right with so many different players from different counties but you can see how the players are working together and understanding each other. They're comfortable with each other, they found the runs and combination play but we can still be better, there's always room for improvement.
"We performed well in the FA Cup final, we showed what we're capable of but that's just one game, to be the best you have to show it every game and that's what we want."
Sizing up the competition
With just four days between matches focus was already shifting to their upcoming league tie against Birmingham City, as side Arsenal have already faced twice this year, "They're very competitive, they've had some good results this year and now they've signed players from Europe, so it's going to be hard. We don't have much time to prepare but we'll sit down and watch some videos so we can formulate a plan for the whole match but as it is, our main plan is to go there and take the game to them."
Losa continued, "If we can dominate the game and the ball, we have the quality on the pitch that should be enough for us to win and not worry about the opponent. But at the same time we have to be aware of how they build and how they press so they can't surprise us so we can feel comfortable in the game."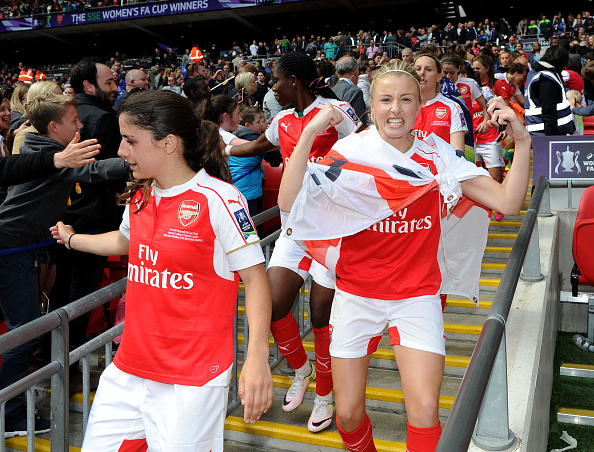 No new injury concerns
Fans might have been surprised to see key players listed amongst the substitutes and not in the starting line-up, Losa opting to err on the side of caution, unwilling to rush his players back from injury, "We didn't start Dan [Carter], Jordan [Nobbs] or Kelly [Smith] against Sunderland but that was more preventative. As a manger it can be difficult to make those decisions, we're happy because we won but if we had lost then there would have be questions about why they didn't start."
He explained, "But it's about doing what's right for the player. There are key moments in the game where you have to say 'you can wait another day, keep resting, someone else can step up' and the players respect that it's the right call – you have to trust each other.
One who was consigned to watch from the stands was Leah Williamson, the young Gunner negotiating her way up the steps on crutches, Losa was full of praise for the versatile England youth international, "Leah [Williamson] will be out for a little while longer, she's had her surgery and now it's about building her back up but she's young, she's strong and she has a fantastic mentality and she'll come back stronger. That's the kind of player we love to have, someone of that character who's very competitive and fantastically talented.
Losa continued to sing her praises, "She can play in lots of different positions, and as a manager, that's what you want and it's important that she can play in different places. For me, she has incredible potential to play as a centre-back as she reads the game very well, and also I think she has the potential to play in midfield."
He added, "But in midfield we already have fantastic players, like Jordan [Nobbs] or Fara [Williams], Vicky Losada, Danielle van de Donk, so at the moment it can be tricky because we have so much competition for those positions." Losa then concluded by saying, "So she has more chances of starting in defence, either as a centre-back or a full-back but the main objective for her, is to be in the squad every game and that will only help her development."