Beyond the United States Women's team's quest for pay parity, equality in the women's game is always on the surface. From lack of broadcast opportunities to outright sexism. Those rightfully seeking pay parity, the implications of lack of equality in the game are more profound. In some respect the USWNT's dispute papers over greater inequality than those players could begin to imagine. That dwarf and mare the women's game and female participation in it, to an extent it stains the very fabric of the sport.
There remains one of the last great football glass ceilings which requires not only subtly but a deftness of approach to overcome. Women in the middle east, especially in Iran, are risking arrest just to attend a football match.
Named as "Shakiba" to protect her identity, the 22-year-old is truly one of the great footballing pioneers. Shakiba a fan of Persian Gulf Pro League side Persepolis, who are based in the Iranian capital Tehran. Fiercely determined to see her side play and experience what her male counterparts take for granted, at a match day at the Azadi Stadium, she disguised herself in her teams colours and with delight announced in a YouTube video: "I said I'd go to the stadium and now I've done it!"
Stadium bans not the preserve of just football
Stadium bans are not strictly limited to the preserve of football. In 2014 a British-Iranian woman, Ghoncheh Ghavami was arrested, trying to attend a Iran and Italy volleyball game. Iranian authorities cited their assertion that female fans needed to be protected from the behaviour of male fans as a rational reason for the ban and the subsequent arrest of Ghavami.
She was sentenced to a year's imprisonment, which was later quashed. It led to a concerted call from the Federation International du Volleyball at it's 2014 congress in Sardinia to speak out against Iran's stance.
"We never normally seek to interfere with the laws of any country," they said. "But in accordance with the Olympic Charter, the FIVB is committed to inclusivity and the right of women to participate in sport on an equal basis."
This call was matched by then FIFA executive committee member and current Asian Football Confederation Vice-Chair Moya Dodd. Speaking to Vice magazine, Dodd said: "Excluding women from enjoying it as a live spectacle is not only unfair to those women as individuals, it's not only unfair to the game of football to reduce its audience, it's not only unfair to the development of women's football because women can't witness and learn from watching the those games - but the message it sends is that it's also acceptable to exclude us from society's mainactivities. And that is a fundamental breach of human rights."
There is a concerted effort by some branches of the FIFA machine to enact change. Progress is painfully slow and protracted. Seemingly the goal-posts move just as there appears to be break-through in both talks and narrative.
Thousands of female football fans have become entrenched and empowered to change long standing political and religious norms. Even in the face of overwhelming odds, 'Mina', one of those voices calling for an overturn of the ban, was clear about the desire and new found sense of passion that women have for sport in Iran. She told Human Rights Watch: "For the first time after the revolution [of 1978] women showed that they wanted to go to the stadium."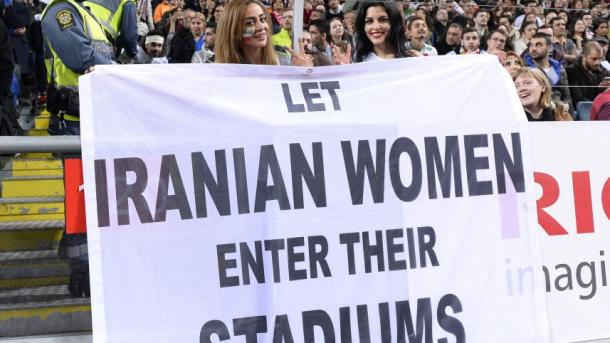 Football papering over the cracks
Since the Iranian revolution in 1978, Iran's sporting arenas have been broadly off-limits to women. Whilst the game has sought to be progressive and evolve into a modern free thinking sport, elements in its application of supporter growth and equality engagement have been woeful within the middle east.
This has seen many female fans who have attended Iranian national team matches outside of Iran use the opportunity as a platform to protest against the ban, in the full view of the broader international media. Demonstrating their solidarity with those thousands of women, protests have been launched at this year's European football championships in France, with fans highlighting the inequality that fellow fans face in Iran.
Whilst religious barriers have been broken down in most western footballing democracies, Iran and states within the middle east are proving a much sterner test for FIFA's ethics branch.
FIFA, which Iran is a member of, has strict statutes of governance and responsibilities to member associations. National Football associations cannot discriminate against vast array of protected groups, including gender. Iran's FA is in clear violation of such terms but has largely gone unchallenged with the governing body.
In some respects, FIFA's influence looks limited in scope for fear of stoking religious and political tensions. This is tantamount to brushing the problem under the carpet hoping it goes away. FIFA's miscalculation is clear. The thousands of women who are standing up, being counted, have started an Iranian Revolution of their own making. Their voices grow louder, more focused and driven to succeed in shattering one of the remaining glass ceilings for women in football.
Fans, broadcasters and commentators cannot be placid and complicit in its inertia; but resolved to draw alongside them to keep the pressure on and work towards a removal of the ban. The very integrity and equality of the sport women have fought decades to achieve looks set to by-pass the footballing world in the Middle East region. Practical steps need to be undertook by grass-roots support, not just here in the UK but in the wider football family. Together in concert, putting pressure on Iranian Authorities, as well as providing practical steps to quell any sense that women would be at such a substantive risk in attending games.
Reasons for optimism or false dawn?
The 2022 FIFA World Cup in Qatar offers a real chance to openly demonstrate that gender should not be an issue at stadiums, providing a positive outlook to the Iranian FA and Government that those concerns over perceived religious and societal implications are unfounded.
Iran's Vice President for Women and Family Affairs, Shahindokht Molaverdi noted last year, in an interview with Shargh Daily, that it is her belief that in review that there were no barriers to attendance.
"There can't be a blanket order for all sports. Currently, women's attendance in sports facilities does not include [men's] swimming, boxing, and soccer, but it does include volleyball, handball, basketball, tennis, etc." she said. "After much review, it was concluded that women's entry into sports facilities does not have any Sharia issues, and the necessary mechanisms for women's attendance must be provided."
Whilst broadly positive, there is an undercurrent of political will against supporters of groups trying to lift the ban, with hard-liners putting numerous steps in the way of progress.
Human Rights Watch also reported that female fans trying to see Esteghlal Tehran train were prevented from doing so by security officers. Male fans jumped to the defence of the group demanding that they be allowed to stay. One fan felt vindicated and urged her government to listen. As she told human rights watch: "It was a great moment for me, because it's true, they should be there. Now if only Iran's government would act accordingly."
As a global football community, we cannot allow such inequality to continue. Former FIFA president Sepp Blatter described the situation as "intolerable," yet, despite his pressure, Iran still bans women from its stadiums. It remains unclear what incumbent president Giovanni Infantino's direction on this issue is, let alone if he can actually deliver change.
Walking through the turnstiles is something fans take for granted, the freedom of expression of support for football and the club you may follow. For some, like those mentioned, it is a battle to be socially engaged and allowed the same freedom of supporting a football team. Modern football demands this of all, not just cherry-picking policy for the few.
Iran has in recent times been seeking to being brought out of the geopolitical wilderness. As a precursor to greater global integration and openness, football provides the platform to show Iran as progressive state. Allowing female fans their footballing freedom is very much a part of progression. Female fans deserve respect and consideration and liberty to attend games.
It's time to make a stand and fight that cause with them. No matter how long it takes, that glass ceiling must be shattered.