Winter signings Natasha Dowie and Becky Easton have left the Keepmoat and Emma Coates has captured the signatures of Maz Pacheco and Marta Bakowska-Mathews.
Former Reds move on after just six months
Stalwart of women's football in England, 42-year-old Becky Easton spent four years with the Belles at the start of the century, between spells with both Everton and Liverpool. One of the most recognisable names in English football, Easton has consistently performed at the top level for over twenty years and after being released by Liverpool at the end of the miserable 2015 season was snatched up by her former club in December.
Dowie followed Easton to South Yorkshire just days later as former manager, Glen Harris looked to build a competitive squad for the Belles return to top-flight football. After spending the first few years of her professional career Dowie made the switch to a northern team in 2007 where she played alongside Easton at Everton before the pair left to join rivals Liverpool in 2012.
Both England internationals have featured in all four of Doncaster's competitive games this year, Dowie playing very much as the lone striker and Easton, a natural right-back has been playing in defensive midfield to give added cover to a shaky backline.
Last year Easton admitted to having enrolled in a master's degree in sports directorship and has opted to finally hang up her boots to focus on her full-time studies. According to the official club statement Dowie has left the Keepmoat for a number of reasons, including "recovering from injury and preparing for the next stage in her career".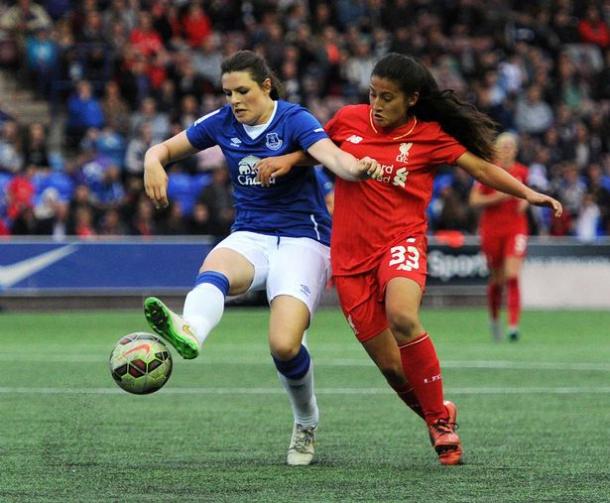 And in with the new
As announced on deadline day, the Belles have recruited Liverpool defender, Maz Pacheco on loan until the end of the season. Although still young, Pacheco enjoyed substantial playing time last season under Matt Beard when the Reds were struggling with injures. It was then at the canny defender caught Emma Coates' eye when the Belles were roundly beaten by Liverpool in the Continental Tyres Cup group stages.
Since the installation of Scott Rogers as Reds boss and the glut of new signings on Merseyside, Pacheco hasn't enjoyed as much time in the first team and the loan deal will allow her to see regular first team action – although as her contract stipulates, she's unable to face her parent club when the two sides meet.
When speaking about the England U19 international, Coates said she was delighted to bring Pacheco to the Keepmoat, praising her talent and quality.
The Belles have also announced new signing Marta Bakowska-Mathews, who signed up before the window closed on Thursday. After a brief trail with the club, new boss Coates was keen to get Bakowska-Mathews signed up in time for the Continental Tyres Cup clash with Sunderland this weekend.
A former Seminole, Bakowska-Mathews – originally from Herne Bay – impressed during her time at Florida State University and has enjoyed two stays with Seattle Sounders women's team, but she's looking forward to the new challenge of WSL football. She spoke of being excited to start her "professional career" in Doncaster, siting the potential of the squad and the quality of the facilities available.
Bakowska-Mathews is aiming to help the Belles win games and "earn points" week in, week out to insure safety, speaking about how she feels like she's found a "new family", the "friendly" and "welcoming atmosphere" a decisive factor for the FSU alum.