Following their cup-set over Chelsea, VAVEL caught up with London Bees winger Paula Howells who was quick to point out that although she's played as a left-back in the past, she's 100% a left-winger, not a defender.

Chelsea fans were still milling around the Hive in shock when Howells jogged over after the game, understandably buzzing after the match,

"No one expected us to win. At all. The more we got into it, the more we started to believe in ourselves, we just dug deep and we knew we could do it, it was just about finding the performance to actually do it."

The Blues had been frustrated at every turn throughout the match, the Bees resolute, Howells believes the mentality and confidence shift has been key and for that she credits new Bees boss, Dave Edmondson,

"We went into it as we would any other game; fearless. We know don't have to be scared of anyone we face. Dave's a really great manager, he really makes us believe in ourselves and what we're capable of. We don't have the 'we're just the London Bees' mentality anymore, we know we can achieve, it's just about digging deep and working like a team. Which we do every week.

"We've got a game-plan and Dave's very strict when it comes to the game-plan, if it's not working then we change it and nobody panics, we don't have to worry about how we play, everyone in this team is a great technical player and we're fitter than we were last season, our conditioning is a lot better. So we know we can match these teams, but because so many of them play for England that doesn't mean they're unbeatable. They've proved themselves which is why they are where they are and that's what we're trying to do, to prove ourselves."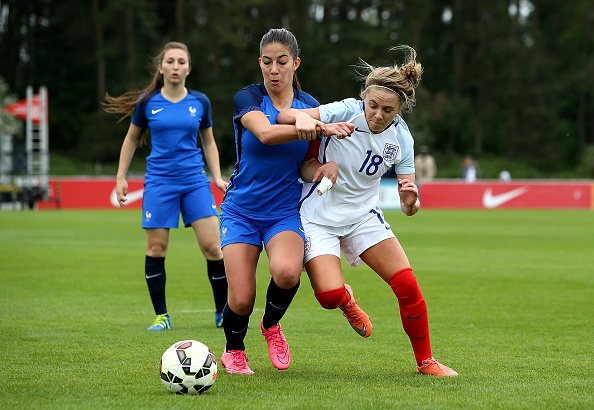 "We just never let our heads drop"
As the clock ticked into second-half stoppage time at the Hive the Bees looked to be heading into the quarter finals but a last-gasp equaliser from Millie Bright forced extra-time. The prospect of another thirty minutes against one of the best sides in the country might be enough to dampen the spirts of other teams but the Bees never stopped believing in their own abilities,

"We just kept believing, teams have done it to us before, equalising right after we've scored or late in the game, we just never let our heads drop. And we know we've always got goals in us, even last-minute ones – just look at the Euros with how many of those have been late goals. Believing in ourselves, to the very end."

When we spoke the draw had yet to be made and it was more likely than not that the Bees would be facing a WSL1 side in the next round, but Howells nor her teammates were fazed by the possibility of going up against another big team,

"Even if we draw Man City in the next round, we'll go in with the same mentality, we know we can beat anyone and for this competition we'll play whoever's in front of us because we want to go as far as we can. The sky's the limit."

With the league cup not due to resume for five weeks, the focus shifts back to the Bees' league campaign. Exactly half-way through the season, they currently sit sixth in the table, unbeaten in their last six games in all competitions, but only having drawn their last three WSL2 matches. No matter what happens in their next nine matches this season will go down as one of the best in their recent history, but what are the Bees aiming for this year?
"I think we can push for promotion, we need to start putting the wins together and we just needed this little break to really boost ourselves. The minimum we want to aim for is top-five, that's our main aim and if we can achieve that – and I think that we can – that will be a great improvement from anything we've done before."