Following their Continental Tyres Cup loss to Arsenal at the Hive, VAVEL spoke to Reading manager Kelly Chambers about where it all fell apart.
The kick-off had been pushed back 45 minutes and both teams had been treated to a show as the London Bees pulled off a giant killing to knock Chelsea out of the cup, the Royals taking confidence from what the WSL2 side had achieved. But in their third match against Arsenal since being promoted from the second tier it was the Gunners who were once again victorious,
Although Arsenal had run away with the match in the second-half and Chambers was frustrated with how the fixtures had fallen for the two teams.
Reading nowehere near Arsenal's fitness levels
"If you look at Arsenal, obviously they're a top team but they've just played three times in eight days, this was our first game for over six weeks, we're never going to be at the level of match-fitness that we would want. It was always going to be difficult, if nothing else we were always going to be lacking that sharpness."
Reading had already faced Arsenal twice this season, losing 3-1 in their first match in WSL1 before making the Gunners sweat in a close 2-1 loss at Adams Park in April,
"Third time playing Arsenal, thought it might be third time lucky but it wasn't too be. We were actually very positive coming into this game, the girls have had a really strong few weeks of training over the mid-season break and we came here looking to put in a good performance and thinking that we could take something for this one.
"But it just shows the importance of match fitness and just having a couple of games under your belt."
After a slow first-half the game sparked into life after the restart with Vicky Losada opening the scoring seconds into the second-half before Fara Williams converted from the spot just two minutes later,
"It was frustrating to concede immediately after half-time and then almost immediately after the restart but it's tricky, we've got a lot of young players and what's hurt us is the lack of game management and experience that comes from playing at this level. We were slow to start the second-half and we need to look at starting quicker and being switched on in those first ten minutes, I think with some better game management we might have had a better result."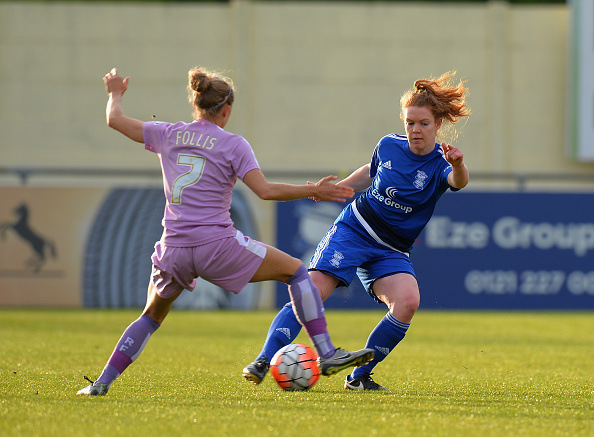 A lack of experience seems to be stifling the Royals, an air of "we've got the ball forward, now what do we do?" settled over the team as they tried to get back into the game against the Gunners,
"We're lacking a bit of a cutting edge going forward, however, defensively before the break we were pretty sound, we had quite a few draws away from home so we need to get back to that level and kick on from there but I think the break has certainly affected us in a negative way. If we'd played Arsenal a few days after the Birmingham game in May, maybe we'd be in the next round and having a very different conversation," said the boss.
Although it was another loss for the Royals, Chambers took heart from the fact it wasn't a league loss and was already refocusing her attention to Reading's next league tie, safety of paramount importance for her team in their maiden WSL1 season,
"We need to build, we're new into the league, I'm glad this is only a Conti' Cup game and now we've got 90 minutes under our belt going into the league game against Liverpool next week. It's just about making the girls realise where we are right now and what we've got to do to be competitive at this level; we've been professional footballers for six months now whereas Arsenal have been professionals for X amount of years, so we'll always be playing catch up.
"We're a close group, we've been together for a while and the girls need to use that more out on the pitch, they all know each other and it's something we should be utilising more.

"Now it's just about building on the first-half of the season, we've got a strong squad and we can be competitive at this level, now it's just about planning and preparing for the game next Saturday."

On paper Chambers has a strong side, although the Royals have only scored six goals in six games this year they've only conceded nine goals, their next opponents Liverpool sit two spots higher than them in the WSL1 table and have conceded five more. As Birmingham have proved, you don't have to be prolific to win games, the Blues have only score four goals in eight matches this year but have also only conceded four times – Kelly Chambers might be wise to look at how David Parker gets the best out of his team.