There was endless drama in the Damallsvenskan this weekend, with a new leader at the top and a relegation battle sparked into life after positive results for those at the bottom.
Zoe Ness secures dramatic point for Mallbackens, while Umeå win
Mallbackens IF scored a last-gasp equaliser in an exciting 3-3 draw with KIF Örebro DFF.
Mallbackens had taken the lead in the first minute through Julia Karlenäs' header, but then a Veronica Perez inspired Örebro found themselves 3-1 up early in the second half. Perez equalised in the eighth minute, before providing the assist for Marie-Eve Nault's header. Then, in the 53rd minute, Perez scored her second goal.
Fifteen minutes later, Mallbackens pulled a goal back through Clara Alm but it looked like they were going to lose the match. That was until the 91st minute when Zoe Ness' header secured the draw.
The draw sees Mallbackens climb out of the relegation places, whilst Örebro remains in seventh.
Meanwhile, Umeå IK's late comeback saw them beat Kristianstads DFF 2-1, but it wasn't enough to see them climb out of the relegation places.
Kristianstads had taken the lead in the 21st minute when Jenny-Julia Danielsson scored.
But in the 79th minute, Rita Chikwelu scored an equaliser before Hanna Sandström's header secured the win three minutes later.
Umeå moves up to 11th, whilst Kristianstads drop down to the bottom of the table.
Top two swap places
At the opposite end of the standings, FC Rosengård moved into first with a big 6-1 win over Kvarnsvedens IK.
Rosengård opened the scoring in the first minute through Macedonian international Natasha Andonova, who scored her second nine minutes later. Just before the half-time whistle, Brazilian legend Marta made it 3-0.
Kvarnsvedens pulled a goal back in the 64th minute through Sarah Elnicky, but any chance of a Kvarnsvedens comeback was ended when Andonova completed her hat-trick in the 70th minute.
Ella Masar scored two goals late on Rosengård as they secured a 6-1 win. Despite the defeat, Kvarnsvedens remains in ninth place.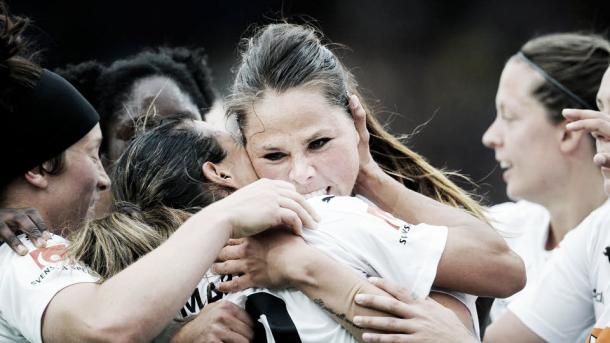 Linköpings FC dropped down to second place as a result of Rosengard's big win, despite beating Djuargårdens IF 1-0.
Linköpings' winner was scored in the 27th minute through Fridolina Rolfö, but despite having 15 shots on target, they could not find a second goal.
Djuargårdens stay in sixth, whilst Linköpings FC are now second, having a worse goal difference compared to Rosengård.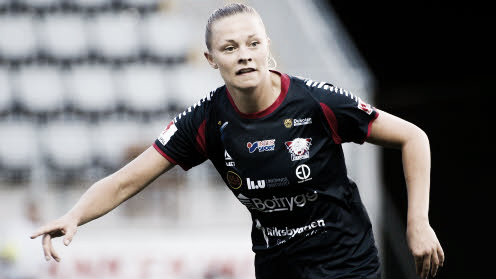 Piteå move up to third
Just below the bottom two there was an interesting battle taking place, with Piteå IF beating Eskilstuna United 2-1 to move up to third place in the Damallsvenksan.
June Pederson's goal saw Piteå take the lead in the 25th minute before Irma Helin doubled their advantage just before the hour mark.
Mimmi Larsson's 81st-minute penalty pulled a goal back for Eskilstuna, but in the remaining time, they could not find the equaliser.
Eskilstuna now drop down from third to fifth place.
Vittsjö GIK rescue a draw
Finally, two goals in the final six minutes saw Vittsjö GIK rescue a 2-2 draw with Göteborg FC.
After a goalless first half, Göteborg scored two goals in four minutes through Rebecka Blomqvist and Elin Landström as they took a 2-0 lead. Both of the goals were assisted by Pauline Hammarlund.
In the 84th minute, Linda Sallström headed in Linda Klinga's cross to pull a goal back though before Anna Hjälmkvist scored the equaliser, just four minutes after coming on.
Following the result, Göteborg remain in fourth whilst Vittsjö GIK sit in eighth.