In the first week of the second half of the 2016 Damallsvenskan season, teams will be desperate for positive results in order to head into their month off in good spirits.
Action packed opening day of a busy weekend
On Saturday, bottom side Kristianstads DFF host sixth-placed Djurgårdens IF.
Having lost to Umeå IK last weekend, Kristianstads now find themselves bottom of the table. That defeat had ended a run of two victories for Kristianstads, but they have a chance of escaping the relegation zone. The bottom four sides are just separated by just one point, meaning they could move out of the bottom two with a draw – although they would prefer to do it with a win.
Despite Djurgårdens losing to Linköpings FC, they still remain in sixth place. They are looking to end a three-game losing run and really need to pick up points to avoid being dragged into the relegation battle. A win could see them move up to fourth, but that would require a goal swing of seven with Göteborg FC if they lose.
Earlier in the season, Djurgårdens beat Kristianstads 2-0.
In the repeat of last week's match, Kvarnsvedens IK hosts the leaders FC Rosengård.
Kvarnsvedens will want to avoid the result in the previous match where Rosengård won 6-1. And they know that they will need to win if they want to remain outside of the relegation zone, they will most likely need to at least draw – as they sit in ninth place only on a superior goal difference to Umeå IK in eleventh.
On the other hand, Rosengård is in brilliant form, sitting top of the table but only ahead of Linköpings on superior goal difference. The only points they have dropped so far came in a draw with Linköpings, and the form of the top two means Rosengård will likely require to win to stay top.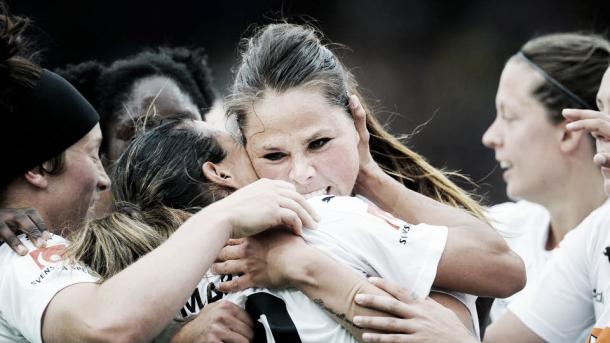 Can Linköping keep up with the leaders one day later?
On Sunday, second-placed Linköpings FC takes on third placed Piteå IF.
Despite beating Djuargårdens 1-0, Linköpings lost out on top spot last week due to Rosengård's large win. They will have to win to have a chance of regaining first place, but face a difficult opposition in Piteå, especially as they will require a large goal swing.
Since these two sides met earlier in the season where Linköpings won 4-1, Piteå is unbeaten in their past three matches, winning their past two and drawing their other one. Piteå has no chance of moving up the table, sitting 13 points behind Linköpings.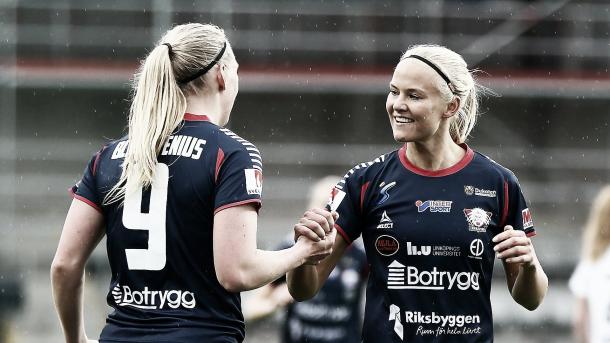 In a repeat of last week's epic 3-3 draw, KIF Örebro DFF host Mallbackens IF.
Örebro sits in seventh place, two points ahead of their opponents and have drawn two of their past two league games – winning the other.
Mallbackens moved out of the relegation zone with the draw, and they will want their stay in safety to last longer than last time when they lost their next game to move back into the relegation zone.
Örebro can move up to sixth with a win, whilst Mallbackens will overtake Örebro with a victory, potentially up to seventh.
Vittsjö GIK host Göteborg FC in a repeat of last week's game which ended in a 2-2 draw.
Vittsjö is one of the sides in danger of being dragged into the relegation places as they sit just two points ahead of the bottom two sides. This is in part due to not winning any of their past four matches, although they did draw two of those. That run did also include a painful 8-0 defeat to Linköpings.
Göteborg FC go into the match knowing they could move up one place into third spot if they win. They will also be wanting to get over the disappointment of last week's draw where Vittsjö scored twice in the final six minutes to secure a point.
On the other hand, if Vittsjö wins, they could move two places up to sixth place.
Eskilstuna and Umeå round us off
In the final game of the week, fifth-placed Eskilstuna United host second bottom Umeå IK.
Defeats in their past two games have seen Eskilstuna drop down from third to fifth, with the crucial one being the 2-1 loss to Piteå. Before that, they had shown great form to climb up to the table – at one point, looking like they could pressurise the top two.
On the other hand, Umeå's recent form has been remarkably improved, winning their past two matches to move off the bottom of the table. Before that, they had lost their previous six games, and therefore they will want this winning run to continue. That losing run included a 3-1 defeat to Eskilstuna.
Eskilstuna can move back up to third with a win whilst Umeå could climb up to seventh with a win.