Going into week 14 of the Toppserien, all eyes were at the top of the table as Avaldsnes welcomed LSK Kvinner in what could be a season-defining match for both teams.
At the other end of the table, Vålerenga were looking to bounce back after their terrible result last time out and they managed to pull it off whereas Røa continued their fantastic run of form.
LSK out-perform Avaldsnes as the race for the title heats up
Many would have though that a match up between Avaldsnes and LSK Kvinner would not produce many goals but LSK had other ideas as they came away from their away match against their nearest rivals as 4-1 winners.
LSK started almost as quickly as they had done in their previous match when Lene Mykjaland started off the scoring in the third minute of the match. Anja Sonstevold then added to LSK's lead with her third goal of the season and the visitors went into the half with a 2-0 lead.
Andrea Rosa pulled one back for the hosts but LSK were not done yet and Sophie Haug popped up in the 62nd minute to give LSK their third goal of the match. Leading goalscorer Isabel Herlovsen grabbed her 17th of the season three minutes later and sealed the game for LSK.
Avaldsnes now find themselves in second and one point behind LSK after being in first for quite a few weeks. LSK will use this result and their game in hand to push and hopefully win the title when the season ends. The new leaders will certainly continue to look to Herlovsen to help their title push as the striker seems unable to stop scoring at the moment.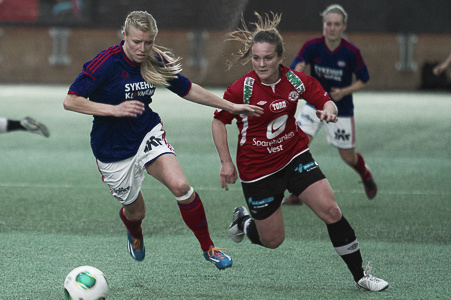 Vålerenga surprise Arna-Bjornar and the rest of the league
After a complete dismantling at the hands of Trondheims-Ørn in their previous match, Vålerenga were hoping to bounce back and make a huge statement and they did just that this week as they beat visitors Arna-Bjornar by three goals to nil.
After a slow start to the match, Belgian striker Tine Schryvers found the back of the net in 32nd minute to give Vålerenga the lead. The goals did not end there as Swedish defender Jennie Nordin then scored her second and third goals of the season for Vålerenga in the 70th and 77th minutes of the match. Arna-Bjornar had no answer to Vålerenga's attack on the day and they could not get anything going at the front for themselves either.
Vålerenga are still in tenth place but are now tied on points with Trondheims-Ørn and have every reason to believe that they can lift themselves from that part of the table. Arna-Bjornar still have a game in hand but find themselves in sixth and four points behind Røa.
Røa continue their winning streak
The last time Røa and Kolbotn met, the then visiting side Kolbotn left with all three points - but this time around, Røa gained their sixth straight win in as many matches as they left Kolbotn with a solid 2-0 win under their belts. Nora Byom-Nilssen and Andrea Froshaug were the goalscorers on the day for Røa.
The win leaves Røa in fifth place and, although they are some way away from the top two, they have closed the gap on those above them and will look to continue their remarkable winning streak for as long as they can. Kolbotn find themselves slipping further and further away from the top two after keeping pace with them for much of the season. They are now in fourth and are five points away from their victors on the day, Røa.
Stabæk try and keep pace with the leading two
Stabæk continue to try and climb closer to the top two and helped themselves to a 2-0 win against a struggling Medkila side. Icelandic midfielder Gunnhildur Jonsdottir continued her good run of form in front of goal as she opened the scoring in the 13th minute of the game. The home side then had to wait until the 77th minute for the next goal which came from Trine Ronning, who picked up her second of the season for Stabæk.
Stabæk stay in third place and are five points away from Avaldsnes with this win. They will be looking to keep a good run of form going in case Avaldsnes have any more slip-ups during the rest of the season. Medkila continue to languish at the bottom of the table in 11th and seemingly are headed towards relegation, or a relegation play-off, at the end of the season as they are eleven points from safety.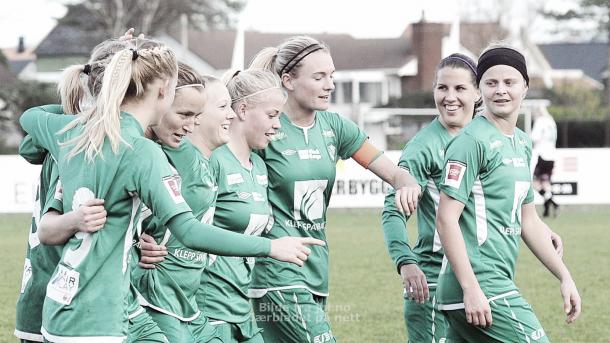 Trondheims-Ørn falter at the hands of Klepp
After a remarkable 7-0 pasting of Vålerenga in their previous run out, Trondheims-Ørn could only watch as they were swept aside by Klepp this weekas they went down by six goals to one.
Gry Ims, who was the star of the match with her eventual hat-trick, got her first goal of the day in the 21st minute. Trondheims-Ørn found a reply through Oda Fugelsnes who tied up the match three minutes later, but Line Smorsgard and Birte Svines then gave the lead back to Klepp with two excellent goals before the half-time whistle blew.
Ims picked up her second and third goals in the second half to round off a great match for her and a welcome three points for Klepp.
The win has pushed Klepp away from the bottom of the table and they now sit three points away from Trondheims-Ørn in eighth place. Trondheims Ørn find themselves in ninth but level on points with Vålerenga with goal difference separating the two teams right now.
Sandviken make no mistake against Urædd
Urædd surprised many last weekend as they managed a two-all draw against a very good Stabæk side, but Sandviken were not prepared to make the same mistakes that Stabæk had made against Urædd. Karoline Bakke, Asne Eide, Camilla Ervik, Marina Jensen and Ingrid Spord were all on the mark for Sandviken as they outmatched Urædd in a 5-0 win.
Sandviken are now in seventh, level on points with eighth-placed Klepp with 18 and one away from Arna-Bjornar in the table, whereas Urædd continue to dwell right at the bottom of the standings with one point - probably now set for relegation.