For the last few days social media has been awash with speculation. To what the game-changing announcement was from the Football Association, in regards to the FA WSL. In a statement The FA announced that the FA WSL would move towards a more traditional approach to scheduling. In 2017-18 the WSL will run from September to May, with a spring series running from February to May, bridging the gap next year.
Director of football participation and development Kelly Simmons has been broadly positive of the change. Highlighting player welfare and growing opportunities for the development of the game in the UK as huge positives. As she outlined in a statement from the FA:
"When we launched the FA WSL in 2011 it was the right decision to play it as a summer league, which has been demonstrated by the competitive, exciting football, growing attendances and player development. However, there are still a number of issues holding the league back, such as fixture scheduling and ground availability. We want to keep building on the momentum and growth of the league and we believe now is the right time to change the calendar."
Change to give FAWSL clubs a competitive edge ?
There are positives in the shift of approach to scheduling the FA WSL in the winter. The league was out of sync with its European counter parts in the Division 1 Féminine in France and Frauen-Bundesliga in Germany. All adopting the winter season format.
It comes as no surprise that the powerhouses of the women's game in Europe, come from those divisions. With PSG, Olympique Lyonnais and Wolfsburg all leading the way at the higher echelons of Champions League competition, in recent seasons. The lack of competative edge was a signifcant disadvantage for British clubs. Oftten not being match sharp to face Europe's best.
Chelsea Ladies manager Emma Hayes has spoken of what she perceives as a huge disadvantage for British clubs. She outlined her wish for the FA to improve scheduling to boost FA WSL clubs chances of reaching the knockout stages:
"I hope our Football Association do more to prepare better scheduling because if an English team is going to win the Champions League, we have to be more game ready.. It's geared to French, German and Swedish teams, and until we change that or listen to clubs like Chelsea we are always going to get knocked out in the early rounds."
England to reap rewards
Schedule changes could have a positive impact for England. Mark Sampson is hoping that he will have players who are physically in better shape going into major international games, he told the BBC:
"The objective is to make sure we do as well as we can. We need the best players we can, the best support and with a fixture list that helps them develop and grow. Hopefully the way the season works moving forward, we will get players who are fit, they will be fresh and with all of the factors combined it gives us a better chance of a more competitive team."
Those sentiments are broadly true and have solid foundation.The change also gives Sampson more time with his players before Euro 2017. Strengthening and bolstering the chance of winning European footballs ultimate prize.
There is a huge caveat for FA WSL teams. Should key players get injured whilst on International duty. Recovery times can vary by injury, leaving clubs to scramble contingency plans. Or having to even utilising the transfer window to bring in another player. With that extra financial implications placing a strain on perhaps even more constrained budgets.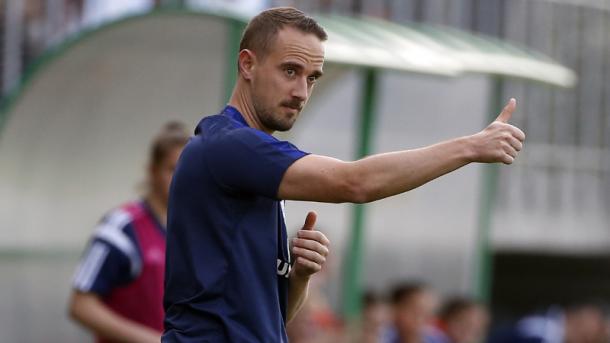 FA WSL to lose fans and place in broadcast pecking order?
With already congested television schedules with multiple leagues vying for broadcast opportunities. The FA WSL was able to be a focal point for football fans in the summer months. Craving their fix of the beautiful game in the off-season. The FA WSL scheduled in the summer gave the clubs a chance to tap into a new fan-base, willing in some part to having their perspectives about the women's game changed.
In some respects the change has robbed FA WSL clubs the chance to further evolve their own broadcast strategies to gain further recognition. Clubs now face the prospect of competing with the heavyweights of league football for broadcast time. In effect rolling back almost a decade of work, in engaging with broadcasters. The FA and clubs need to address this huge gap and quickly. Ensuring games will be broadcast and not dropped for games in the Bundesliga or Serie A.
Young players development rolled back?
Bringing the league into sync next year, a spring series will take place with clubs playing each other just once. This does little to give clubs the opportunity to bring younger players through the team. Nor even develop existing playing structures. Its vital for clubs to be able to give younger players opportunities in the first team to develop their craft. Next year that development will not be as rigorous as it would be in previous seasons. Clubs will have to ensure players are given opportunity to develop.
Infrastructure issues are a massive problem for FA WSL clubs, often ground sharing with other clubs. Schedule backlogs could occur due to poor pitch conditions, with potentially significant gaps in games. Making match preparation much more difficult to map out. However it will remove significant concerns regarding ground availability.
Clubs will get a competitive advantage in European competition, with it a potential for growth in the English national team. Marketing and media departments have to be dynamic and bold in order to counter the interest from many of their fan-base in other footballing competitions.
Not to do so will undermine the decades of work proponents of the game have worked tirelessly to achieve. In truth the FA have taken a huge gamble and in respects a leap of faith. Only time will tell if its a master-stroke or a massive miscalculation.