On Friday, Silvia Neid named her 18-strong squad to travel to Brazil and Rio de Janiero for the 2016 Olympic Games.
The Germany head-coach has, unsurprisingly, one of the most talented player pools available and has picked a very strong side for the games.
Germany will be looking to go one step further than their three consecutive Bronze medals between 2000 and 2008.
Familar faces, no Bremer, Magull on standby
Of the 26 players called into the pre-tournament training camp, four were cut completely: Meike Kämper, Lena Petermann, Pauline Bremer and Felicitas Rauch.
Given Bremer's talent and the way she ended the season with Olympique Lyonnais, including a stunning showing in the Champions League final, she is a shock omission.
Lina Magull's place on the standby list is also up for debate. However, regardless of who is in or out of the team, Germany have to be considered as one of the favourites.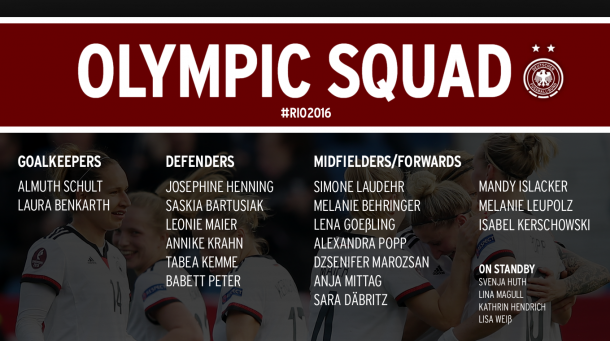 Neid has her say
Neid began by admitted that "the decision was obviously not an easy one" for her and her coaching staff.
She added, "We got a good impression from the three preparatory training camps and the coaching staff debated the situation intensively after each training session."
Neid credits "versatility" as to one of the key factors that played "a big role", due to "only being able to select 16 outfielders and two goalkeepers".
Neid said the four players to drop out were cut for "different reasons", before concluding, "They are all players with a lot of potential that are a part of our future plans."
Germany squad in full
Goalkeepers: Almuth Schult (VfL Wolfsburg), Laura Benkarth (SC Freiburg).
Defenders: Josephine Henning (Arsenal), Saskia Bartusiak (1. FFC Frankfurt), Leonie Maier (Bayern Munich), Annike Krahn (Bayer Leverkusen), Tabea Kemme (Turbine Potsdam), Babett Peter (VfL Wolfsburg).
Midfielders: Melanie Behringer (Bayern Munich), Lena Goeßling (VfL Wolfsburg), Dzsenifer Marozsan (Olympique Lyonnais), Sara Däbritz (Bayern Munich), Melanie Leupolz (Bayern Munich), Isabel Kerschowski (VfL Wolfsburg).
Forwards: Simone Laudehr (Bayern Munich), Alexandra Popp (VfL Wolfsburg), Anja Mittag (Paris Saint-Germain), Mandy Islacker (1. FFC Frankfurt).
Reserves: Svenja Huth (Turbine Potsdam), Lina Magull (SC Freiburg), Kathrin Hendrich (1. FFC Frankfurt), Lisa Weiß (SGS Essen).
Quotes via DFB.de