Following the appointment of manager Colin Bell earlier this week, SC Sand have now announced the signings of Verena Aschauer and Silvana Chojnowski.
Both add international experience to Bell's new side, with Aschauer having made her seniot debut for Austria in 2012 while Chojnowski was first capped by Poland this year, featuring seven times for them in 2016.
More importantly though, both have experience of the Frauen-Bundesliga to help Sand continue to progress in the division.
Aschauer played 18 times in SC Freiburg's defence last term, adding to her eight appearances the season prior and the 21 displays she totted up with BV Cloppenburg in the top flight two years ago.
Meanwhile, Chojnowski may have struggled to nail down a regular spot for TSG 1899 Hoffenheim since joining them in 2013, scoring six goals from 38 league appearances, but she has spent many years in the division and will be out to prove a point with Sand.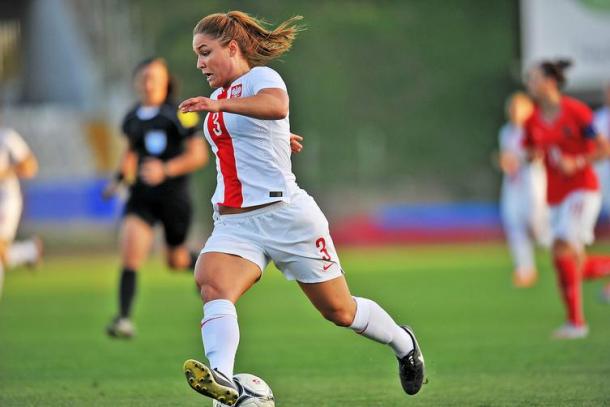 Sand reaping the rewards from last year's success
Despite a lowly league finish of ninth, Sand are already enjoying benefits from their fantastic domestic cup run last term which took them to the DFB-Pokal final.
They beat Bayern Munich in the semi-finals in the best of their wins en route, before losing to VfL Wolfsburg in the final. However, their attacking style and fearless attitude won them many admirers - including both Aschauer and Chojnowski.
Speaking to the club's official website, the latter admitted as much, saying: "Sand has convinced me with their style of play, with the last season and moving into the DFB Pokal final."
Chojnowski continued, saying that she was "seeking a new challenge" and has chosen the Kühnmattstadion as the best place to pursue that, with her able to "combine football and study" at the club.
Despite the fantastic cup run last year though, the striker believes Sand should be focusing on a good finish in the league this year, and she wants to help them achieve that, concluding by saying: "With the team it would be nice to continue to secure a good position in the table."
Meanwhile, Aschauer's attraction to Sand is more deeply rooted, with her admitting that before she moved to Freiburg in 2014 she was "in contact" with Sand.
"The mutual appreciation has always been present throughout the entire time, which is why I am very glad that [a transfer] has now worked at the second attempt," the defender added.
Aschauer has also been impressed with the progress made by the club and now she wants to help them build on that, saying: "I want to do my part to continue along this path."
The 22-year-old has always perceived Sand as "uncomfortable opponents" when facing them and wants to help them maintain this reputation they have in Germany.