After her side's drubbing of the London Bees, VAVEL spoke to Sheffield FC boss Zoe Johnson about the team's recent run of good form and how playing as a unit is paying off.
A visit from Lady Luck
Johnson was over the moon for her hardworking squad and was happy that things had finally started to come together for the FAWSL debutants.

"I'm delighted, the girls thoroughly deserve it, they've worked really hard since the start of the season," she said.
"When we last spoke I said I didn't feel like the games were going our way, sometimes we were the better team but the results didn't reflect that. Sometimes in football you need a little bit of luck and when you get that luck on your side things will start happening for you."
A grounded squad and constant desire for improvement has been spurring the Northern side on, Johnson revealed.
"The confidence is high, I think it always has been, but with the recent results it will be even higher but they won't get carried away with it," the manager added, describing her team as "a very grounded group.
"Against Millwall [next week] will be just the same as today [against the Bees]. The comment will always be that it's the biggest game of the season – we don't have a target to meet, we just want to do well so we'll keep plugging away and working hard, no matter who the opponent."
With an almost fully fit squad Johnson is happy to boast more options in the coming weeks too, with two players well on the road to full-fitness.

"We've been pretty lucky with injuries. We haven't had many and we've got new signing Sophie Jones due back next week so she should be involved in the Millwall game," the Sheffield coach revealed.
As for youngster Hannah Cain, Johnson said that the player is "working back to fitness" and hopefully she'll be back in action soon.
"We're missing her but she's well on the way and we're hopeful she'll be fit for the Continental Cup game. At first we feared that might be her season over but the injury wasn't as bad as we first thought and it's actually taken longer than we hoped, she was actually due back a few weeks ago.
"She's been away on an England camp, working really really hard on her rehab and hopefully she'll be back in the next couple of weeks so she can get some game time before she goes away with the England under-17's."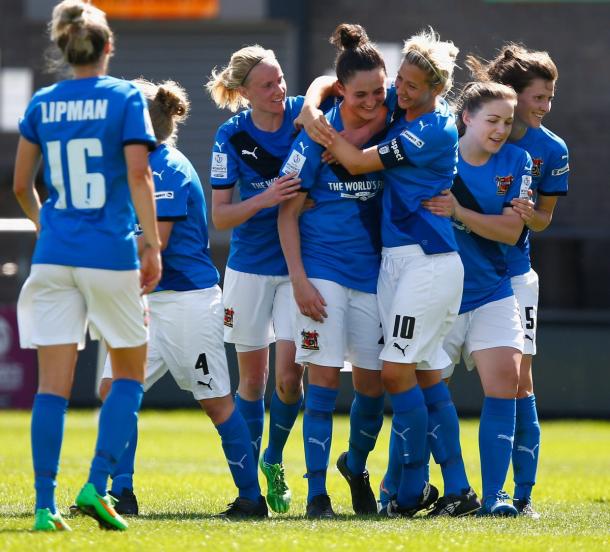 More of the same for humble Sheffield
Despite the result, the Sheffield boss hasn't set out a specific game-plan just for their unknown opponents but rather a continuation of the good work they've been doing all season.
"It was strange one coming into this game because we really didn't know much about them. We hoped that they'd be taking us lightly but we knew we'd have to watch them on the counter and they proved in the first-half that that was where they're dangerous," Johnson said, with this the first ever meeting between Sheffield and the Bees.
"But really the game-plan was just to do as we've done in the last few weeks. Getting wins over promotion favourites Bristol and Everton, we've done well. We've won games and it was just a case of don't change what we've been doing and just stick to what we know because it's been working so well."
After their recent spate of giant-killings Johnson was still hopeful of flying under the radar too.
"I'm hoping we'll always just be little old Sheffield FC and people don't see us as a danger-team. Even in the Northern Premier League when we were winning games, we never put ourselves out there, we just went about our business quietly and we'll continue to do that.
"That next loss is always just around the corner; you just don't know. I always say to the girls, week in, week out, we do not chase the outcome we just work and focus on our processes and the outcome will come itself."
What was tangible in their win was a fierce team mentality. Whether in attack or defence, everyone played as one; a trend Johnson is keen to see continue.
"I've always been a big believer in playing as a team with that ethic so it's something I've always tried to instill in the girls," she said.
"It was a struggle at the start of the season. Obviously we had an unsettled start anyway with management and staff and we had a lot of new players come into the team so it's taken time for everyone to gel. But we really started to come together as a team and we even came down last night, it's only a three-hour drive but we still came down yesterday and did some team bonding last night.
"That's always the message: as soon as you cross that white line, we're a team. We'll lose, we'll win, we'll draw games but the one thing that won't happen is we won't get broken as a team and hopefully we can continue to do that until the end of the season."