In two weeks, both France and Canada will begin their 2016 Olympics journey in Rio, Brazil. The last time the two teams met in a competitive match was at the 2012 London Olympics where even though France dominated the game, Canada came away with a bronze medal after defeating Les Bleues by one goal to nil.
Most recently, France managed a three-nil win in a friendly against China while Canada themselves also managed to get a win against China in a recent friendly albeit by a score of one goal to nil. Both teams will use this final friendly coming off a few days of rest to prepare for the Olympic tournament and all that it brings with it.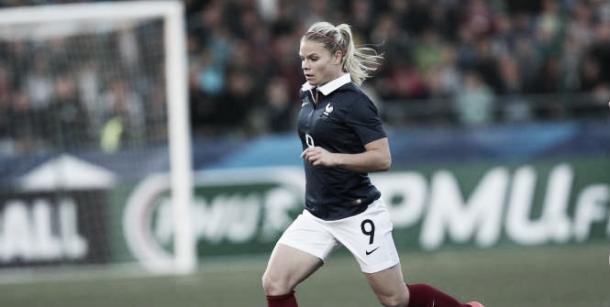 Bergeroo looks to remove the final hurdle for France
No one can question the talent that Les Bleues have within the ranks. From the front to the back, the team is filled with players that have played at the highest level both for their club teams and for the national team. However, on the biggest stage France seem to always fall short and Philippe Bergeroo will hope that he has instilled enough willpower and mental strength in his team for them to finally win a major tournament.
Recently, France lost the services of Laura Georges through injury and although the Paris Saint-Germain defender is a mainstay on the team and will undoubtedly be missed in Rio. Upcoming Olympique Lyonnais youngster Griedge Mbock-Bathy should be an able replacement at centre-back for Les Bleues alongside stalwart Wendie Renard.
Bergeroo will also look to his forward line and the likes of Mbock-Bathy's club teammate Eugénie Le Sommer and Paris Saint-Germain's Marie-Laure Delie to provide the goals for him.
France's Olympic roster in full
Goalkeepers: Sarah Bouhaddi (Olympique Lyonnais), Méline Gérard (Olympique Lyonnais).
Defenders: Sabrina Delannoy (Paris Saint-Germain), Jessica Houara (Olypmique Lyonnais), Sakina Karchaoui (Monpellier HSC), Amel Majri (Olympique Lyonnais), Griedge Mbock-Bathy (Olympique Lyonnais), Wendie Renard (Olympique Lyonnais).
Midfielders: Camille Abily (Olympique Lyonnais), Elise Bussaglia (VfL Wolfsburg), Kadidiatou Diani (F.C.F Juvisy), Kheira Hamraoui (Olympique Lyonnais), Amandine Henry (Portland Thorns FC), Claire Lavogez (Olympique Lyonnais), Louisa Necib (Olympique Lyonnais), Elodie Thomis (Olympique Lyonnais).
Forwards: Marie-Laure Delie (Paris saint-Germain), Eugénie Le Sommer (Olympique Lyonnais).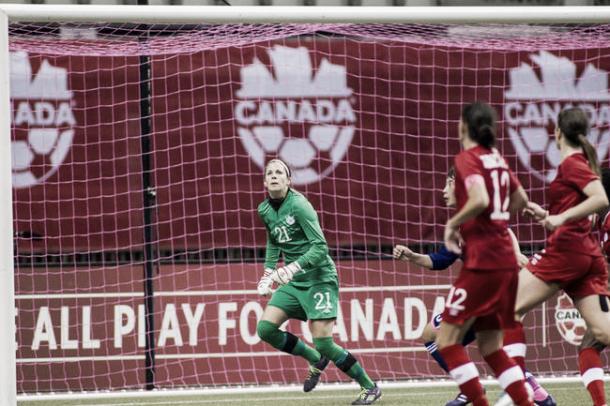 Canada want more than bronze this time around
When Canada entered the London Olympics, few predicted that they would medal at the tournament.
But after a thrilling semi-final against the United States of America - which saw them lose in the last minute of extra-time - and then a smash-and-grab win in the Bronze medal match against France, they will have many keeping an eye on their performance throughout the tournament.
Though the team did not go as far as they would have wanted at the 2015 FIFA Women's World Cup as the host nation, John Herdman seems confident that his team could make another good run at the Olympics this year.
Canada will be without the services of starting goalkeeper Erin McLeod but the team feels that backup goalkeepers Sabrina D'Angelo and potentially the starting goalkeeper at the tournament, Stephanie Labbé, will be capable of filling McLeod's shoes.
As always, Canada will look to captain and star Christine Sinclair to provide the majority of the goals and with an influx of young players, including rising star Jessie Fleming, that Herdman has brought in since the World Cup, the team will look to give a good account of themselves at Rio and potentially surprise everyone once again.
Canada's Olympic roster in full
Goalkeepers: Sabrina D'Angelo (Western New York Flash), Stephanie Labbé (Washington Spirit).
Defenders: Janine Beckie (Houston Dash), Josée Bélanger (Orlando Pride), Kadeisha Buchanan (West Virginia University), Allysha Chapman (Houston Dash), Rebecca Quinn (Duke Univeristy), Rhian Wilkinson, Shelina Zardosky (Washington Spirit).
Midfielders: Jessie Fleming (University of California, Los Angeles), Ashley Lawrence (West Virginia University), Diana Matheson (Washington Spirit), Nichelle Prince (The Ohio State University), Deanne Rose (Scarborough GS United), Sophie Schmidt (1. FFC Frankfurt), Desiree Scott (FC Kansas City).
Forwards: Christine Sinclair (Portland Thorns FC), Melissa Tancredi (KIF Örebro).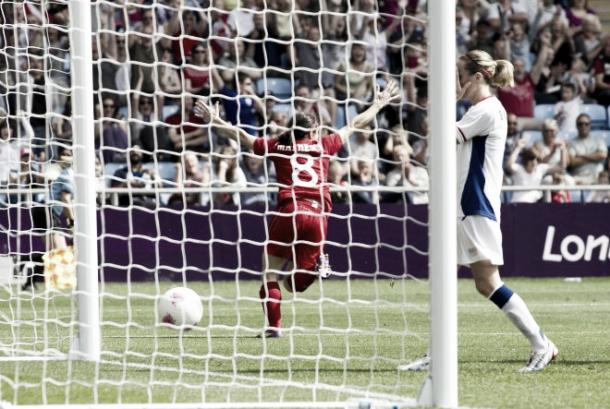 An interesting history between the two teams
As previously noted, the last time these two teams faced each other in a major tournament was in the 2012 Olympics of which Canada came out on top. Prior to that match, both teams had faced each other in eight previous matches and both teams have managed three wins in those eight matches.
The last major tournament that the two faced off in was the 2011 FIFA Women's World Cup where France defeated Canada by four goals to nil.
Since the London Olympics, the two teams have met in friendlies twice in France. The first time, in 2013, the match ended in a one-all draw and in the second meeting in 2015, France won the match by a goal to nil.