In reaction to the bad press Arsenal's Sari van Veenendaal has gotten this week following a cringe worthy own-goal, we examine a little more about the player tasked with keeping the opposition out.
Women are from Venus, Men from Mars and Goalkeepers are from Neptune
Goalkeepers are villains, they're aliens, they are the opposite of football. Scoring goals and winning games go hand-in-hand, if you're not scoring then you'll never be winning. Goalkeepers are designed to stop you from scoring, they're put in place to ruin the party and are unsurprisingly turned into the villain at the first mistake.
They train differently, get given gloves and have their own rules to learn and their own kits to wear, in fact during the 90's kit manufacturers clearly hated goalkeepers so much shot-stoppers were forced to wear the most garish of shirts. These days 'keepers are routinely dressed as hi-lighters and glow-sticks, presumably to help guide the way in case of a black-out.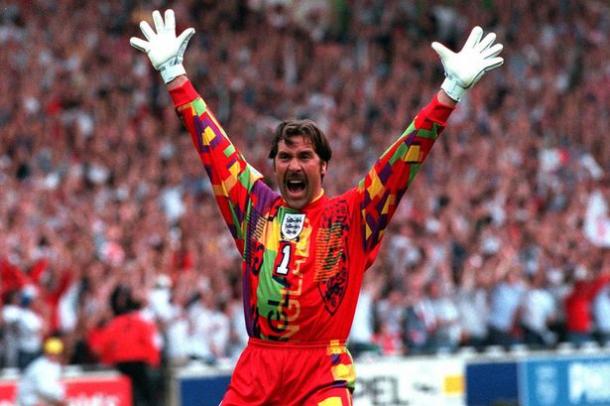 But not only do keepers have their own rules but they're always held accountable for their mistakes. A mistake from an attacker, midfielder or defender can be a pain but there will invariably be cover – attackers have a midfield buffer, midfielders have the defence for a cushion and defenders have goalkeepers to spare their blushes but a goalkeeper traditionally has no one to bail them out. If a goalkeeper makes a mistake it's usually costly and as such, they're held accountable much more often. If a goalkeeper makes a mistake, fans demand blood.
Goalkeepers have to be switched on and alert for ninety minutes, if doesn't matter if their team has 99% possession and spend almost all of the match in the attacking half, the goalkeeper isn't allowed to lose focus, even as a spectator they must remain vigilant.
So when a goalkeeper makes a blunder as van Veenendaal did against Chelsea or Karen Bardsley did against Belgium there is an immediate outcry; they must be benched, they must be held accountable for their mistakes.
Red-faced in Rotherham
After her solitary mistake against Belgium the England fans were up in arms, they wanted her benched, not the outfielders who had started the comedy of errors but Bardsley, the last line of defence and the last and most laughable of the mistakes. It was a moment, a second in a game of ninety minutes and whilst it didn't cover Bardsley in glory and probably cost England two points in the group it was just a single mistake.
When an outfielder makes a gaff they pick themselves up and dust themselves off ready to go again and we grant them another chance, when a goalkeeper makes such an error we are far less forgiving. Although Bardsley did pick herself up and dust herself down and she was a match to everything the Red Flames could throw at her for the rest of the match, not putting a foot wrong after the error.
Bardsley had made the ultimate mistake, she had let her goal be compromised and left England embarrassed and the fans wanted retribution. My own reaction as I sat in Rotherham was to hide my face in my hands, head shaking as I muttered something about a goalkeeper on the bench or in the stands and how they would never make such an odious error.
The England faithful were incensed when Mark Sampson confirmed that barring injury Bardsley would be starting the next game for England (and the next and the one after and the one after that…) – he was a blind fool, she had sinned and must be punished. But goalkeepers aren't something you change with the regularity you would your socks, you have to show faith in your goalkeeper and accept that just like everyone else in the squad they will make mistakes.
Although there is a vast difference between the odd error and sustained bad form.
Sari saves the day
Just like Bardsley, van Veenendaal made a mistake but was faultless for the other 89 minutes and 59 seconds of the match. Luckily for the Dutch international her mistake – and Alex Scott's over hit and misdirected back-pass – wasn't costly as Arsenal came from behind to clinch all three points and close the gap on Chelsea. But the Gunners couldn't have claimed all three points if not for van Veenendaal's saves throughout the match.
After displacing Emma Byrne as the number one at Arsenal last season, van Veenendaal got off to a flying start this year although the Gunners' league form was less than perfect their Dutch 'keeper was keeper her team alive in games, only to be beaten by the unsaveable. Two league and two FA Cup matches into the year, Pedro Martinez Losa awarded van Veenendaal with a new deal to secure her services for the foreseeable future.
The contract came the day after the former Twente keeper had helped her side reach [another] FA Cup semi-final after saving three of the six penalties she faced in a shoot-out against Notts County. Although Bardsley can boast the most clean-sheets of the season so far as well as the longest stretch without conceding (over 630 minutes in seven back-to-back league games), there can be no question that Arsenal have the best 'keeper in the league.
That's not to say that Bardsley isn't a good keeper but the City number one consistently has more cover and faces far less. Van Veenendaal, although concedes more, seems the more dependable 'keeper. (This is of course, just my opinion based on the various games I've seen so far this year).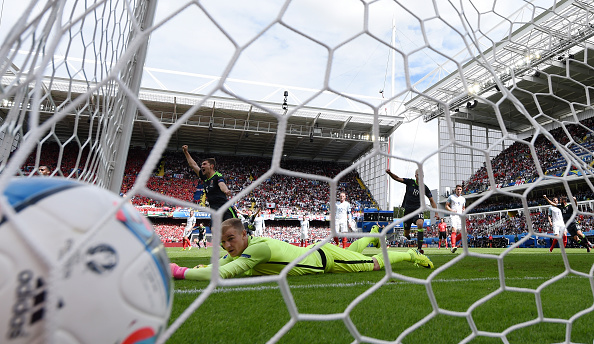 Goalie gaffs
Because of the length of the WSL season and frequent breaks it can sometimes be hard to gauge a sustained period of poor form so I'll highlight a Premier League player for ease. From one Man City and England number one to another, from Karen Bardsley to Joe Hart.
Many City fans will have fond memories of watching Hart at the Camp Nou against Barcelona, a performance that drew huge praise from all in the footballing community including his opponent, Lionel Messi who called Hart as a, "phenomenon". Hart was a wall during that match, he was near unplayable thwarting one of the best attacks in the world at every turn.
We have all see Hart at his best, we've seen why he's the first choice to both club and country but we've also seen the Shrewsbury native go through patches of dire form. After an explosive 2010-11 season Hart's form dropped the following year before a series of errors saw Roberto Mancini drop him for a month during the 2012-13 campaign. Despite some impressive performances his form has wavered and he has asked questions of his manager, whether that be Mancini, Manuel Pellegrini or Roy Hodgson.
After poor form during the 2015-16 season, Hodgson was asked who would be starting in goal for England, Hodgson never wavered; even if Pellegrini benched Hart, he would always be a starter for his country. Understandably, as dropping your 'keeper is a big step and should only be taken if their form is consistently bad – as Hart's was.
But Hodgson prevailed with Hart as his number one and that's where the City stopper spent his time at Euro 2016, between the sticks for England. Unfortunately for Hart, his performances were the cherry on top of a terrible Three Lions cake. England were abysmal from back to front and Joe Hart only managing one clean-sheet against Slovakia in a game which the opponents had zero interest in attacking his goal.
Vasili Berezutski, Gareth Bale, Ragnar Sigurðsson and Kolbeinn Sigþórsson all beat the England number one with ease, Hart spoke of having nothing to do all tournament but when he was needed he was absent. His performances were laughably bad but he was just another Lion underperforming in France. His new boss, Pep Guardiola will be far less lenient than Hodgson was and will be hoping that Hart left all his bad form at the Allianz Riviera and it doesn't grace the Etihad.
Easy targets
Being a goalkeeper is a thankless job, no matter what you do for 89 minutes of a match you'll be defined by the goals you concede. If a keeper faces 20 shots in a game and makes 19 saves their heroics can be easily wiped out by conceding at the twentieth time of asking – even more so if the shot was saveable.
If fans need a scapegoat they will frequently look to one between the sticks, so maybe what I'm trying to say is, cut your goalie some slack. Despite a previous claim, they're not aliens, they're human and just like the other ten players on the pitch for your team, they're allowed to make mistake and shouldn't be tarred and feathered for one blunder.