Umeå IK FF's President, Anderz Andersson, stated the decision to sack their coaching team was something you did not want to take.
With just two wins and three draws out of twelve matches, they are still in the relegation places. But despite those victories coming in their past three games, the club has made the radical change. Head Coach Maria Bergkvist, her assistant Joakim Blomqvist and goalkeeping coach Johan Norberg have all had their contracts terminated.
Andersson felt they had to review the organisation to make the club more professional, and hoped that they could name a replacement this week.
But this is not the end of the story. The three coaches wrote a letter where whilst they accepted that football is a results business and, from that perspective, the decision to be fired is justified. Theyy felt they had to write a letter regarding the treatment from the board and in particular, Anderz Andersson.
After Umeå's economic issues in 2009, the club had made the decision to develop local players which meant that in 2014, their starting eleven were all filled by internationals. But when the club was hit by another economic crisis in 2014, it meant that they club had to issue financial cuts.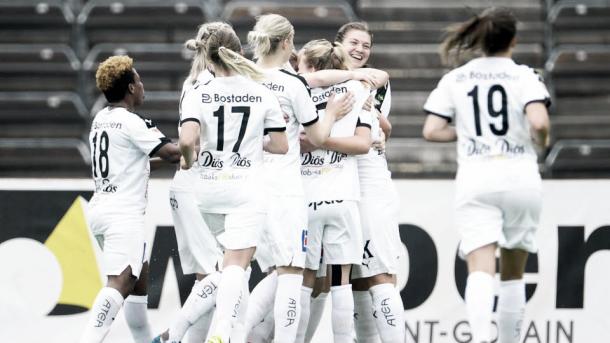 Umeå has the lowest number of foreign players in the Damallsvenkan, as well as the league's youngest squad. This was something the coaching team understood, realising the club wanted them to develop their young players. But, they felt the board had told them that they understood the situation, and the coaching staff were being judged on keeping the club in the league, whilst simultaneously developing the young players which would allow them to once again challenge for the title.
The board had also made a gamble in investing a large section of the playing budget for four established players, something Andersson had admitted was a deliberate gamble that they could improve the inexperienced squad. Unfortunately, three of these players picked up an injury early on in the season.
After early losses in the season, Andersson called in Maria Bergkvist, threatening her with the sack if the club didn't start to win matches. In response to this, the coaching staff gave the board an ultimatum: either we leave now or let us finish the season. Their logic behind this was they believed that in the autumn, results would improve because the young players were continuing to improve, whilst Hanna Folkesson, Jenny Hjohlman, Lina Hurtig, Hanna Glaas and Johanna Nyman would all have recovered from their injury – and their return would strongly improve the squad.
The board told the coaches that they wanted them to remain. A few weeks later, despite a turnaround in results, the coaching staff was sacked. Having their experience of this treatment, the coaching team don't believe the logic of the board about this being about making the club more professional.