After her side were beaten by promotion-favourites Bristol City, VAVEL spoke to London Bees defender Deanna Cooper about the loss.
Bristol were up by two goals inside of fifteen minutes and the defender admitted that her side went with it in the early exchanges, "We knew it wouldn't be easy today; they're a tough team to come and player, everyone knows that they're going to get the ball down and play, and they all work really hard for each other."
She added, "I thought for the first 20 minutes we were just non-existent, it was like we were still stuck on the bus, to be honest. But after that, we got into the game and I thought we did well to match them, especially in the second-half, we had a lot more chances than them but we just need to be bit better in the final third."
Although the Bees grew into the game and had a much better second-half when they got the ball forward their attack was frequently rushed and almost careless. Cooper, whose had her fair share of joy in front of goal recently is aware of the problem and hopes her side can stay calmer in future, "Our focus as a team is to do what we know. We're always going to do what we can to get the ball down and play, obviously it wasn't working for us in the first-half."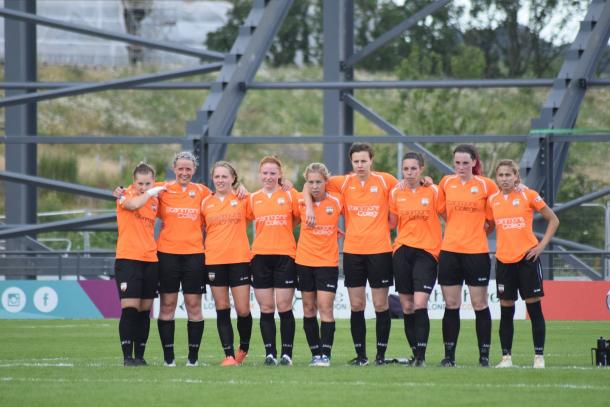 Slow starts and composure needed
She explained, "But at half-time we went in and spoke to each other and said, we need to play our football and not worry about what they're doing and I think that worked a lot better for us in the second-half."
Cooper continued, "Sometimes we just rush it a little bit. At the back we take little more time but when we're getting the ball forward we're not giving it the same care but that comes from everyone, we all just seem to rush when we get into the final third. Especially when we're behind, it's almost like we're panicking trying to score."
With a reverse fixture against Oxford United on the horizon Cooper is targeting the double over The U's after helping her side grab a late victory at the Hive two weeks ago:
"We played them a couple of weeks ago and got a late winner… late winners. They're another team that likes to press but we know what to expect and as long as the girls stay calm I don't see why we can't get the win."