After beating then-group leaders the Netherlands to ensure qualification on matchday three, France have set themselves up a semi-final with a relatively inexperienced Switzerland side, but a clearly talented one.
The Swiss downed Germany and Austria to finish second in their group, some distance ahead of the chasing pack, while France overcame a round one setback dealt out by Norway to reach the last four.
The latter will now hope for another win to reach their eighth UEFA Women's Under-19 Championship final, in a bid to claim their fourth title.
Tight defence faces free-scoring front line
France may boast the tournament's top-scorer Marie-Antoinette Katoto, tied with the Netherlands' Jill Roord on four goals, but the main reason for their progression to this stage has been their organised back line.
The Swiss have a very open style of play, which has seen them win 4-0 and 4-2 against Austria and Germany respectively, but also lose 5-0 to Spain. On the other hand, the French lost 1-0 to Norway in the group stages, but edged out the Dutch 2-1 despite their free-scoring. They also beat hosts Slovakia 6-0.
France can attack and attack potently, but they do not get carried away and concede a concerning amount of goals. The same can not be said of their opponents, who will need to be a lot more discplined and switched on to win this semi-final.
Goals, goals, goals
This tournament has been one more about attacking than defending, with the four semi-finalists dominating the goal-scoring charts - of the 11 players who have scored two or more goals, only two of them haven't made it this far with their respective nations.
As aforementioned, France's Katoto leads the way on the table, but Switzerland's Cinzia Zehnder is just one behind her with three goals in three games.
The 18-year-old midfielder made a name for herself with SC Freiburg this season in the Frauen-Bundesliga, and is only enhancing her reputation with her country's crest on her chest this summer.
Despite France's sturdy back line, this will definitely be a game won by an exciting attacker, with each nation boasting their own creative catalyst going forward.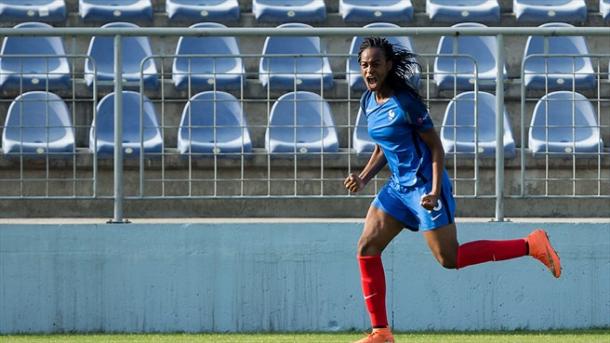 A finalist debutant, or an eighth appearance?
However, experience could also play its part in this fixture.
France reached the semi-finals last year and won the competition as recently as 2013 - adding to victories in both 2010 and 2003. They have also reached four other finals, with a win tomorrow to take them to their eighth appearance in the showpiece event.
Switzerland, however, match their best ever achievement at the tournament just by having this fixture to look forward to. They have previously reached the last four in 2009 and 2011, but have never gone further.
Both times, they were beaten by the eventual winners - England in 2009 and Germany five years ago. France will certainly fancy their chances of that fourth title then, if they do survive a stern Swiss screening.