France and Spain will be contesting the 14th UEFA under-19 Women's Championship Final since it was rebranded from Under 18 to Under 19 back in 2002.
Spectacular final
The duel between France and Spain promises to be a spectacular contest as both teams are attacking sides, that flourish going forward and boast plenty of individual skill and technical ability; it gives this final a real blockbuster billing.
Despite losing their first match at the hands of Norway, France have never looked back from that defeat and carried on with their commitment, firing 11 goals and conceding only two in the following three matches, including a demolishing 0-6 victory over Slovakia, clinching a place in the final.
France were crowned champions twice in this tournament, in 2012/2013 and 2002/2003. One of the superstars in 2013 was Pauline Bremer, who recently was crowned champion of Europe with French club Olympique Lyonnais. Meanwhile, come 2003, goalkeeper Sarah Bouhaddi, Bremer's team mate at OL, performed superbly in that tournament, receiving also the award as the best player of that manifestation.
On the other hand, Spain always looked comfortable throughout the group stages as they went through with nine points, seeing off all their opponents. Nonetheless, they had to turn to Lady Luck to beat the Netherlands in the semi final 4-3, with Sandra Hernandez registering a big time hattrick.
Spain's sole triumph was recorded in 2004, where they had recorded a famous victory against Germany in the final. This came after being heavily defeated, 7-0, by the same opponent in their group stage fixture.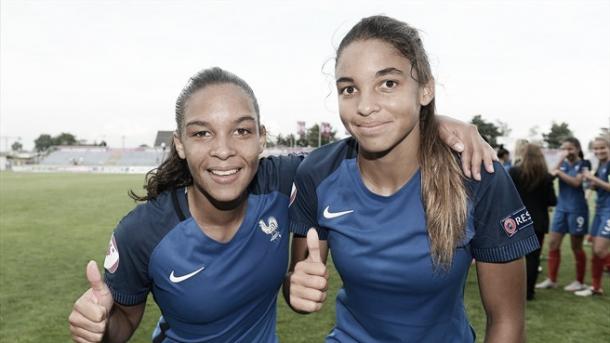 Route to final
France opened their Group A commitments with a 0-1 defeat to a Norway side, who eventually failed to qualify from the group stages. Les Blues were not demoralized following that scoreline, and they returned to winning ways with a super 0-6 victory over hosts Slovakia with Paris Saint-Germain striker Marie-Antoinette Katoto registering a hat-trick.
Qualification was sealed with their 1-2 win over the Netherlands and, once again, Katato proved to be one of France's main talismen as she broke the deadlock for the French. Katoto made sure to name herself as one of the tournament's best players and cemented herself as the tournament's top goalscorer, by grabbing a brace in the semi-final against Switzerland, paving the way to the final for her nation.
Meanwhile, Spain were high flying in Group B as they topped it with nine points. A 1-0 victory against Germany saw La Furia Roja take the first three points. They followed this win with another couple of impressive victories, registering a 4-0 win over Austria and a 5-0 demolition against Switzerland.
In the semi final against the Oranje, Sandra Hernandez stole the headlines as she netted a hat-trick to give Spain a tight 4-3 victory, clinching the pass to the finals. Sandra Hernandez has now scored four goals in total and she is Spain's best goalscorer.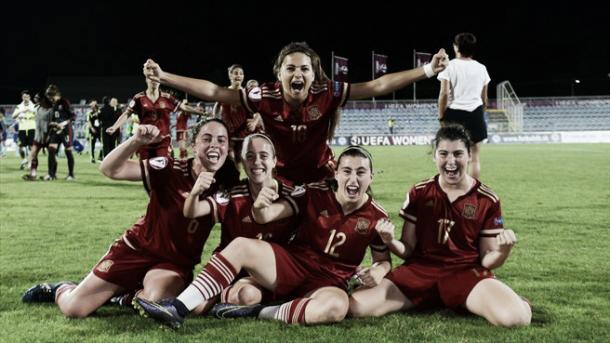 Players to watch
Marie-Antoinette Katoto (France)
The talented 17-year-old forward was born on the 1st November 1998, in Colombes, France. She has joined PSG back in 2010 and, undoubtedly, her move proved to be beneficial as she maximised her potential, especially her magical right foot, on which most of France's hopes are relying. PSG were quick in renewing her contract last January, when Katoto pledged her future with the club from the French capital until 2019.
She has beein instrumental for this France team, as she has lot of characteristics which aids France's cause in the final third. She is capable of slipping behind the defenders and also, she likes to switch with her winger counterparts, in order to prevent the opponents' back line from having a reference point.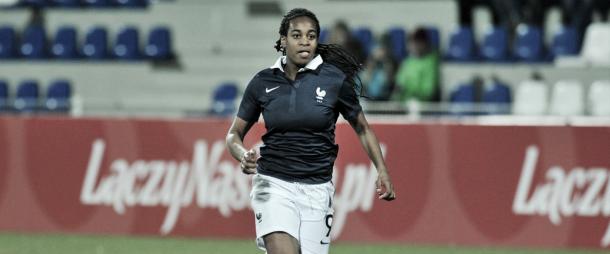 Sandra Hernandez (Spain)
One of Spain's best talents in women's football. Sandra Hernandez translated her spectacular form at club level onto the international platform, spearheading her nation into a much deserved final, in which they will start as favourites. She was quiet in the first couple of matches, but as a dormitory volcano, she erupted in a spectacular way in the following two matches, where she netted four times.
Born on the 25th May 1997, Hernandez already features for FC Barcelona, with whom she made numerous appearances both in La Liga and also in the UEFA Women's Champions League.
Her athleticism, goal awareness, tactical positioning and speed of thought combined make her a sensational player to watch; if you are still in doubt whether to watch the final or not, Hernandez should be enough to convince you.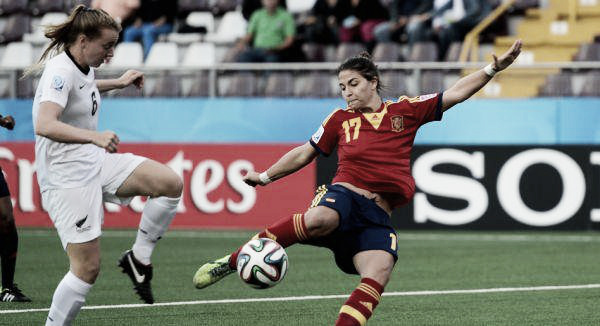 Where to watch?
France and Spain will cross swords on 31st July 2016, at 19:00 and Eurosport will be the official broadcaster for this highly-anticipated duel which has all ingredients in order to promote women's football as best as it can.