After some time off, the top flight of Scottish football returns this weekend, with plenty of drama to be on show as we get back down to business.
Celtic - Hibernian
Second and third meet at the SWPL 1 as Celtic host Hibernian, in the first match since Heather Richards moved from Hibernian to Celtic.
Both sides had a strong June. Celtic managed to beat Rangers 2-1 and Stirling University 2-0 to make sure that they sit in third place in the league. Celtic have often been described as dark horses for the title, but they've yet to manage to take points off the top two sides – losing all three games so far, although each time they've lost by a single goal.
This is actually the third time these sides have met in the 2016 season, with Hibernian having beaten Celtic 1-0 in the SWPL Cup First Round. In the league, Hibernian raced to an early 3-0 lead, and although Celtic managed to battle back to 3-2, they couldn't find the goal to secure a point.
Hibernian will look to continue their magnificent form that sees them breathing down the neck of Glasgow City. Their results in June saw them close the gap to City from eight points to just two, meaning that they could go first if City drop points.
Glasgow City - Forfar Farmington
The SWPL 1 leaders and champions Glasgow City take on Forfar Farmington.
Glasgow City had a challenging June by their own standards and have spent July improving their squad with the signings of Hayley Rosen and Keeva Keenan. Having seen their lead at the top cut down to just two points, they know that they have to win today to go into August still in first place. If they had any doubts that they were in a title race, they don't have them anymore.
But, that blip in June where they lost the SWPL Cup and lost to Spartans should not be overstated. They've still won 10 out of their 11 league games and are still in pole position to win the league.
Forfar Farmington face the prospect of ending the day in the relegation places, depending on Stirling University's result. Sitting on six points, their performances this season merit more and there is no doubt that they will pose City huge difficulties.
A win will see them remain in seventh, but it could possibly close the gap to Aberdeen in sixth.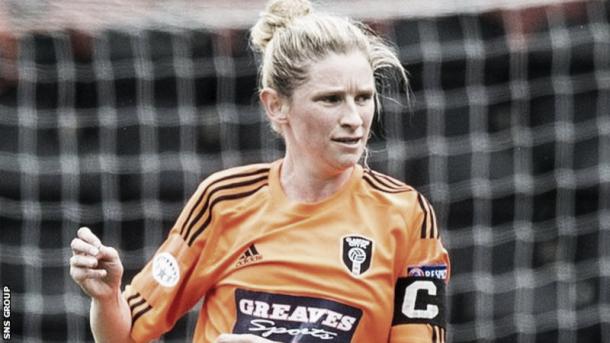 Rangers - Aberdeen
Rangers host Aberdeen as both sides look to improve on the first half of the season.
Rangers' season had started well, with them winning four out of their six opening games and looking as if they could possibly challenge for the top two places. But since beating Forfar Farmington on the first day in May, they've failed to take a single point and now sit in fifth place.
They will be looking to restart the second half of the season with a win, and they face an Aberdeen side two points behind them.
Aberdeen themselves have a new management team with Allan Smith having stepped down. Stefan Laird and his new coaches had worked with Aberdeen's U20s and have talked about playing attacking football.
A win today would be the perfect start, and would see them overtake Rangers into fifth – and possibly close the gap on the top four.
Stirling University - Spartans
Stirling University will look to move off the bottom of the SWPL 1 table as they host in-form Spartans.
Very much like Forfar Farmington, Stirling University have been praised for performances that haven't quite got them the points they deserved. But they will need to convert those performances into points soon if they are going to launch a battle against relegation.
Their two wins so far have been against Celtic and Rangers which shows they are more than capable of getting wins against the top sides in the league, and they face one today.
Spartans are one of the in-form sides who probably wished that the mid-season break hadn't happened yet. They won their last three matches, scoring seven goals and keeping three clean sheets. That run included their much praised 3-0 win over Glasgow City.
It means that they are now six points clear of fifth place, and can now look upwards in closing down the top three. They could finish the day level on points with Celtic if they win, and the Glasgow side lose.