After their win over Millwall Lionesses, VAVEL spoke to Bristol City captain and defender Hayley Ladd about building momentum.
Three points more important than the performance
Despite some nervous moments near the end of the match, Ladd and her teammates are happy with the result, one which keeps them well in the hunt for promotion to the top flight.
"We worked hard for it today, maybe made ourselves work harder than we should have needed to, but it was hard-fought win and we stuck it out to the end to get the points and that's all that matters," said Ladd.
Although the Vixens dominated, they seemed a little goal-shy, a factor that will need to be addressed on the training pitch.
"It's easy to say we should have taken more shots, we definitely could have had more [goals] but it's something we'll work on," Ladd admitted.
"We've got to test the keeper more. As we go on the games are only going to get tougher and when we dominate for as long as we did and as well as we did, we need more to show for it."
Regardless, the win keeps Bristol on course for promotion back to WSL 1 and for Ladd the nature of the victory isn't as important as the positive result.
"The win means a lot to us, we're just taking it game by game, everyone's working really hard to just give it everything each game to keep notching up those wins," she said.
"We're not even thinking about the next game, we're 100% focused on the one we're playing, and every game now is a cup final."
Furthermore, Bristol's captain admitted that the team are not focusing on the league table and those around them either. They are solely looking at themselves and winning their own games.
"We're not fussed about anyone else, we know the job we have to do and we just focus on ourselves. Like today, we've done our job and that's all that matters. We know we've got the capability to do everything in this league. We take it game by game and we do our homework so we always go into games prepared and confident that we can get all three points."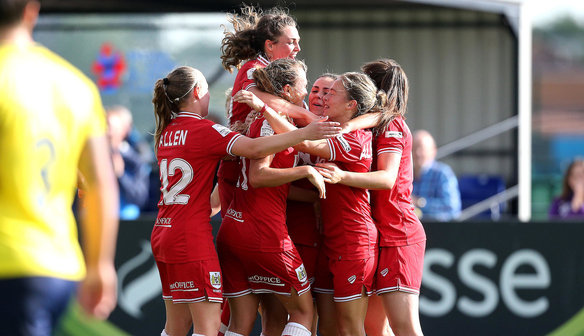 One mistake, but perfect prep
The captain was left red-faced after her miscommunication with keeper Caitlin Leach gifted Millwall an equaliser, but Claire Emslie's instant reply spared her blushes as it proved to be the decisive goal.
"Yeah it was a mistake and I just have to take that on the chin and move on. I'm just happy to be back and very thankful to Claire for scoring such a good goal to make sure we took all three points."
Aside from the one defensive slip up, Ladd lauded Willie Kirk's prep, suggesting that the game mostly went to plan.
"Obviously with the new manager coming in for them there was a bit of the unknown coming into this game, but we only played them three weeks ago so we mostly knew what to expect. They basically did as we expected them to, Willie was spot on with how he set us up."
Vixens to take on the Blues
With four weeks until Bristol are next in league action, the Vixens will be keeping themselves busy with friendlies, notably a home clash with current WSL 1 champions, Chelsea.
"We've got a few friendlies coming up just to keep the momentum going. We're unbeaten since the mid-season break and it's important that we stay fresh," Ladd stressed.
"It keeps us ticking over and we just see [Chelsea] as a test. If we can do well and give them a good game that would give us massive confidence. No matter what happens, we'll just go out and enjoy it."