Following their narrow loss to Bristol City, VAVEL spoke to new Millwall Lionesses boss Lee Burch and captain Ashlee Hincks about the positives that can be drawn from the match.
Burch a good fit
After only being announced as the new boss on Friday, it was Burch's first game at the helm and whilst it wasn't a dream start he was pleased with what he saw.
"It went okay. Obviously losing the game isn't the greatest of starts but I was really pleased with the performance; both collectively and individually, I thought the girls did really well," he said.
"They implemented a game-plan that we only had a very short amount of time to work on and we've come close to taking something from this one, we've come really close. But I'm happy with the second-half performance and I think overall we were better today than when we played them three weeks ago."
Having already stated that the away game against the same opponents was the first Millwall game he was in attendance for, Burch could draw strong parallels between the two games.
"First-half we were good but we ran out of steam and didn't really have an answer in the second; today it was the reverse. Second-half today, we've been pushing forward, we've got the equaliser; unfortunately, we didn't keep it long enough but we went again and looked like we could have gotten something. Seeing that shift is positive, we just need to be more clinical."
With little time for the manager to get used to the squad and vice versa, Burch was thrilled with how the Lionesses had been implementing his ideas too/
"I've had two training sessions with the team. The first was on a much smaller pitch and was more about getting to know the girls, the second was on the full pitch and was about trying to implement the game plan. So if the girls can deliver that after just one session with my thoughts and my game-plan, then I'm really pleased and I think it bodes well for the future."
After weathering a veritable storm in the opening 20 minutes, the hosts grew into the game, and a spoonful of confidence will be the right tonic for the team.
"After we conceded we defended for our lives a bit, but we got through a bad patch and they all just started to settle and sometimes that's all it takes to get back into the game," Burch believes.
"We looked a little bit leggy at first but we got used to it and settled down – we understood that what we were trying to do was working which gave them a lot of belief. The impact of the substitutes in the second-half was excellent and the game just kept getting better and better."
Home fortress
The match was decided by a Claire Emslie strike from distance, a sweetly struck shot that was beyond the reach of young keeper Grace Taylor, who was called up after first choice number one Sarah Quantrill was ruled out through injury,
"Sarah picked up a head injury right at the end of training and obviously with the head you've got to be careful and listen to what the doctors have said, so we went with Grace," Burch revealed.
"She's come on at 16 to make her debut and I thought she was absolutely superb today.
"Jordan Butler has a slight knock too so she didn't feature today but she'll be back for the next game [a friendly against Lewes]."
With the Lionesses giving the Vixens a run for their money, Burch is hopeful that he'll see those kinds of performance replicated in further games.
"If they can put in that kind of performance against a top side like Bristol, who are going for promotion, then they've got to go and do it against teams at the bottom of the table."
He continued: "If we play like that, I've got full belief that we're going to get a result and we're going into a run of games where we need to be getting points on the board. I want to make the Den a real tough place for other teams come and have to play."
With another six league matches before the end of the season too, the new boss is raring to go.
"Every game, we're going to take them all game-by-game, but I'm just looking forward to getting out there and playing, especially for home games.
"We're going to make the Den a fortress and I can't wait."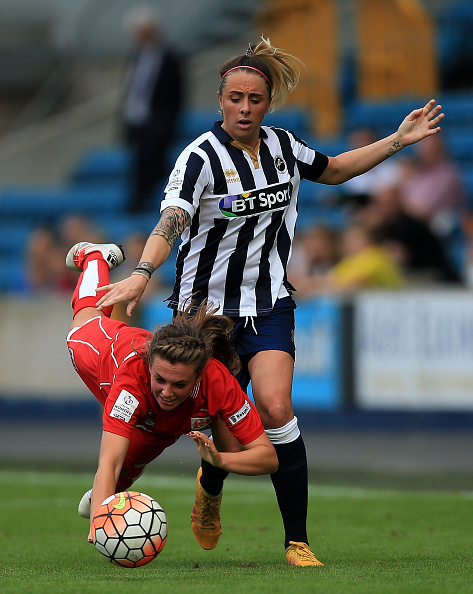 Hincks stays positive
Although happy with the overall performance, like her manager, captain Hincks acknowledged that her side need to be more ruthless in front of goal.
"Considering where Bristol are in the league, it was a really good performance but it's frustrating because every week we seem to be falling short in the goal scoring areas," she said.
"Positives are definitely there. We're clearly moving forward and our next fixtures are all winnable games – we've got the top of the table out of the way so now it's time to put points on the board."
With a disrupted season, following player and manager departures, some sides might have started to come undone, but the Lionesses have banded together and the turbulence has only made them stronger, says Hincks.
"It's actually brought us closer together and made the team bond even more special. It's strange to say it but those things happening to the club have made us stronger. Everyone here supports each other and no matter what we're all there with each other 'til the end."
Echoing her manager's sentiments, Hincks wants to make the Den a place to be fear and give the home crowd a good show too.
"We had a really good crowd today and it's important that they see a performance like that. It wasn't our best but we still fought, we kept trying. There's loads of positives to take from today.
"With where we are in the league, every game is a big game, nothing other than three points will do. Our next one is against Watford and I think we're directly targeting that one to really get some momentum going; we want to beat them off the park."