There's always a Group of Death at major tournaments and this summer, in the women's football tournament at the 2016 Olympic Games, it's Group F.
Featuring three of the world's top 10, three teams who all made it to the quarter-finals at the 2015 FIFA Women's World Cup 12 months ago, the neutrals will be licking their lips as Germany, Australia and Canada all prepare to meet in Rio.
Thrown in the mix too are Zimbabwe, a debutant at the Games who overcame two of the three African nations who made it to last year's World Cup on the road to Rio - Ivory Coast and Cameroon.
The nation ranked 93rd in the world will be expected to be the group's whipping boys, but they have earned their place at the Games and will be out to do more than just make up the numbers.
Zimbabwe - Can the Mighty Warriors cause a mighty upset?
We'll start in Southern Africa and with the Mighty Warriors, who are representing Zimbabwean football at the Olympics for the first time in the country's history - the men never having made it to the Games.
African women's football has enjoyed a fantastic rise in the last couple of years, and both Zimbabwe and South Africa - the latter also at the Games this year, in Group E - will be hoping to continue that by making an impact in Rio.
Football from their continent is exciting, fast paced and direct. The nations aren't overly concerned with defending, they're out to use pace and fearlessness to catch their opponents off guard and entertain the crowds.
This is likely to be their downfall this summer with regards to getting out of the group, with them to concede too many goals to get the points to go through, but they will no doubt be an exciting team to watch.
Zimbabwe's main outlet going forward will be Rudo Neshamba, who will be more than keen to take her chances on the big stage after almost missing out on the tournament altogether with a knee injury.
Neshamba was the nation's hero in qualifying, scoring twice in the final game against Cameroon to send the Mighty Warriors to Rio, but news of a knee injury in March threw her chances of making the Olympic squad in doubt.
The Zimbabwe Football Association failed to pay for the medical care she needed to recover, until a UK-based entrepreneur, heavily involved in the development of football in Zimbabwe, provided the money for the scan she required.
After a turbulent few months, Neshamba is in the squad and the 24-year-old will be looking to use this summer's Games as a springboard for her career - similarly to how the likes of African stars Asisat Oshoala, Francisca Ordega and Gaëlle Enganamouit have at major tournaments in the past couple of years.
She will be supported going forward by experienced forward Felistas Muzongondi, who was also on target during qualifying. The 33-year-old may not have experienced many games on the big stage with her country, but she has great knowledge of the game and will look to use her wisdom to guide the young and promising players coming through.
The nation's biggest achievement in their history so far is a fourth placed finished at the African Women's Championship 16 years ago. This summer, however, they will be looking to surpass that.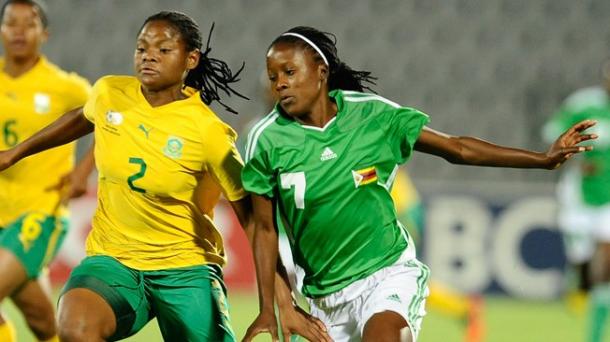 Squad in full
Goalkeepers: Chido Dringirai (Flame Lily Queens), Lindiwe Magwede (Cylcone Stars).
Defenders: Lynett Mutokuto (Black Rhinos), Shiela Makoto (Blue Swallows Queens), Nobuhle Majika (Inline Academy), Eunice Chibanda (Black Rhinos).
Midfielders: Msipa Emmaculate (Black Rhinos), Talent Mandaza (Black Rhinos), Rejoice Kapfumvuti (Inline Academy), Mavis Chirandu (Weerams), Daisy Kaitano (Black Rhinos), Marjory Nyaumwe (Flame Lily Queens).
Forwards: Rudo Neshamba (Weerams), Samkelisiwe Zulu (Flame Lily Queens), Erina Jeke (Flame Lily Queens), Rutendo Makore (Black Rhinos), Kudakwashe Bhasopo (Black Rhinos), Felistas Muzongondi (Mwenezana).
Canada - Herdman's youthful side looking to announce themselves
Going up in world ranking order, next we come to Canada, who are 10th on the FIFA leaderboard.
Winners of the 2016 Algarve Cup, quarter-finalists at last year's World Cup and runners-up in qualifying to only the world champions, the USA, they have a squad littered with established world class talent which is complemented by a whole host of promising youngsters.
Looking at their squad in fact, they boast a balance in their team that most, if not all, nations will envy.
With six centurions on their hands - one of whom is close to 250 caps - and then six players still plying their domestic trade for their universities, the experienced heads are guiding the stars of the future to the full potential and it is working wonders.
Kadeisha Buchanan was the breakout star at the World Cup last year, winning the tournament's young player award, but she is not alone in the club of Canadians with a bright future.
Jessie Fleming is the obvious name to mention here, the 18-year-old midfielder having arrived on the international scene with an almighty bang, but forward Deanne Rose is even younger and has already scored three goals in her 12 senior appearances, all at the age of 17.
Let's not forget the mainstays though, particularly Christine Sinclair. The 33-year-old continues to edge nearer to America's Abby Wambach's all-time top-scoring tally of 184 goals in 255 caps, with Sinclair herself boasting 162 strikes in 243 appearances.
She'll be hungry for goals in Rio to close the gap on her former opponent, particularly in the game against Zimbabwe when many will expect a one-sided goal-fest.
Under John Herdman, Canada know how to win games. They are tight at the back, clinical going forward and hard-working throughout the team.
Of the nine games they have emerged victorious in this calendar year, they have kept six clean sheets, while their last five wins were all edged by a single goal.
Canada can grind out wins and, with their very talented defence, they will be well suited to deal with the world-class stars that Germany and Australia have in their ranks.
With the ability to keep the ball well and be patient in creating chances, teams will struggle to carve out their own opportunities against Canada, such will be the struggle to get possession.
However, if anything is to be their downfall, it will be exactly that. Herdman's side do not attack with directness all too often, and that is why they don't score a lot of goals.
If you take out the 21 goals scored against Guyana, Trinidad and Tobago and Guatemala in 2016, Canada have scored just 10 goals in 10 games - a disappointing stat when you consider their opponents in those games included the likes of Belgium, Iceland and Denmark.
If they were a club in a league table, then last summer's World Cup hosts would be right at the top in any division as they very rarely lose or concede goals.
However, this is a trait not suited to knockout football and perhaps they will be the big nation to fall at the group stages as a result.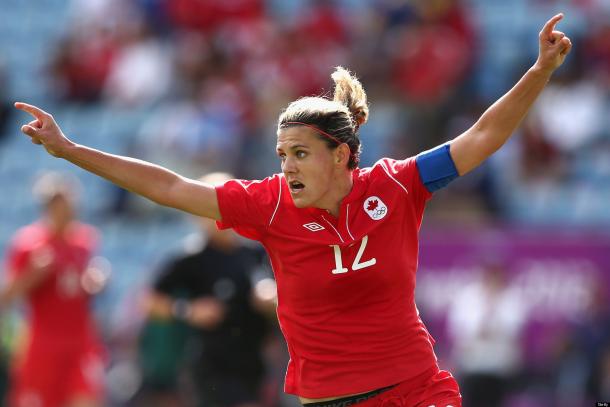 Squad in full
Goalkeepers: Stephanie Labbé (Washington Spirit), Sabrina D'Angelo (Western New York Flash).
Defenders: Kadeisha Buchanan (West Virginia University), Allysha Chapman (Houston Dash), Shelina Zadorsky (Washington Spirit), Rhian Wilkinson (Unattached), Josée Belanger (Orlando Pride), Ashley Lawrence (West Virginia University).
Midfielders: Rebecca Quinn (Duke University), Diana Matheson (Washington Spirit), Desiree Scott (Kansas City), Sophie Schmidt (1. FFC Frankfurt), Jessie Fleming (University of California).
Fowards: Deanne Rose (Scarborough GS United), Christine Sinclair (Portland Thorns), Melissa Tancredi (KIF Òrebro), Nichelle Prince (Ohio State Unviersity), Janine Beckie (Houston Dash).
Australia - Consistency the key for the Matildas
Twelve months on from their exciting performances at the World Cup taking them through to the last eight, and almost the last four, Australia will again look to turn heads in Rio this summer.
Despite being ranked fifth in the world, the Matildas are a fairly underrated nation, with England's achievements in Canada perhaps overshadowing theirs.
However, that's certainly unfair to the Aussies, who played some terrific stuff last year that surprised everyone.
Direct, pacey and quite simply fearless, Australia's success was built on attacking football that was an absolute treat to watch. Even in their 3-1 defeat to the USA in their opening fixture, they played a fantastic game and won over plenty of the neutrals as the tournament wore on.
After pipping Sweden to second in the group, the Matildas disposed of Brazil in the last 16 and almost of then reigning champions Japan in the quarter-finals, only to lose 1-0 in a valiant showing.
With the likes of Larissa Crummer and Chloe Logarzo coming through their ranks, there is certainly reason to get excited about this crop of Australian players, particularly with legendary striker Lisa De Vanna captaining them through new experiences.
Even at the back there is talent coming through to help balance out this attack-minded side. 16-year-old Ellie Carpenter is the name that stands out when flicking through their squad for the Games, while even established defensive duo Steph Catley and Alanna Kennedy are still just 22 and 21-years-old respectively.
With many of their talent littered across the globe, Matildas playing in the States and in Europe as well as in their homeland, there's a lot of experience in this paradoxically youthful squad as they look to surpass their quarter-final achievement from Athens 2004.
If they were to at least match that finish they would continue an impressive record too, one which has seen them make it to at least the last eight in every major tournament they have participated in since that summer in Greece.
That run has seen the Matildas claim AFF Women's Championship and AFC Women's Asian Cup titles in 2008 and 2010 respectively, while a silver medal in the latter competition in 2014 was another highlight.
Progression from the knockout stages this month in Rio would see them reach a 10th consecutive quarter-final in major tournaments, and see them maintain a marvellously consistent record that has helped them rise to the top of the women's game.
This consistency applies to their performances on the pitch too. The Aussies are a team that rarely fail to turn up in games; a team that rarely has a bad day at the office. Their hard-working style is a big reason for this, with everyone as willing to track back and help out as they are to make that lung-busting run into the box for a potential sniff at goal.
Australia work hard as a unit and for each other, and it's for this reason in particular that they can - and this summer will - be such a tough opponent to face.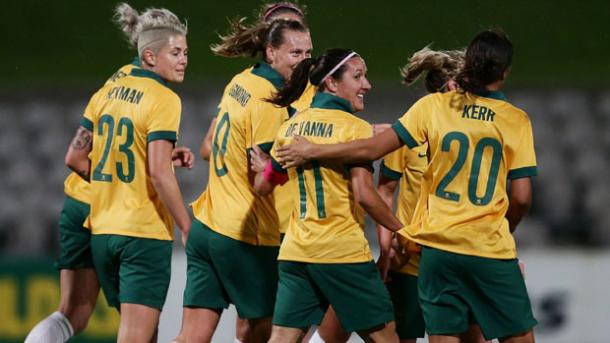 Squad in full
Goalkeepers: Lydia Williams (Houston Dash), Mackenzie Arnold (Perth Glory).
Defenders: Clare Polkinghorne (Brisbane Roar), Laura Alleway (Orlando Pride), Steph Catley (Orlando Pride), Ellie Carpenter (Western Sydney Wanderers), Alanna Kennedy (Western New York Flash).
Midfielders: Katrina Gorry (Brisbane Roar), Chloe Logarzo (Eskilstuna United), Elise Kellond-Knight (1. FFC Turbine Potsdam), Caitlin Foord (Perth Glory), Emily van Egmond (1. FFC Frankfurt), Tameka Butt (Mallbackens).
Forwards: Larissa Crummer (Melbourne City), Lisa De Vanna (Melbourne City), Samantha Kerr (Sky Blue), Michelle Heyman (Canberra United), Kyah Simon (Boston Breakers).
Germany - Neid's final chance to end the Bronze curse
The final nation involved in Group F is the big one; Germany.
The tournament team, the team ranked second in the world, but the team that have found the Olympics such a bogey tournament in the past - snapping up three rather frustrating Bronze medals in a row.
It's Silvia Neid's final outing before she leaves her role as manager and makes way for Steffi Jones to take over though, and so she will be itching to quench the thirst of the fans with at least an appearance in the final in Rio.
At Sydney 2000, the Germans lost to Norway in the last four then beat Brazil in the third place play-off to claim Bronze. At Athens 2004, the USA were their victors after extra time before they downed Sweden in the medal match. Then, at Beijing 2008, it was Brazil who thwarted them before they themselves then thwarted Japan.
After taking a break four years ago by not qualifying for London 2012, Neid's side will hope the curse has been lifted and that they can finally improve on their best ever finish at the Olympics this summer.
Germany disappointed many in Canada last summer and so will be keen to make up for that as well. Since winning Euro 2013, things have generally been a little underwhelming for Neid and her side, but the coach has plenty of reasons to be motivated to shake off these shackles this month.
With the team that Die Nationalelf have taken to Brazil too, they will certainly be expected to perform.
Four of the current crop won the Frauen-Bundesliga with Bayern Munich last year and five reached the UEFA Women's Champions League final with VfL Wolfsburg, while Josephine Henning has lifted the FA Women's Cup with Arsenal already in 2016.
There is a winning mentality throughout this squad, one which will benefit them as they look to escape the Group of Death and then overcome the tough tasks that potentially lay ahead in the knockout rounds.
To gain a winning mentality, first you have to have the talent to win, and that is something that this team can boast in abundance.
After a disappointing World Cup due to a lack of fitness, Dzsenifer Marozsán will be raring to go in Rio, looking to pull the strings for Mandy Islacker, who top-scored in the Frauen-Bundesliga last season with 17 goals.
Marozsán herself scored nine times in the league last term, while Sara Däbritz matched this tally and Anja Mittag netted 10 times in France's Division 1 Feminine for second-placed Paris Saint-Germain.
There are more than enough goals in this team, while the defence is similarly high-quality and will supply a sturdy foundation for the attack to build on.
Germany's only concern, however, is turning up on the day. They tend to wing their way through a handful of games under-par, until they come up against a big nation and are out-played and eliminated.
In this group though, they will struggle to repeat the trick and must be on the ball from the off. This team needs to work as one and work together, showing the spirit of a side like Australia, to avoid the lethargic and lacklustre showings that denied them a place in last summer's final, as they pursue a spot in this summer's.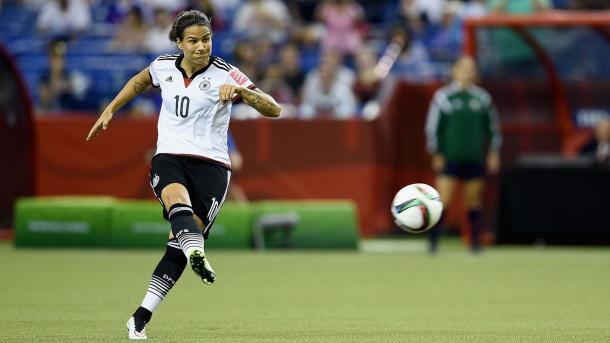 Squad in full
Goalkeepers: Almuth Schult (VfL Wolfsburg), Laura Benkarth (SC Freiburg).
Defenders: Josephine Henning (Arsenal), Saskia Bartusiak (1. FFC Frankfurt), Leonie Maier (Bayern Munich), Annike Krahn (Bayer Leverkusen), Tabea Kemme (1. FFC Turbine Potsdam), Babett Peter (VfL Wolfsburg).
Midfielders: Simone Laudehr (Bayern Munich), Melanie Behringer (Bayern Munich), Lena Goeßling (VfL Wolfsburg), Sara Däbritz (Bayern Munich), Melanie Leupolz (Bayern Munich), Isabel Kerschowski (VfL Wolfsburg).
Forwards: Alexandra Popp (VfL Wolfsburg), Dzsenifer Marozsán (Olympique Lyonnais), Anja Mittag (Paris Saint-Germain), Mandy Islacker (1. FFC Frankfurt).