Fara Williams came up against her old side Liverpool for the first time on Sunday, in a game that, unfortunately for her current team Arsenal, ended in a 2-1 defeat.
Williams opened the scoring with a heavily deflected shot off of Gemma Bonner which looped over Siobhan Chamberlain, but from then on the Gunners struggled to find the net and came undone thanks to two brilliant goals from the visitors at Meadow Park.
It was clear where the problems are, but for Arsenal they are ones that have been all too familiar in recent seasons.
Dominating but not converting
It's no secret that over the last couple of years Arsenal have on too many occasions struggled to score goals, and that is ultimately the reason why they're sitting behind Chelsea and Manchester City in WSL 1. Once again the problem was evident against Liverpool on Sunday, with chances going begging for Pedro Martinez Losa's side.
Speaking to Williams after the game, she noted just how much of an issue it is for Arsenal: "That's our problem, we don't score enough goals, we create a lot but don't convert so it's costing, and it cost us today."
A host of chances were created, but none hugely clear cut as the hosts struggled to break down Liverpool and find a goal that would have given them a result.
The visitors were happy to sit back and play on the counter and that allowed Arsenal to have the majority of the ball, but goals win games, not possession stats.
Williams added her thoughts on that exact problem: "I think we probably dominated the game in possession and had the ball in a good area, but we just weren't good enough in front of goal."
Before the campaign started that was the area most knew Arsenal would have to improve on, but like last season they've fallen short in the final third.
The quality of Liverpool's goals were superb the England midfielder noted, describing them as "exceptional," but it was a result that - although they weren't able to do much about the goals conceded - was "very disappointing."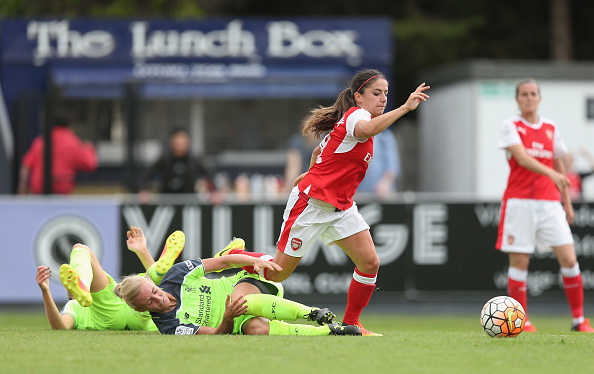 'It wasn't my goal'
Despite scoring the opening goal of the game against her former employers, Williams explained that the credit can't really be given to her: "It was nice to score, but it wasn't my goal."
Although it was a well driven effort from Arsenal's number four, it was one that was extremely fortuitous: "It was an own goal, it's on target but it's come off the defender. I'll give it to Bonner, she wants it more."
Given how the game ended, it is hardly surprising that Williams doesn't mind saying it wasn't exactly hers.
Arsenal searching for top two
With yesterday's defeat, Arsenal's slim chances of winning the WSL are surely now all but over.
The focus now has to be on catching Chelsea and securing a spot in the UEFA Women's Champions League, as Williams picked up on at full-time: "Hopefully there's a spot in the top two."
It is a target that won't be easy, but is one that remains a possibility as the midfielder looked ahead to the rest of the season: "We need to kick on, win the rest of the games and hope results go our way."
The Gunners are targeting silverware in the Continental Cup again too, but they will need to finish strong in the league if they are to stand any chance of qualifying for Europe. With Man City ahead, and the return fixture against Liverpool still to come, they will need to find some impressive results and as Williams said, hope results go their way.