A very even group where Sweden are favourites to advance, but all teams can beat one another on a good day. Brazil's aging golden generation will be hoping to finally make it at the biggest stage; but with a huge amount of pressure from the home crowd, they will have to channel that support into something positive, rather than a hindrance.
China are sending a young team, but led by the experienced Bruno Bini they are growing in confidence. South Africa is one of Africa's best teams and while many don't reckon they have much of a change in this group, they recently performed well against USA, and showed guts and play that could be tricky for any of the other teams.
Brazil
Brazil enter the competition as the host nation, and with that comes many expectations – not least from the Brazilian fans themselves, who are renowned for being very demanding of their national teams. Brazil have been at every single Olympic Games where women's football has been a discipline, and they've reached at least the semi-finals on four out of five occasions – only missing out in 2012. In 2004 and 2008, they won silver medals after being defeated both times by USA.
Brazil might have been directly qualified for the tournament due to being hosts, but they still participated in the Women's version of Copa America, that serves to find the two South American Olympic teams. Brazil ended up winning the tournament, with Colombia placing second.
Brazil has an aging squad and for several key players, especially Formiga, this could be the last chance for them to win a big tournament. In recent years, the team has had a hard time living up to the expectations around them, and they haven't been considered as one of the best in the world. However, Brazil are a team you can never underestimate. They have the individual stars to hurt any team.
Key players
There's no doubt that the biggest name of them all is Marta. The Rosengård player won the title of Best Women's Football Player five years in a row. And while she perhaps hasn't been considered the best in the world lately, she is still class and has the abilities to outclass any player on a good day.
A lot depends on how Marta's tournament goes. If she plays well, Brazil plays well. Someone like Cristiane can be a bit hit or miss but she is a goal getter, and if she has a good tournament that will take some of the pressure of Marta and give Brazil more strings to play on.
While Brazil are mostly an attacking side, a defender such as Monica will play an integral part for this side. Brazil are in a good group against teams that won't just sit back, so the defence will have to function, especially if they, as expected, make it out of the group.
The squad
Goalkeepers: Barbara, Aline.
Defenders: Fabiana, Monica, Rafaelle, Tamires, Poliana, Erika, Bruna.
Midfielders: Thaisa, Formiga, Marta, Andressa.
Forwards: Debinha, Andressa Alves, Cristiane, Raquel Fernandes, Beatriz.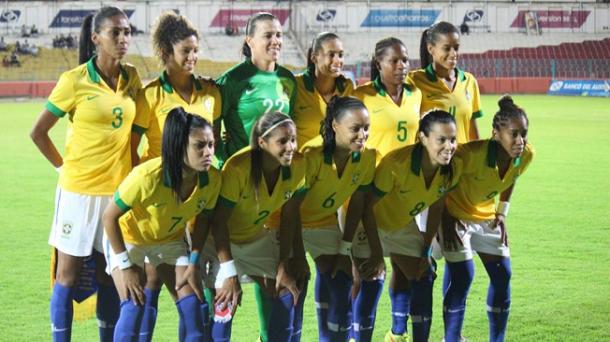 Sweden
Sweden are one of three European nations at the Olympics this year. Unlike France and Germany, they didn't earn a direct qualification through their placement at the latest World Cup. Instead, they had to fight it out against Switzerland, the Netherlands and Norway in a qualification tournament that was held back in March.
Here Sweden were victorious after beating both Norway and Switzerland 1-0, before drawing with the Dutch. This will be the sixth time Sweden are at the Olympics, after featuring in every single Olympic tournament since Atlanta in 1996. This also means that they have featured at every single Women's Football Tournament at the Olympics.
Despite being at every single tournament, Sweden have yet to medal at the Games. In 1996 and 2000 the Scandinavian side crashed out in the initial group stages, but in 2004 they enjoyed what has so far been their best run, when they reached the semi-finals. In Beijing (2008) and London (2012) they were defeated in the quarterfinals.
Sweden are a team that always have certain expectations attached to them. They're always expected to do well at big tournaments. This Olympics Tournament is no different. In the latest big international women's tournament, the World Cup in Canada, Sweden far from delivered.
They looked tired and lacked that organisational structure they're known for. Post World Cup Sweden has been a different story, however. A new system, 4-3-3, new players getting called-up, and new players being introduced to the starting eleven, seems to have rejuvenated Sweden.
Pia Sundhage has for some time been criticised for playing it safe, calling up the useful suspects and not being inventive enough with Sweden. But with a new system and calling up players like Stina Blackstenius, Fridolina Rolfö and Magdalena Ericsson, among many, she seems to have taken this to heart. And while many still feel she could do more, this has been positive so far for Sweden.
Key players
Sweden has many recognisable names, and quite a few could be featured in this section. The Obvious ones would be the likes of Lotta Schelin, Caroline Seger and Nilla Fischer, who have all, time and time again, shown their qualities. However, Kosovare Asllani, who has been out in the cold for some time, has got back into Sundhage's plans, and has been sensational in the past few games for Sweden.
The former forward has been utilised as a midfielder recently, and she will be the main attacking and creative link between the midfield and the forwards – a key element for Sweden. Hedvig Lindahl, Sweden's goalkeeper, has been great for the nation, as well as her club Chelsea, and when Sweden come up against some of the better sides, she will have to bring her A-game.
The squad
Goalkeepers: Hedvig Lindahl, Hilda Carlén.
Defenders: Jonna Andersson, Magdalena Ericsson, Jessica Samuelsson, Emma Berglund, Linda Sembrant, Nilla Fischer.
Midfielders: Caroline Seger, Kosovare Asllani, Elin Rubensson, Lisa Dahlkvist, Emilia Appelqvist.
Forwards: Olivia Schough, Lotta Schelin, Stina Blackstenius, Fridolina Rolfö, Sofia Jakobsson.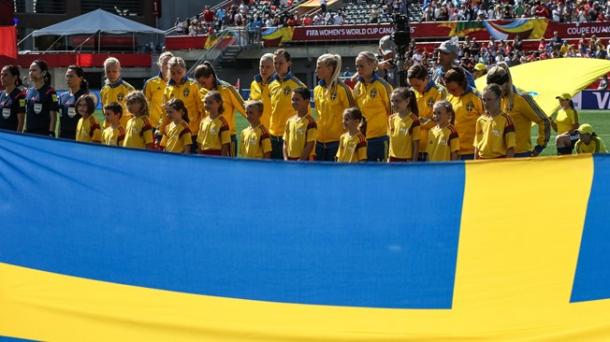 South Africa
South Africa, or Banyana Banyana, will make their second appearance at an Olympics, after making their debut at London in 2012. Banyana will be at Rio after placing as one of the two best teams at the 2015 CAF Women's Olympic Qualifying Tournament. The other team was Zimbabwe. South Africa entered the qualifying in round two, where they would face off against Gabon over two legs.
They overcame the west-central African side easily, after winning 2-3 in Gabon, before resoundingly beating them 5-0 at home. Kenya awaited in round three, where two 1-0 victories where enough to see them through to the fourth and final round. Here Equatorial Guinea were narrowly beaten 1-0 on aggregate, after Jermaine Seoposenwe scored in the 62nd minute in the second leg game.
In their first appearance at the Olympics in 2012, SA were sent out in the Group Stage, but they were in a group against the likes of Sweden, Japan (eventual 2nd place) and Canada (eventual 3rd place). They were beaten heavily by both Sweden and Canada, but managed to hold Japan to a 0-0 draw.
South Africa enter the competition without a lot of expectations on them, but a recent 1-0 loss against USA showcase perfectly that they should not be underestimated. USA are the best women's team in the world, and to only lose 1-0 is a feat many can't boast to have achieved.
However, while this result shows the positives, the latest 4-1 loss to New Zealand a few days ago shows the other side of the coin. They can be very up and down, and this instability can cost them against three strong sides. South Africa have to be considered the weakest team in the group, but they're a hard working team, with a lot of flair, and in the game against USA they showed resilience and guts. If they can be more structured and organised, they could do well.
Key players
If Banyana Banyana are to succeed players like Jermaine Seoposenwe, Janine Van Wyk, Amanda Dlamini has to perform. Seoposenwe, who plays for American University Samford, is the most likely goal scorer in the team. She was top-corer in the qualification for the team, and in the recent loss to New Zealand, she scored the lone goal. Seoposenwe is someone who reads the game well and has an eye for her teammates.
Van Vyk is a veteran of the game, and the South African skipper will have to be at her very best in the heart of the defence. South Africa will most likely have to withstand a huge amount of pressure against the likes of Sweden and Brazil. Dlamini, or Toki as she is called, is another experienced player, who operates in the midfield. She reached the milestone of 100 games for her country, when SA played against USA.
The squad
Goalkeepers: Roxanne Barker, Andile Dlamini.
Defenders: Lebohang Ramalepe, Nothando Vilakazi, Noko Matlou, Janine Van Wyk, Bambanani Mbane,.
Midfielders: Mamello Makhabane, Stephanie Malherbe, Robyn Moodaly, Amanda Dlamini, Linda Motlhalo, Refiloe Jane, Leandra Smeda, Mpumi Nyandeni.
Forwards: Shiwe Nogwanya, Jermaine Seoposenwe, Sanah Mollo.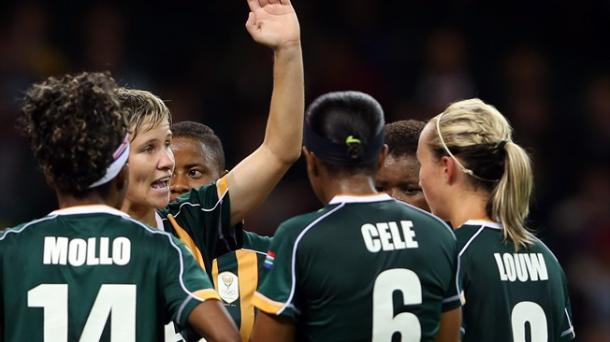 China
China have been an almost constant presence at the Olympics. They've been at every single tournament except for the one in London 2012. Their to date best result is a silver medal in Atlanta in 1996. They qualified to Olympics via the AFC Women's Olympic Qualifying Tournament.
With narrow wins over Vietnam, Korea DPR, Japan and Korea Republic they did enough to ensure themselves a spot at Rio together with Australia. They also managed an impressive 1-1 result against a strong Australian side in the final game of the qualification.
China, or Steel Roses as they are also called, are sending a young, but interesting team. They have got former manager of France Bruno Bini in as new boss and they come to the Olympics on the back of a good World Cup campaign in Canada in 2015, where they reached the last eight.
This China side has a lot of good young technical players, who have no trouble dribbling past a few opponents. But they perhaps lack a bit in structure, physicality and height, which could be a problem – especially against a team like Sweden.
The key players
China might not have the most well-known players, but someone like 26-year-old forward Wang Shanshan is someone who has delivered on the biggest stage before. She scored crucial goals at the World Cup in Canada, and again in the AFC qualification.
She is their main goal scoring threat, and she seems to be in good form. She hasn't always been a forward for China though, as she was a central defender up until a few months before the World Cup in 2015. However, she had been utilised as a forward before for her club Tianjin. Wang's pace will be crucial for China. Another interesting name is the young Wang Shuang, who has showed incredible skill in the games she has played in for China.
The squad
Goalkeepers: Zhao Lina, Zhang Yue.
Defenders: Liu Shanshan, Xue Jiao, Gao Chen, Wu Haiyan, Li Dongna, Zhao Rong.
Midfielders: Li Ying, Tan Ruyin, Pang Fengyue, Zhang Rui, Yang Man.
Forwards: Ma Xiaoxu, Yang Li, Wang Shanshan, Wang Shuang, Gu Yasha.