Germany kicked off their Rio 2016 campaign with a 6-1 win over Zimbabwe on Wednesday night; the African nation enjoying a historic debut at the Games but ultimately finding their opponent to be too good.
Mighty Warriors withstand early pressure
Zimbabwe got us underway at the Arena Corinthians in Sao Paulo, and this might be the closest they were to the German goal for all of the first half.
The crowd was behind the Mighty Warriors, cheering on their every action, serving as a pantomime crowd, while villainizing Germany to make for a great atmosphere. It was obvious from the get go that this would be a game where Germany would dominate possession, and where Zimbabwe would have to work under immense pressure.
Germany's first chance came in the second minute when Anja Mittag, from long distance, fired a shot straight at Zimbabwe goalkeeper Lindiwe Magwede. Germany had 20 shots in the first half, many of them coming from long distance shots, with Melanie Behringer especially fancying herself a go.
We didn't have to wait long until Germany's first big chance though. It came via Simone Laudehr, who half volleyed a shot onto the post. The next big chance would also fall to the Bayern Munich midfielder when a great Isabel Kerschowski cross was laid off to her, but a last ditch tackle from a Zimbabwean defender denied her the opportunity to finish.
This characterised the Mighty Warriors' first half well; they were fighting their heart out and blocking crosses left, right and centre. However, they were also overly physical, and Laudehr became an unfortunate victim to this in the 13th minute when she twisted her ankle after a late tackle by Lyness Mutokuto. Her teammate from Bayern Munich, Melanie Leupolz was her replacement.
After this, Zimbabwe managed to have a bit of play in the German half, but other than a few corners, it didn't amount to anything and the German pressure was soon back on them. However, they could take some comfort in the fact that the crowd was still behind them, and chants in their favour were heard ringing around the stadium.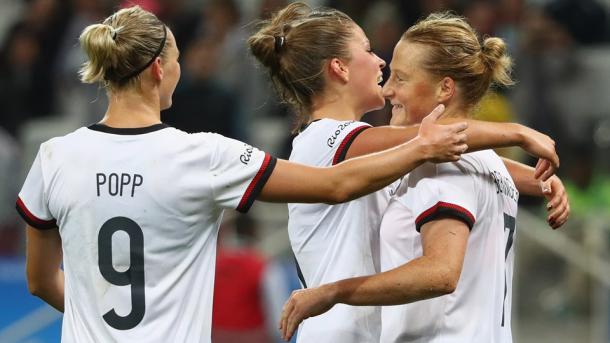 Germany break the deadlock
It was only a matter of time before all that pressure would result in a goal and on Germany's first corner of the game, Sara Däbritz rose up and headed the ball into the net. 1-0 to the Germans.
Just one minute later, Germany had a shot that looked destined for goal, but it was blocked. On closer inspection it was blocked by a hand/arm, but the referee waved to play on, much to the dismay of the Germans.
What followed was 10 minutes of long shots from Silvia Neid's side, some more dangerous than others. At the 35th minute mark Germany had 15 shots, with five of them finding the target.
In the 35th minute though, VfL Wolfsburg's Alexandra Popp rose up to meet a Leupolz cross and found the back of the net. The forward had a few headed attempts in this match, and this time she managed to direct it on target.
Fittingly the half ended with Kerchowski going down after a late challenge by Nobuhle Majika and with a long distance shot by Behringer, which hit the woodwork.
Mighty Warriors strike back, but so does Behringer
Five minutes into the second half, Zimbabwe's Rutendo Makore curled a shot at the far right corner. Almuth Schult weakly parried the shot in the German goal and it fell straight to Kudakwashe Basopo, who took no time putting it into the back of the net.
1-2, and Zimbabwe had scored a goal in their first ever appearance at an Olympic tournament. A momentous achievement for the African nation, and they celebrated it like they should have too.
It looked like a chance for them to get back into the game too, against all odds. However, Behringer would score a magnificent free kick just three minutes later to re-establish Germany's lead - albeit without taking away from Zimbabwe's big moment still.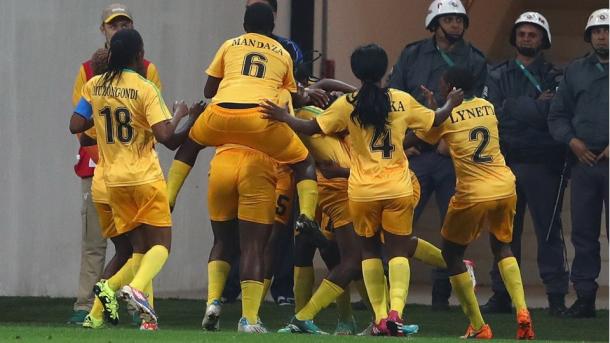 Goals galore
Shortly here after Mittag got not one, but two big chances. Her first came after Popp had a shot blocked, but the striker, who plays for Paris Saint-Germain, fired over.
Moments after this Mittag was certain she had finally scored, but her effort was blocked heroically and the lead remained stuck at two.
Popp and Lena Goeßling would later follow suit with big chances, but it wasn't until Leupolz was fouled in the area that Germany would get their fourth. Behringer initially missed the penalty, but on the rebound she fired it past - or through, even - Magwede.
This opened the floodgates and, just four minutes later, a neat little flick from Popp found Leupolz who gets herself on the scoresheet to make it five.
Late in the match, an own goal from Eunice Chibanda, after some lovely work by Goessling, added to the misery for Zimbabwe.
The match ended 6-1 and, as the scoreline suggests, it was a dominant display from Germany. Zimbabwe gets their first goal of the tournament though, and they certainly showed a lot of heart.
Next up; Germany will face Australia, who were beaten 2-0 by Canada earlier this evening, while Zimbabwe will face the Matildas' conquerors.