Following Reading's 1-2 loss to Manchester City VAVEL spoke to Royals goalkeeper Mary Earps about the loss and the confidence that comes with regular starts.
Although the result is not what they wanted, Earps and her teammates can take heart from a strong team performance that kept the league leaders at arm's length for most of the match,
"I think we kept them at bay really well, we were organised and compact which frustrated them, which is exactly what we wanted to do. It was a good team performance from us," she saidd.
"We've had a tough eleven days, we've had three very competitive matches and I think people would have written us off to concede a lot more against a such a strong side [Man City], but that just shows the character we've got in this team.
"Even though we're disappointed that we lost we will take a lot from a very close game against a side at the top of the league and we've got them again in three weeks so we've got to do it all again."
After Izzy Christiansen opened the scoring late in the first-half, Toni Duggan effectively sealed the win ten minutes from time with a thunderbolt fired right into the top corner,
"The first one, it's a free header from so many yards and it's just one of those things," Earps said. "The second is just a great strike, to be honest. I don't like conceding but sometimes these things happen and there's not much you can do to stop them."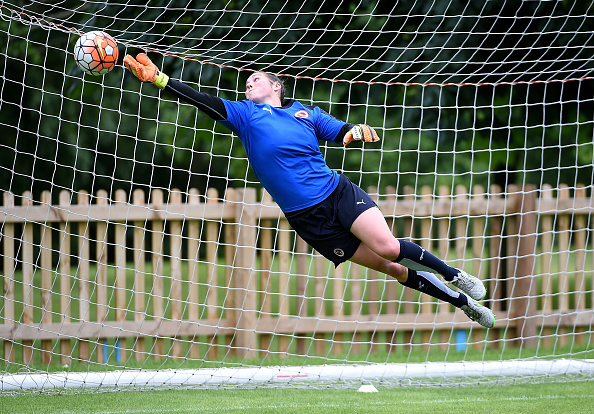 Positives to take
Lauren Bruton's last minute penalty whipped the hosts into a frenzy as they chased a stoppage time equaliser, but they were unable to carve out one last opening. Still, the loss comes with a strong performance that Royals can build on.
"You've only got to look at their past few fixtures or their run of form throughout the season to know that they're in great scoring form – and we were aware of that coming into this game, and we don't like conceding, as a team, so the aim was to keep them at bay.
"We would love to have taken something but we'll be realistic and take a lot from our performance."
During the first-half of the season, Earps was in frequent rotation with Republic of Ireland international Grace Moloney but, with the former first-choice keeper on loan to Aston Villa, Earps has been enjoying her time as first name on the teamsheet,
"It's good to know where you stand in a team. Kelly [Chambers] and Phil [Cousins] made it really clear to me that I'd be playing and that I'd be the number one and that's really important.
"When you know you'll be playing week in week out you're just looking to keep that consistency, train hard and do whatever you can for the team."
Fast becoming draw specialists, this was another game gone by which saw the Royals again miss out on their first league win of the season. However, Earps insists that Reading won't stop until they get that maiden victory.
"We're chasing that win; we're not looking to take draws from anyone or any game," she said.
"We're pleased with the six draws we're had, I don't think people would have looked at us and thought we'd have six points at this stage in the season.
"We've got a few weeks off now and we're going to train very very hard and prepare for each individual match and the win will come, there's no doubt about that."