Jessica Samuelsson could miss the rest of Sweden's group games at Rio 2016 with a sprained ankle.
The right-back was stretchered off as her country opened up the Olympics on Wednesday with a 1-0 win over South Africa, and it seems that Pia Sundhage will be forced to change the defence that kept a clean sheet as a result.
An x-ray revealed that nothing is broken, but doctor Mats Börjesson says that the Linköpings FC player will need "a few days up to a week" to recover.
With Sweden's clash against Brazil just two days away, and the final group game with China in five, this could end Samuelsson's tournament if her country don't qualify for the knockout stages in her absence.
No serious damage, but time against Samuelsson
While the full-back's injury is not a serious one, the demanding schedule of the Olympics means that she is facing a race to play again in Rio.
The games come thick and fast and Samuelsson is clearly keen to play her part again, working away on an exercise bike on Thursday morning while the rest of the squad trained together.
Speaking to Sportbladet, Börjesson said that it is a "classic" sprain, with the anterior ligament having been damaged "by turning the foot outward."
However, "nothing else is damaged" and it is not a "serious" problem, so she will be back "soon," he added.
"We have not given up. Medically speaking, she is not excluded."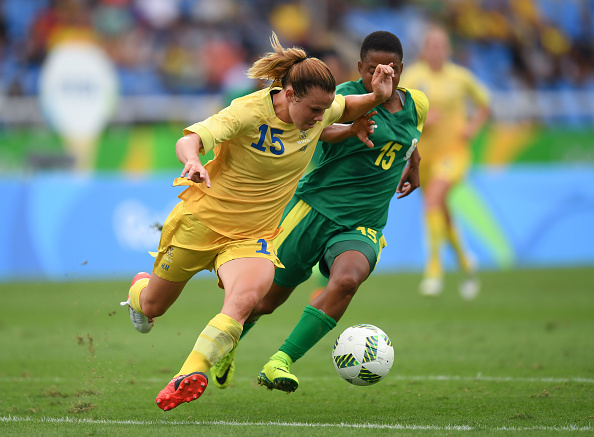 Rubensson a ready replacement
With Samuelsson all but ruled out of Saturday's game, Elin Rubensson will be ready to step in and fill the void in defence.
The Göteborg FC defender was a regular for Sweden at last summer's FIFA Women's World Cup, starting three of their five games, but has found herself out of the starting line-up at the beginning of this tournament.
Samuelsson's rehabilitation is going well, with her ankle "not as swollen" now and her also walking without crutches, but with Rubensson a top quality replacement, there is no need for Sundhage to rush back her first choice.