UEFA released their three-player shortlist for the UEFA Best Player award for the 2015/2016 season this morning. The three finalists are Ada Hegerberg (Olympique Lyonnais), Amadine Henry (Portland Thorns) and Dzsenifer Marozsán (Lyon).
Although the other players, bar Hegerberg, are now with new clubs, their performances for their previous clubs, Olympique Lyonnais and 1. FFC Frankfurt respectively, have earned them the recognition to be on the final three shortlist for UEFA's award this season. The three were nominated from a shortlist of ten players from across Europe through a poll voted on by 20 ESM-selected journalists for this prestigious award.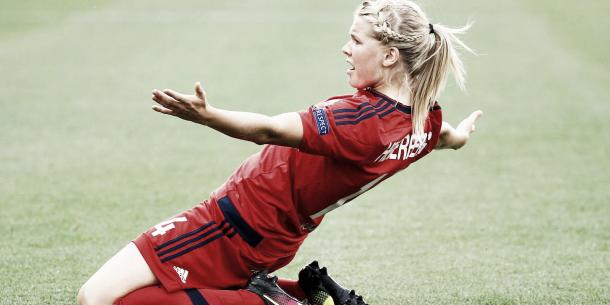 Hegerberg leads Lyon to another UWCL title
The youngest of three nominees at just 21 years of age, Ada Hegerberg has been nothing short of sensational for Lyon all throughout the 2015/2016 season, domestically and during the UEFA Women's Champions League. The young Norwegian finished as the top goal scorer in both the Division 1 Féminine and in the Champions League as well.
In France, Hegerberg made a total of 26 appearances in both league and domestic competitions, scoring 41 goals overall and helping Lyon retain not only their league title once again but also the Coupe de France Féminine. In Europe, Hegerberg was again the top marksman as she finished the competition leading the scoring charts with 13 goals and also helped herself to four assists. Although she missed a penalty in theChampions League final, her goal in normal time helped Lyon to their third Champions League title.
At international level, Hegerberg was awarded the Norwegian Golden Ball for 2015 and became the first woman to win the award since its inception. Her performances for Norway have also been excellent and in 2015 she helped the nation reach the knock-out stages of the FIFA 2015 Women's World Cup. So far in her international career, the forward has scored 15 goals for her nation and has helped them qualify for Euro 2017.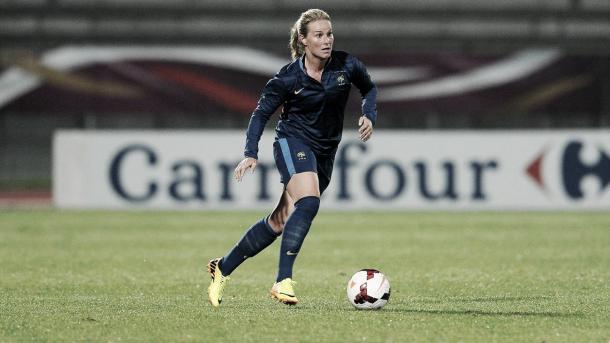 Henry continues to shine in midfield
For so long, Amandine Henry was synonymous with Lyon's midfield, but when the season ended so did Henry's time with the French club. She decided to not renew her contract and make her way over to the US to play in the NWSL for Portland Thorns. Her obvious talent and consistency have not faded away, however, it was her performances for Lyon in the previous season that have gained her this particular recognition.
Along with former teammate Hegerberg, the defensive midfielder helped Lyon to their 14th Division 1 Féminine title, their eighth Coupe de France Féminine triumph and their third Champions League win. During her last season at Lyon, Henry was unfortunately injured for most of the season, but she did manage to make three league appearances and score three goals during that time period.
On the international stage. Henry was part of the French national team that was at the World Cup which was eventually knocked by Germany in the quarter-finals. Henry did win high praise for her performances in the midfield and her international form was part of the reason why she was nominated for this award. Henry also helped France qualify for Euro 2017.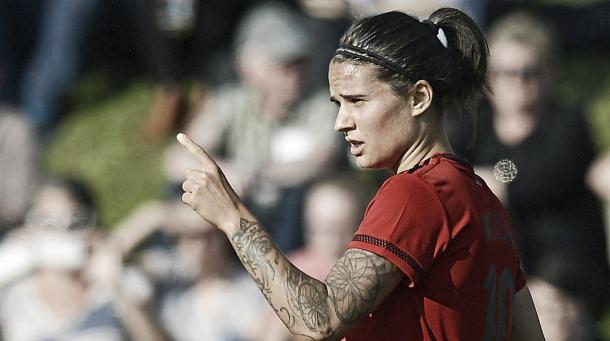 Marozsán leaves Frankfurt after another great season
The talented midfielder featured for Frankfurt this past season but has now moved and will be playing alongside Hegerberg in the upcoming campaign at Lyon. Her performances for Frankfurt and Germany have helped her reach the final three shortlist for this award.
Although Frankfurt did not win any titles this past season, Marozsán was a standout performer. Frankfurt finished fourth in the Frauen-Bundesliga and bowed out of the DFB-Pokal in the second-round, their worst domestic performances since they began. During the season, Marozsán made 14 appearances and scored nine goals. In the Champions League, Frankfurt made it to the semi-final stage before being completely outplayed by VfL Wolfsburg. The midfielder had to deal with injuries for most of the season and thus, was not as influental as she usually is for the Hesse outfit.
On the international stage, Marozsán featured for Germany at the World Cup but, again through injury, could not help her country avoid being knocked out at the semi-final stage against the USA. Before her knock, the attacking midfielder scored for Germany against Sweden to help send them through to the quarter-final stage. Marozsán has also helped Germany qualify for Euro 2017 after another stellar campaign for her.
Henry and Marozsán are currently in Brazil representing their respective countries at the 2016 Rio Olympics while Hegerberg is currently in pre-season training with Lyon.