Canada needed to win in order to take a further step towards qualifying for the next round at Rio 2016, and they did exactly that as Christine Sinclair and a Janine Beckie brace gave them a 3-1 victory over Zimbabwe.
Yet, they may feel they've let an opportunity of registering a bigger win slip from their hands, as goal difference does count significantly in this tournament.
Superlative first 45 minutes from Canada
Canada promptly showed their intentions as they put everything into Zimbabwe's own half from the first whistle and they did not wait long to break the deadlock, when Beckie capitalised on a Sinclair assist to put her team in front after only seven minutes.
Diana Matheson almost doubled the lead minutes later, but Zimbabwe goalkeeper Chido Dringirai was quick in parrying her effort.
As time went by, Canada remained spirited and composed and made it difficult for the African nation to inch their way up the pitch. Skipper Sinclair converted from the penalty spot on the 18th minute to double the lead, after Dringirai had pulled down Sinclair herself in a clumsy way while avoiding a potential expulsion from the match's official.
The Canadian side put the final nail in the coffin with a third goal, courtesy of Beckie who fired a shot past Dringirai to give her nation a three-goal lead at half-time.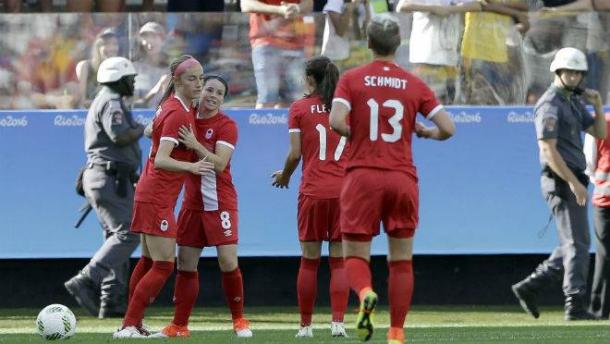 Subdued second half
Despite taking all three points from this tie, Canada looked to have taken their off the gas pedal after the interval.
They started to pass the ball around without trying to force the final action in order to extend their lead, content with just keeping possession in their own half and in the middle of the pitch.
They may have had a Sinclair goal disallowed for offside, but they rarely gave a hard time to Zimbabwe's back line after the break.
Instead, it was the latter who pushed for a goal, as unlikely as a way back into the match seemed. While Canada looked to be comfortably on their way to a 3-0 victory, the Africna nation had other plans and at least registered themselves a consolation.
Mavis Chirandu caught Canada's back line sleeping and, with an easy tap-in, reduced the scoreline to a more respectable 3-1 defeat.
However, this hardly concerned Canada as, with them the only nation in their group to have won both of their first two games, John Herdman's team have now qualified for the next round of the competition.
Furthermore, there were more positives for Zimbabwe who, after scoring against Germany last time out, added a goal against Canada to that as they continue to enhance the sport's reputation in their country.