In the final group stage game it was France who were victorious against a hard-working New Zealand side.
Eugenie Le Sommer opened the scoring before the break, with Louisa Cadamuro adding a brace in the second half.
New Zealand came into the game with a chance of qualifying as the third best team, whereas France had the opportunity to secure first place, if the result in the USA-Colombia match went their way.
Tony Readings, the manager of New Zealand, named the same starting eleven as the one that lost 2-0 to USA in their opener. France, knowing they were most likely qualified, rested a few players, but still played with a strong starting eleven.
Dull opening half, Le Sommer makes the difference
At the start of the game, it was two sides who were clearly trying to test one another, and both teams had some possession without it amounting to much. New Zealand earned a free-kick in a dangerous position, but Katie Bowen smashed it into the wall and the subsequent corner didn't come to anything. After this, France slowly started to gain control of the game. They began to get more and more of the possession, going closer and closer to goal.
Young left-back Sakina Karchaoui looked bright, and had several good runs down the left. In the 35th minute, France's manager Philippe Bergeroo substituted Marie-Laure Delie for usual starter Eugenie Le Sommer, and there was an instant result. Just three minutes later, Elise Bussaglia hit the post after a fantastic shot from distance, and Le Sommer was there to put in the rebound; 1-0 to France.
After this it was all France, and on the brink of halftime, it looked as if they would extend their lead. After a few shots the ball was diverted towards goal, and ended up falling to Le Sommer who was out of balance and couldn't get a proper shot off, ensuring it remained close at the break.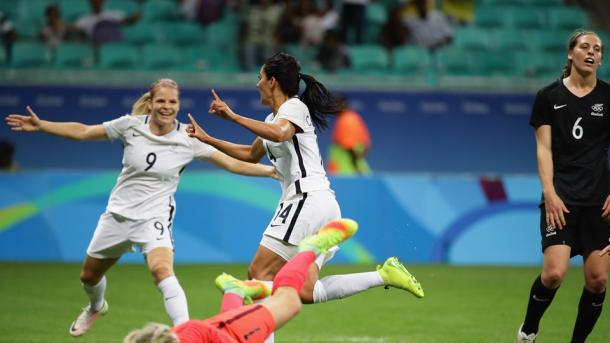 Second half picked up where first half left off. France had most of the possession, and it was limited what chances New Zealand had in the second period. France also put on the brakes, but still had spells with some nice combination football that resulted in scoring chances.
In the 63rd minute one of those spells resulted in Bussaglia playing the ball out wide to Elodie Thomis, who put in a cross that found the head of Louisa Cadamuro. She sent it past Erin Nayler in goal to double the French's lead. France coasted for the rest of the game, and New Zealand looked like a team that had admitted to defeat. In the final minutes of the game, France were awarded a penalty, which Cadamuro calmly slotted home.
France are definitely through to the knock-out stages, but New Zealand have to wait until Sweden have played China to find out there fate. If China beat Sweden by two goals or more, or if Sweden beat China by more than four goals, New Zealand advance.