In what should have been a simple win to end their group stage matches, Brazil could not find a way through a determined South Africa. In the end, the match finished with no goals and a frustrating chain of events for the hosts.
Brazil knew coming into this match that they had qualified for the quarter-finals and had decided to rest a number of key players including Marta. Cristiane was unavailable for the match as she had picked up an injury in the previous match. South Africa, on the other hand, had nothing to play for except pride and they played like a team that was determined to leave the Rio 2016 Olympics with something to remember.
Chance after chance falls for each team
The Brazilians started on the front foot as expected and they pushed to get an early goal whereas South Africa relied on using their pace and technique to catch Brazil out on the break. These tactics were evident as Brazil almost took the lead in the sixth minute through Andressa Alves. The forward was picked out with a chipped ball by Andressinha but she could not get a good enough to contact to take her shot past Roxanne Barker. Three minutes later, South Africa broke forward with pace and it took Aline coming quickly off her line to prevent the South Africans from grabbing the lead.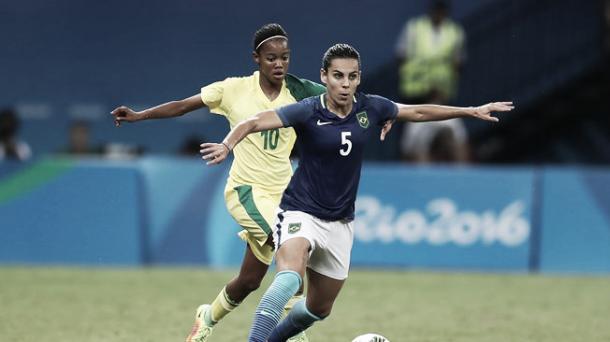 Both teams continued to trade opportunities but at every moment, the two goalkeepers Barker and Aline, were quick off their lines to prevent a real shot at their goal. If it was not the goalkeepers playing very well, it was also the rushed efforts from both teams, in particular Raquel Fernandes for Brazil and Noko Matlou from South Africa, that resulted in the half coming to a close with no goals to show for all their efforts.
Marta comes on but cannot find a way past Van Wyk
At the half, Marta was substituted into the game as head coach Vadao went all out for the win. Even Marta seemed unable to find a telling pass or get enough time and space to get Brazil the goal they so desperately pushed for. A large reason for that was the defensive work of Janine Van Wyk who was outstanding in the heart of South Africa's defense along with Barker.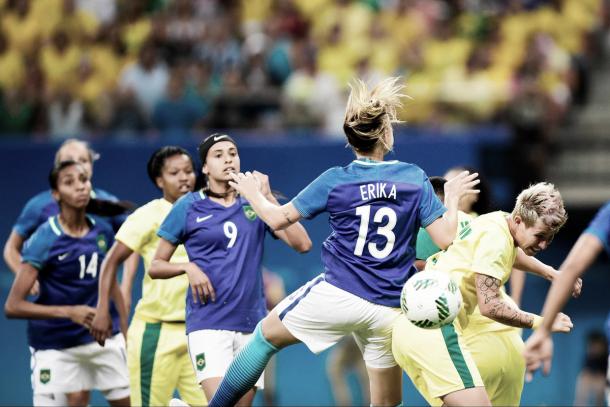 It was in the last fifteen minutes of the match that Van Wyk and Barker proved their worth and showcased South Africa's resilience. The first instance was in the 77th minute when Marta found herself unmarked in the box after a corner-kick. Just as the Brazilian superstar was about to shoot at goal, Matlou made a last ditch tackle which prevented the shot from being taken.
A few minutes later both Van Wyk and Barker had to stand tall on more than one occasion as the Brazilians threw everything at the South African goal. Both players denied substitute Fabiana and Raquel Fernandes from sure goals as they continued to repel all attacks at their goal. Barker was almost at fault for gifting a goal near the end of the match as the ball slipped underneath her body but her defenders were there to clear the ball. It would have been harsh on Barker and her teammates had that ball gone in as they had worked very hard to keep a clean sheet.
Brazil will now face Australia in a repeat of their last meeting in teh quarter-finals of the 2015 FIFA Women's World Cup while South Africa will now make their way back home after finishing last in Group G.