Having dealt perfectly well with the weight of expectation thus far, Brazil's women find themselves one step closer to glory at Rio 2016 having booked their place in the quarter-finals.
While the men continue to falter and underwhelm, Vadão's side continue to entertain. Even a goalless draw in their last group game with South Africa couldn't dampen the spirits, what with qualification already secured.
In fact, the side have impressed so much, that - captain and star player - Marta's name was being chanted by fans when Neymar and co. drew with Iraq and extended their goal drought in the competition to 180 minutes.
However, having navigated past heavyweights Sweden and a promising China team - both with flying colours, one must add - the knockout stages are completely different. With everything to gain and nothing to lose, they bring much tougher tasks and, with it, more unpredictability.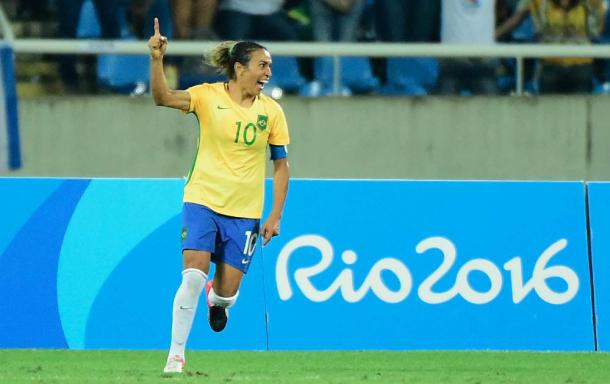 Aussies looking to make up for lost time
Brazil's opponents tomorrow will be Australia, who's track record does not represent their quality.
The Matildas endured an indifferent group stage campaign, which began with a rather poor 2-0 defeat to a Canadian side reduced to 10.
A rather commendable 2-2 draw with Germany followed, albeit only on paper. In reality, Australia were two up in the game, but surrendered their seemingly comfortable advantage to drop two points - in dramatic fashion too, Saskia Bartusiak scoring in the 88th minute.
Their 6-1 win over Zimbabwe was expected, but they were to qualify only as one of the best third placed teams due to their eight goals scored being less than Germany's nine.
However, the Matildas have shown their talent throughout the three games, particularly going forward. Captain Lisa De Vanna's star performance against Germany included a lovely assist that saw her make a fool of Annike Krahn, while Sam Kerr has been a menace all week.
Michelle Heyman bagged herself a brace in their latest outing, while Caitlin Foord has been amongst the goals too - all this without Larissa Crummer, the 20-year-old who top-scored in Australia's W-League this season, having even made an appearance yet.
Will the Matildas continue to falter in defence?
The Aussies have plenty in their locker going forward, and a ton of fight in midfield with the likes of Elise Kellond-Knight and Emily van Egmond, but it is in defence where they are suspect.
Such is the team's desire to attack, they get caught out at the back quite regularly, as has already been seen several times at Rio 2016.
And, unfortunately for them, they are set to come up against arguably the most in form attack at the competition. Backed by terrific home support, Marta and co. have been simply a joy to watch so far.
A fluent performance against China, in a 3-0 win, was followed up by the dismantling of Sweden's supposedly rigid defence, with the final score there reading an impressive 5-1.
They drew a blank against South Africa, the minnows of the group, but with players rested with qualification already assured, the result was hardly cause for concern.
Which way will the psychological scale tip?
Brazil have risen to the occasion so far in Rio, and will hope to continue to do so tomorrow.
However, Australia know all about defying the odds, having done so at the 2015 FIFA Women's World Cup to rise to aid their rise to the current dizzy heights of fifth in the world rankings.
Most notably, they defeated Brazil on their way to the quarter-finals last summer, narrowly winning 1-0 having managed to deal perfectly fine with an admittedly not-as-on-song attack.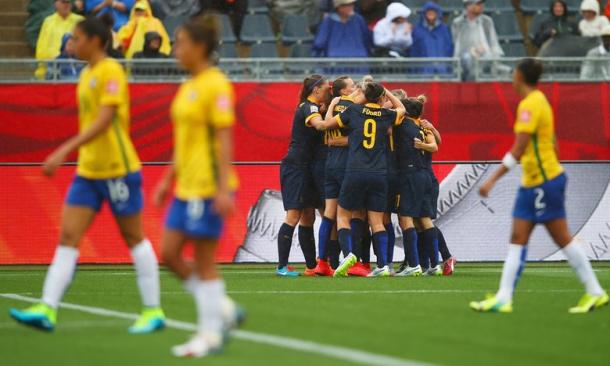 Nonetheless, this stage remains the furthers the Matildas have ventured in the Olympics. They reached the last eight at Athens 2004 - having failed to get out of the group stages in their home Games four years earlier - only to be upended by Sweden.
Brazil went all the way to the final in that tournament, beating the Swedes in the last four but losing to the USA in the gold medal match.
Despite this, it is their experience in the latter stages of the Olympics that could prove vital in this fixture. The home nation have reached at least the semi-finals in four of their five appearances at a Summer Games, with their only time not doing so coming four years ago.
Having twice claimed fourth place and twice a silver medal, the determination to go all the way in their own country will be massive. And, if they do that, one would imagine that those in the stands will play a large part - as they are likely to in this game too.