Following their second loss to Manchester City within a week VAVEL spoke to Belles boss Emma Coates as well as Arsenal loanee Carla Humphrey about the games on the horizon.
Despite yet another heavy loss Coates was pleased with the team performance but was left to rue conceding preventable goals, "We've worked a lot on shape and the tactics, and I think we got the tactics right today but we made three big mistakes and got punished. We gifted them one fifteen seconds in then conceded two from set-pieces, which was tough, I think we've been dealing with set-pieces well recently and haven't conceded from one in a while so that's really disappointing."
After a less than perfect return to WSL 1, other teams make have buckled under the pressure and found it hard to keep fighting after eight games and five months without a win but Coates will always make sure her side take positives, even in defeat, "For me, Man City are the best team in the league and the fact that we had a lot of possession and forced them to camp in their own half is a positive within itself."
Coates trying to stay positive
She added, "We've got a really good group, we know we've got a lot of games in hand and a really good run of fixtures and it's really important that we get things right in the next two weeks going into the next game."
Philosophy, luck and finally that first win, "We've worked really hard to get a philosophy all about process, we're a process driven group and we know it's going in the right direction. Once we get that first result under our belts the confidence will lift, maybe get a bit of luck on our side but as it is the longer it goes without that first point the harder it is."
With eight games still to play, Coates will demand 100% from her side each game, no matter how big or small the opponent, "We've got to go all out for all of them, we're probably one of the few teams that have decided to press and play high against Man City. Each game for us is 11 versus 11."

With a two week break before their next competitive match the Belles faithful is set to have something (or someone) to cheer about sooner rather than later as Courtney Sweetman-Kirk's rehab is continuing at a fine pace, "Courtney's come a long way, obviously after such a bad injury it's been a slow road back but she's in a good place. She's ahead of schedule but we don't want to rush her back."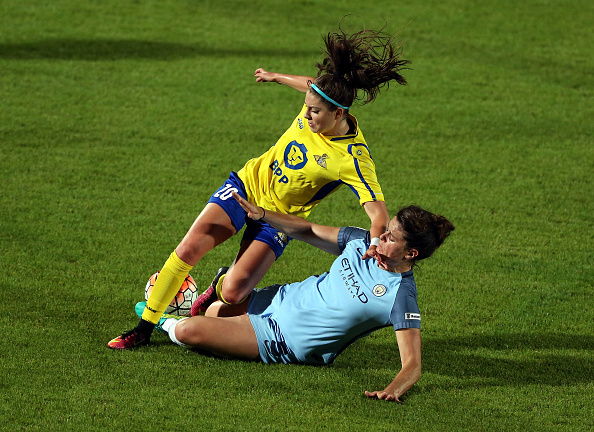 Humphrey has her say
We also spoke to Carla Humphrey about costly mistakes and the mood in the dressing room. Despite the loss the midfielder could already see positives to take from the match, "We looked more patient in possession and it's disappointing that a few silly mistakes cost us the game but game by game we're definitely making progress and everyone can see that we're building. We've got big games coming up and we know we need to perform in them."

The Belles are a close-knit side and the poor results haven't affected the mood in the dressing room, "I think the mood has always been pretty good, we're a very together team, we're passionate and we do have belief but that belief is definitely growing with each game."
The temptation to look at the teams around them in the table is usually too great for fans to resist but Humphrey and her teammates prefer to focus on their game rather than worrying about anyone else, "We've said we're not going to look at the table and just focus on us, people are going to underestimate us and we just want to prove a point. We know that win is coming, the performances are getting better week by week we just need to get the points."
She continued, "We've had tough games with Chelsea and City but we've got games coming up that we know we need to get points from."
With eight games still to play, including squaring up against Arsenal, Liverpool and Reading for the first time this season, Humphrey is looking to overturn the result against Notts County as well as eyeing up a tasty double-header against Liverpool: "Against Notts we came very close, it will really good to play them again and put things right this time and we haven't played Liverpool yet, that will be an exciting one."