With just 30 days until the 2016 Formula One season starts again with the traditional curtain raiser in Melbourne, Mercedes have certainly been busy over the winter break.
The Silver Arrows have won the last two drivers championships as they have seen Lewis Hamilton win back to back titles, as well as a few minor issues with fellow teammate Nico Rosberg on the way.
Hamilton was crowned champion in Austin last October after storming to victory in the United States Grand Prix. Mercedes won 16 out of the 19 races last season with Hamilton taking 10 victories compared to Rosbergs six, whilst Sebastian Vettel of Ferrari won the other three races to provide the only other competition for the German race team.
The championship winners gained a total of 706 points for their efforts in 2015 as they cruised to the second title in as many seasons. Mercedes will know that the title won't be a breeze this season as the likes of Williams and Ferrari continue to move closer for competition.
Will Rosberg continue to bring the fight to Hamilton?
Mercedes team boss Toto Wolff has mentioned on a number of occasions in the last two seasons about the relationship between the two drivers, but it is clear that the two don't see eye to eye. Hamilton and Rosberg have crossed paths before, and with the British driver dominating procedures for the past couple of years, the German isn't going to give up that easily.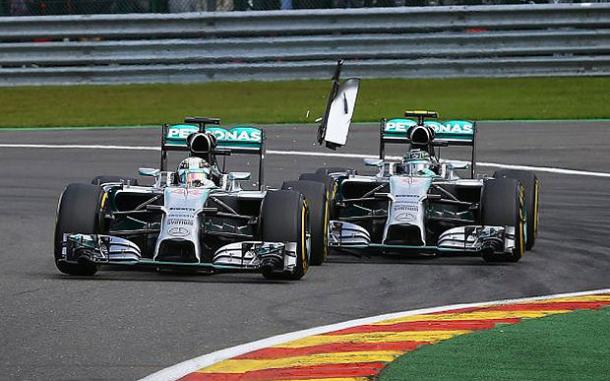 Rosberg was all but out of the title hunt for the majority of last season but seemed to have found his form towards the end of the season which saw him claim wins in the last three races. This may have been down to Hamilton easing off having won the championship already, but Rosberg will obviously not want to see it as this way.
"I want the dominance to continue but if it were to continue like this I need to think what we do so we do not become the enemy," Wolff said when asked if the drivers were going to be able to drive more freely in 2016.
It is obvious that Mercedes will be the clear favourites to lift another trophy come the end of the season, but as other teams have strengthened, this may not be as straight forward as expected.
In 2014, Mercedes secured 701 points, last season was 706 so with the two driver's points combined, Mercedes should continue to be the ones to beat - providing the pair of Hamilton and Rosberg drive for the team and avoid any mishaps like previous seasons.