When Felipe Nasr and Marcus Ericsson crossed the line in fifth and eighth, respectively in the 2015 Formula One season opener in Australia, the 14 points hauled were of a great relief to a team desperate for a break.
A pointless 2014 campaign and severe financial hardship meant that drastic action was needed to ensure survival into 2015 and beyond. By signing Nasr and Ericsson and their sponsorship money, Team Principal Monisha Kaltenborn hoped that the squad would be able to improve.
However, Giedo van der Garde claimed​ he had a contract to race in 2015 and a court order stopped any running in FP1 on Friday morning. By the afternoon it was all resolved and the new duo provided a huge dose of respite on the Sunday.
With a reliable Ferrari Power Unit and a respectable chassis in the C34, Sauber hauled 36 points in 2015, and finished eighth in the constructors. Now with the team having gelled together and technical director Mark Smith comfortable in his surroundings, it is time for the dependable Swiss outfit to push on in the forthcoming campaign.
10th in the constructors is a must
As a smaller, independent team, Sauber often struggle financially and along with Force India made a complaint to the EU about the perceived unfairness in the way Bernie Ecclestone distributes the prize money to teams, in a bid to increase the fairness of distribution of the sport's massive revenue.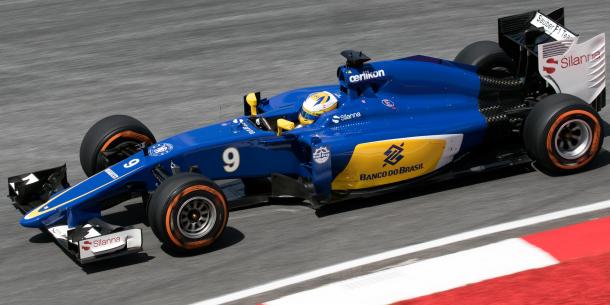 Formula One Management (FOM) only covers the cost of freight for the top ten in the constructors and so having this benefit can have a massive impact on a team's budget for development. With the arrival of Haas and Manor now powered by Mercedes, things could get tasty.
Sauber will be hoping to capitalise on their immediate rivals' teething troubles and score big points early on in the season and consistently throughout. Pre-season testing showed the three teams to have strong pace and consistent lap-times. Whoever develops resourcefully, at the end of the season will find themselves in the coveted top ten.
The Drivers
Stepping up to F1 last season, Felipe Nasr immediately caught the eye on debut, by finishing in fifth. That was the best ever result by a Brazilian on debut, and seeing as Brazil can claim Ayrton Senna, Nelson Piquet and Emmerson Fittipaldi as some of its favourite sons it really an outstanding achievement.
Regarded as one who could forge a long and successful career, Nasr proved the step up wasn't too big and he quickly showed consistency and had good race craft. Bringing home the lion's share of the points last year, 27, he will be looking to kick on and avoid second season syndrome.
Marcus Ericsson had a lot of critics to silence in 2015. Many saw him as a pay-driver and not too much was expected. After a disastrous season in 2014 with Caterham, this was Ericsson's first opportunity to show what he was capable of. In Melbourne, he brilliantly overtook Sergio Perez into T1, and showed tenacity and self-belief all throughout the year.
Their season in one sentence
After stabilising the team, how far can a brilliant Brazilian and super Swede Samba Sauber up the grid in 2016?