​Mercedes ​driver Nico Rosberg ​convincingly won his sixth straight Formula 1 Grand Prix in the ​Chinese Grand Prix held at Shanghai. ​
From pole, Rosberg comfortably led the field home, but the story of the race is a different matter. ​Ferrari's Sebastian Vettel claimed second whilst ​Danill Kvyat returned ​Red Bull ​to the podium with a plucky drive.
​Daniel Ricciardo ​claimed fourth, a result he will be disappointed with, Kimi Raikkonen fifth, ​Felipe Massa sixth, ​Lewis Hamilton ​seventh, ​Max Verstappen ​eighth, ​Carlos Sainz ninth and Valtteri Bottas ​rounding out the points.
​Early China Chaos
​From second place, Ricciardo got ahead of pole man Rosberg to lead early on before he got a puncture on the third lap. From there Rosberg was largely untroubled easing home for his 17th Grand Prix win, taking him one clear of ​Sir Stirling Moss's ​record of 16 wins without a World Title. All of the action was behind Rosberg.
To avoid the fast starting Kvyat, Vettel had to take avoiding action, resulting in a collison with teammate Raikkonen. Apologetic to his team, Vettel laid the blame clearly at the door of the Russian - to which he responded "​That's Racing". From last, Hamilton was hit by Felipe Nasr, who was avoiding Raikkonen, causing him to lose his front-wing. After a high-octane opening five laps, with debris littering the track, which caused Riccairdo's puncture, a Safety Car was called for. ​​​
In the opening laps, Mercedes switched Hamilton's strategy to damage limitation, with him pitting twice in as many laps. After his final stop, Hamilton took too much out of his medium tyres and struggled to pass Massa, coming under pressure from Verstappen. After the safety car, Rosberg disappeared, leaving those behind to fight it out. Sebastian Vettel, flying on his new SuperSofts, quickly dispatched the traffic and got himself upto second place, which he held.
With many close wheel-to-wheel battles, this was yet another strong F1 race, that proves the sport should be praising it's postive aspects, of which there are many. It goes to show that the efforts by Bernie Ecclestone ​to create more unpredictable races through the use of the now eliminated elimination qualifying was not needed.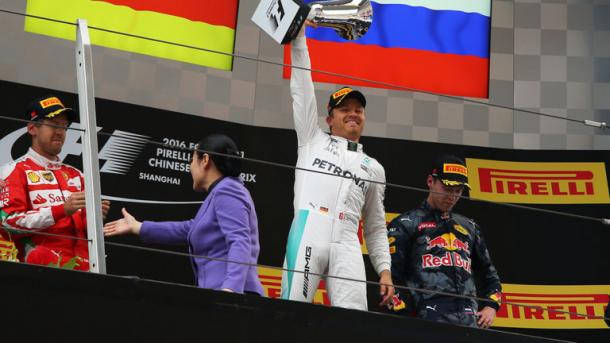 ​​McLaren close:
​​Finishing P12 and P13, ​Fernando Alonso and Jenson Button ​will be disappointed. For long periods, it looked as though McLaren would score decent points. It wasn't to be, but the fact that they were so close to doing so and annoyed that they didn't make it through to Q3 on merit shows how strong the chassis ans Power Unit are. ​Sauber ​endured another disheartening afternoon, finishing well-down and with finnanical worries it remains to be seen how much they can develop and get to the races.
​Renault​ finished P17 and P22, with ​Kevin Magnussen and Jolyon Palmer respectivly. Seeing as Red Bull finished third and fourth with the same engine, it shows that the chassis isn't up to scratch and needs serious development work. ​Haas endured a dissapointing race, with no points, as did ​Force India, although Nico Hulkenberg claimed his second career fastest lap. Manor once again were quick, but are lacking overall downforce through the corners.
​​​​​​For only the sixth time in Formula 1 history, there were no retirements, with Palmer coming home one lap down.
​Conclusions:
​Nico Rosberg has momentum, history and luck on his side. After three races and three wins, he is 36 points clear​ of Lewis Hamilton, that is one race win, a fifth and a 10th place finish. He has now become the driver with most wins without a championship, he is now joint favourite with Hamilton​. He has had a perfect start, keeping his nose clean and his teammate getting all the bad luck .
Many said that after clinching the title in the US, Hamilton eased off toward the end of the season, allowing Rosberg his wins in ​Mexico, Brazil and Abu Dhabi. However, with his three wins to start this season, the Brit has a serious fight on his hands to win his fourth title.EUTERS​
Heading to Russia ​in two weeks, Rosberg will be hoping to end his bad luck at that event and extend his winning run to seven in a row. He is in a great position to emulate his father, Keke ​and become Formula One World Champion.