At the most prestigious race on the Formula One calendar, Red Bull Racing's Daniel Ricciardo produced a magical lap of the Monegasque streets to claim his maiden Pole Position.
The Australian's time of 1:13.622 was quick enough to see off the best efforts from Mercedes who "were surprised" with his pace after Thursday practice. Nico Rosberg will join Ricciardo on the front row – 0.169 off the pace.
Lewis Hamilton hit trouble early in Q3, reporting a loss of power over the radio, resulting in him losing out on one run in the final segment. Eventually, he got out and after some warm-up laps, he could only manage the third fastest time.
Ferrari struggled when it mattered and an irate Sebastian Vettel could only manage fourth. Kimi Raikkonen, with a gearbox penalty, will start P11.
Verstappen crashes out
Down at Red Bull, qualifying could hardly have had contrasting results. Max Verstappen, on a high after his brilliant win in Spain, after a morning skirmish at Massanet in FP3, was on a flying lap, but exiting the Swimming Pool, he clipped the barrier, breaking his right-front suspension, sending him into the barrier. He was okay, but admitted afterwards he'd "turned in a bit early".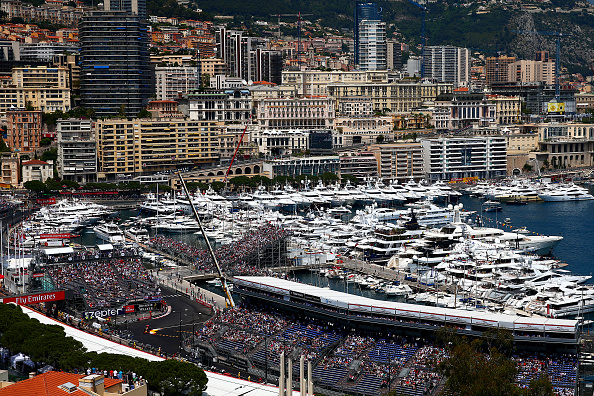 The accident brought out the second red flag of Q1. As soon as qualifying got underway, there was a red-flag to retrieve the Sauber of Felipe Nasr, whose engine blew up in the tunnel. After the stoppage times indicated a close battle up front, with it being Vettel topping the session, on a 1:14.610. Hamilton, Rosberg, and Ricciardo were all in close proximity.
Marcus Ericsson, Jolyon Palmer, Rio Haryanto and Pascal Wehrlein joined Verstappen and Nasr in dropping out.
Even closer still in Q2
In the crescendo at the end of Q2, it went unnoticed by many that Rosberg pipped Hamilton to top spot by 0.013. That was after the Brit managed to lap the circuit in 1:14.056, nearly 0.5 up.
Again fourth in Q2, Ricciardo has played things differently. As drivers start the race on the tyres with which they set their fastest times in Q2, the Red Bull driver will be on SuperSofts whilst all around will be on UltraSofts. Which is the best way to go is unsure, but it's an interesting split in strategies.
On a circuit that doesn't match their package, Williams duo Valtteri Bottas and Felipe Massa struggled and were eliminated along with Jenson Button, Esteban Gutierrez, Romain Grosjean, and Kevin Magnussen.
Ricciardo rules
Hamilton's troubles began as soon as Q3 began, and after a few tense moments, a fuel pressure problem was found to be the problem. Meanwhile out on track, with his first lap, Ricciardo produced the eventual pole lap, the stunning 1:13.622. Vettel was nearly a full second back.
Try as they might, no one could get near the benchmark time with Nico Hulkenberg, Raikkonen, Carlos Sainz, Sergio Perez, Danill Kvyat, and Fernando Alonso rounding the top 10 out.
Rain is forecast for tomorrow's race, and if it comes, the race could well be a classic.
Monaco Grand Prix – The Grid
1. Daniel Ricciardo – Red Bull
2. Nico Rosberg – Mercedes
3. Lewis Hamilton – Mercedes
4. Sebastian Vettel – Ferrari
5. Nico Hulkenberg – Force India
6. Carlos Sainz – Toro Rosso
7. Sergio Perez – Force India
8. Danill Kvyat – Toro Rosso
9. Fernando Alonso – McLaren
10. Valterri Bottas – Wiliams
11. Kimi Raikkonen – Ferrari*
12. Esteban Gutierrez – Haas
13. Jenson Button – McLaren
14. Felipe Massa – Williams
15. Romain Grosjean – Haas
16. Kevin Magnussen – Renault**
17. Marcus Ericsson – Sauber
18. Jolyon Palmer – Renault
19. Rio Haryanto – Manor
20. Pascal Wehlein – Manor
21. Max Verstappen – Red Bull
22. Felipe Nasr – Sauber
*Raikkonen's five place grid penalty applied for a change of gearbox
**Magnussen under investigation for running the red light in Q1 at the end of the pit-line after Verstappen's crash.