At a circuit where he has claimed pole position four times previously, ​Lewis Hamilton ​made it five around the Circuit Gilles Villeneuve, taking his 53rd Formula One career pole by just 0.062 from Mercedes teammate Nico Rosberg.
​​The Briton managed to lap the Ile Notre-Dame in 1:12.812, to complete his excellent form all weekend, including being fastest in both of Friday's practice sessions. ​Sebastian Vettel ​did his best to catch the Mercedes, and was just 0,178 down on Hamilton's time. ​Daniel Ricciardo and ​Max Verstappen's lack of engine power, despite a ​Renault upgrade was evident as they could only manage fourth and fifth.
​​​​​Fustration for Palmer
​There were just 21 drivers taking part in the qualifying session, as ​Kevin Magnussen's Renault was damaged beyonf repair after a crash at T7 in the morning practice session. Rain was a looming threat throughout the session, but the bulk of it stay away with only a few drops at the end of the session. The ​Sauber's struggled again for pace, and were both kncoked out, as were the two ​Manor drivers, although Pascal Wehrlein was close to making it through and ​Rio Haryanto hit the barrier and brought an early end to the session.
​​​​​​​Jolyon Palmer missed the cut by 0.015 and was disappointed, comparing the gap to a "​sneeze in the car".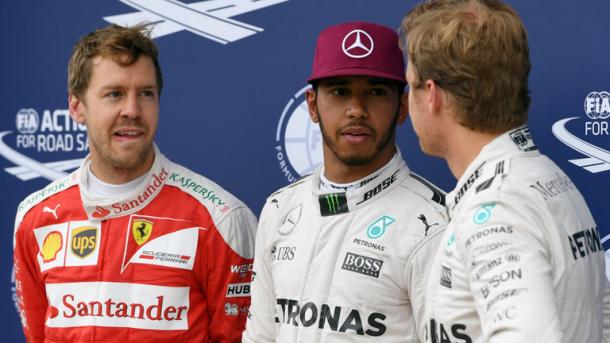 ​Inter-team battles hot up in Q2
​The start of Q2 was halted by Carlos Sainz ​hitting the Wall of Champions and grinding to a halt just past the start/finish line. Unlike many others Sainz was unlucky, when his ​Toro Rosso's rear right tyre clipped the wall and spun the front ​round to make terminal contact with the unforgiving concrete. It soon became clear that two of the four ​McLaren and Force India drivers would miss out on a place in the shootout, with the fall guys being ​Jenson Button and Sergio Perez, denied in a last gasp lap by ​Nico Hulkenberg.​​
​The two ​Haas ​drivers struggled for heat in their tyres and thus pace, and ​Esteban Gutierrez, in a standout performance out-qualified ​Romain Grosjean.​ ​After a close Q1, Mercedes showed what their true pace was, around half a second clear of P3 - Ricciardo.
Hamilton's charge
​​It all came down to the first runs for the Mercedes in Q3. Hamilton was first to complete his time, the 1:12.812, whereas Rosberg could only lap in 1:12.874. On the second runs, Hamilton couldn't improve, and Rosberg aborted after a mistake into T1.
Max Verstappen was in third after the first runs, but he fell down the order, when Vettel went to the max - lapping in 1:12.990. Ricciardo was just over a tenth behind the Ferrari ​and the ​Williams's ​only managing a dissapointing fourth row lock out. ​Fernando Alonso ​will start tenth for McLaren.
It is lights out at 19:00pm UK time on Sunday evening:
Canadian Grand Prix - The Grid
​​1. Lewis Hamilton - Mercedes - 2. Nico Rosberg - Mercedes
3. Sebastian Vettel - Ferrari - 4. Daniel Ricciardo - Red Bull
5. Max Verstappen - Red Bull - 6. Kimi Raikkonen - Ferrari
7. Valterri Bottas - Williams - 8. Felipe Massa - Williams
9. Nico Hulkenberg - Force India - 10. Fernando Alonso - McLaren
11. Sergio Perez - Force India - 12. Jenson Button - McLaren
13. Esteban Gutierrez - Haas - 14. Romain Grosjean - Haas
15. Carlos Sainz - Toro Rosso - 16. Danill Kvyat - Toro Rosso *
17. Jolyon Palmer - Renault - 18. Pascal Wehrlein - Manor
19. Felipe Nasr - Sauber - 20. Rio Haryanto - Manor
21. Marcus Ericsson - Sauber ** - 22. Kevin Magnussen - Renault
* Kvyat's three place grid penalty for colliding with Magnussen in Monaco applied
** Ericsson's three place grid penalty for collding with Nasr in Monaco applied.​