A lap of 1:42.758 was good enough to secure ​Mercedes ​driver ​Nico Rosberg ​the maiden pole position around the Baku street circuit. In a session of contrasting fortunes, after a scrappy qualifying hour, ​Lewis Hamilton ​hit the T9 wall, breaking his right front suspension, causing a red flag in the process. He will start in tenth position.
Behind the German, it will be ​Daniel Ricciardo joining him on the front row, with Sebastian Vettel​ behind, but only by virtue of Ricciardo setting his fastest lap first, as the two could not be separated, with their laps being timed to within 0.000 of each other, something the Ferrari ​driver couldn't believe.
​Kimi Raikkonen ​will complete a Ferrari second row in fourth, ahead of ​Felipe Massa, Danill Kvyat, Valtteri Bottas Sergio Perez, Verstappen and ​Hamilton. Perez actually qualified second fastest, but a crash in the morning FP3 session meant a gearbox change would put him back five places.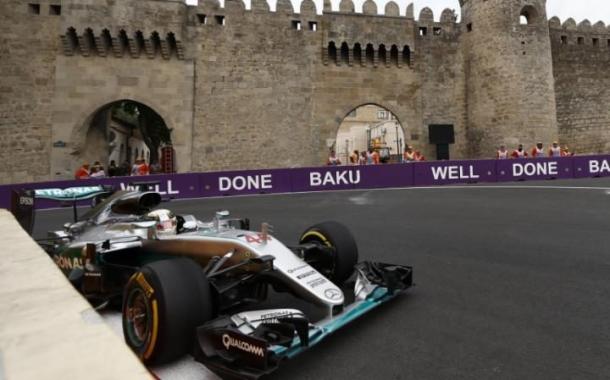 ​So near for Haryanto:
​​As Q1 got underway, Hamilton's domination of practice and serene confidence seemed to evaporate. It started at T15, the scene of so many run-offs during the weekend and the World Champion added his name to the list, although it wasn't that serious.
Getting underway at 17:00pm local time, the session would be subject to a setting sun, but this did not put Rosberg off, whose time in the opening segment was by far the quickest time set so far around the Baku streets.
​McLaren ​had shown promising pace in practice, although this evaporated when it mattered on Saturday afternoon. ​Jenson Button ​failed to set a time that would see him through and he will line up a dissapointing P19. ​Fernando Alonso ​just made it thorough.
It was yet another promisng drive from ​Rio Haryanto. ​The Indonesian driver out-qualified highly rated teammate ​Pascal Wehrlein, ​and just missed out on being the first ​Manor ​into Q2, for the first time this season. He missed out by under a tenth of a second. with Marcus Ericsson and the ​Renault ​duo of Kevin Magnussen ​and ​Jolyon Palmer ​joining them in being eliminated.
​Confusion for Hulkenberg in Q2:
​The Force India ​team have been constantly near the top of the timing screens throughout the weekend, and were hoping to get both drivers into Q3, however on his final run, in the bottom 6, Nico Hulkenberg ​boxed, wihilst the chequered flag was flying. He believed he didn't have enough fuel for another lap, although race engineer Bradley Joyce told him he did have enough fuel, but not enough time. He will start P12.
Joining him in being eliminated was ​Romain Grosejean ​who will be relieved in out-qualifying ​teammate ​Esteban Gutierrez ​for the first time since Spain. He will start P11, with the Mexican P15. ​Carlos Sainz, Fernando Alonso and Felipe Nasr ​were the other three drivers who failed to make it.
Meanwhile up front, Rosberg laid down a startling marker, with his lap time of a 1:42,520 being, at the time he set it, a sizeable 1.7 ahead of Perez in P2. Hamilton's troubles continued when his lock up at T7, briefly put his participation in Q3 in doubt.
​Rosberg's delight:
​During the first runs in Q3, ​Verstappen ​made his feeling be known when he felt he was blocked by Bottas at T1, and got him back on second runs after the red flag. It was Perez who lead the timing sheets after the first runs with both of the Mercedes setting unrepresentative times, with Hamilton's fastest sector 1 time counting for nothing after another incident in T15.
Under pressure, it was with just over two minutes remaining that exiting T8 and entering T9, just by the castle when Hamilton clipped the inside wall, causing a right front suspension breakage, leading to the red flag. Almost simultaneously, Rosberg was busy setting his pole position lap, even having the time to brush up against the T15 wall on exit.
He didn't go out again after the red-flag, with only Ricciardo improving on position.
​European Grand Prix - the grid:
​​1. Nico Rosberg - Mercedes
2, Daniel Ricciardo - Red Bull
3. Sebastian Vettel - Ferrari
4. Kimi Raikkonen - Ferrari
5. Felipe Massa - Williams
6. Danill Kvyat - Toro Rosso
7. Sergio Perez - Force India*
8. Valtteri Bottas - Williams
9. Max Verstappen - Red Bull
10. Lewis Hamilton - Mercedes
11. Romain Grosjean - Haas
12. Nico Hulkenberg - Force India
13. Carlos Sainz - Toro Rosso
14. Fernando Alonso - McLaren
15. Esteban Gutierrez - Haas
16. Felipe Nasr - Sauber
17. Rio Haryanto - Manor
18. Pascal Wehrlein - Manor
19. Jenson Button - McLaren
20. Marcus Ericsson - Sauber
21. Kevin Magnussen - Renault
22. Jolyon Palmer - Renault
*Perez's five place penalty for a gearbox change applied.