Consolidating his advantage from the morning practice session, Lewis Hamilton​ comfortably headed the second practice session ahead of Sunday's British Grand Prix ​from Silverstone. The ​Mercedes ​driver's main competition, teammate Nico Rosberg, meanwhile lost out on crucial high-fuel long runs as his W07 suffered a water leak, which ended his session before he could get any laps in. ​
The German, just 0.033 off of Hamilton in FP1, seemed all set to get out after the minor problem was fixed, but when firing up the PU106C​ Power Unit, the team noticed an irregularity and decided to save the engine, by not sending him out. Conversely, the sister Mercedes lapped the Northants/Bucks circuit in 1:31.660, which was 0.4 faster than the 2015 pole time, and 0.391 clear of P2 man ​Red Bull's Daniel Ricciardo.
​Behind him, teammate ​Max Verstappen, ​Ferrari duo ​Sebastian Vettel ​and Kimi Raikkonen​ were third, fourth and fifth respectively. ​Fernando Alonso ​capped off an impressive day for ​McLaren ​by finishing P6, with teammate ​Jenson Button ​P9, after a "​very strange power on application of the throttle" issue affected some of his session. ​Valtteri Bottas, Romain Grosjean ​and Felipe Massa ​were seventh, eighth, and tenth respectively.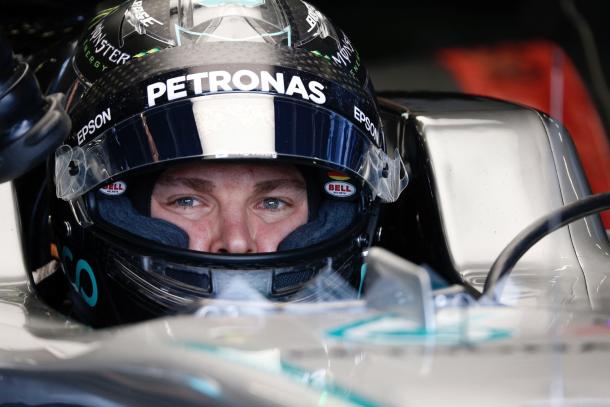 ​The story of Second Practice
​After some initial medium running, it was Hamilton who headed the field, before Vettel, on new soft tyres, lapped the 3.666 miles in 1:32.570, taking P1 in the process. On his first lap with the soft tyres, the blistering time of 1:31.660 sent Hamilton 0.9 clear of P2, although he reported gearbox synching trouble.
Quickly afterwards the impressive Red Bull's responded, with Verstappen even going through S1 quicker than the Mercedes. Despite Ricciardo ending up 0.391 down, the race-simulation averages indicate a close battle between them, as they were both lapping in the 1:37.7's. As for the Ferrari challenge, they focused on medium tyre running and so times aren't useful for analysing race-pace, although it does look as if, it is not to far away from the W07 and RB12.
The Williams's. at a track that has been kind to them in the past couple of seasons, looked comfortable, but are lacking the downforce, through Maggots, Beckets, Chapel high-speed section.
After a strong strong morning, both Force India and ​Toro Rosso ​slipped back down the order, with the former focusing their attention on Hard-tyre running whilst the latter had a difficult, messy session, with ​Danill Kvyat​ breaking a fonrt wing after a spin at the final turn, Club, and ​Carlos Sainz, ​channeling the inner spirit of his father, Rally legend ​Carlos Sainz Senior​.
Haas ​enjoyed a fruitful afternoon, with strong running hinting at yet another points scoring race, with Grosjean in a standout P8 and Esteban Gutierrez​, just outside the top 10.
Near the back of the field, ​Joylon Palmer claimed bragging rights at Renault​, and the Sauber of ​​Felipe Nasr ​had an improved session, with a credible P14, it was ​Rio Haryanto ​who received the second practice wooden spoon, finishing 0.8 down on the Renault of Kevin Magnussen.
​British Grand Prix - Second Practice times
​1. Lewis Hamilton - Mercedes - 1:31.660
2. Daniel Ricciardo - Red Bull - 1:32.051
3. Max Verstappen - Red Bull - 1:32.286
4. Sebastian Vettel - Ferrari - 1:32.570
5. Kimi Raikkonen - Ferrari - 1:32.736
6. Fernando Alonso - McLaren - 1:33.040
7. Valtteri Bottas - Williams - 1:33.493
8. Romain Grosjean - Haas - 1:33.614
9. Jenson Button - McLaren - 1:33.763
10. Felipe Massa - Williams - 1:33.801
11. Carlos Sainz - Toro Rosso - 1:33.840
12. Esteban Gutierrez - Haas - 1:34.000
13. Danill Kvyat - Toro Rosso - 1:34.139
14. Felipe Nasr - Sauber - 1:34.154
15. Nico Hulkenberg - Force India - 1:34.321
16. Sergio Perez - Force India - 1:34.356
17. Pascal Wehrlein - Manor - 1:34.549
18. Jolyon Palmer - Renault - 1:34.610
19. Marcus Ericsson - Sauber - 1:34.772
20. Kevin Magnussen - Renault - 1:34.959
21. Rio Haryanto - Manor - 1:35.841
22. Nico Rosberg - Mercedes - NO TIME