Whoever came up with the idea in the mid-20th century of running Grand Prix cars around the perimeter road of an old RAF airbase and along the runways, must be commended, for this weekend marks the 50th time Formula One has come home to where it all began on May 13th 1950, Silverstone for the ​British Grand Prix​. To mark the landmark, sit back, relax and maybe learn about races you weren't aware of, or relive those fantastic memories of Nigel Mansell​, here is five of the all time classic ​​British Grand Prix.
​1969 Stewart - Rindt
​The 1969 season was unquestionably (Sir) Jackie Stewart's cleanest, although 1971 may have a wothwhile case. Over the course of the seasons 11, races he won 6, and his first win at the home of British motorsport was one of his finest 27 wins.
Held on July 19th 1969, moved forward a day to Saturday due to the first moon landing, Stewart lined his Matra-Ford up on the grid in P2 alongside poleman ​Jochen Rindt's Lotus- Ford. It was race between the two rivals, between them leading the entire 84 laps, Rindt 51 and Stewart 33. Dicing, lap after lap, corner after corner, the titanic battle many had hope would come to fruition finally did in front on the non-partisan British crowd, but on lap 63, predictably Rindt - or rather his Lotus hit trouble.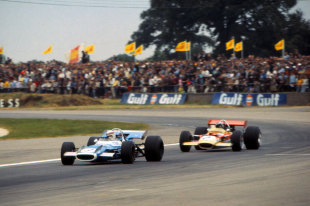 A loose rear-wing, quite redimentary back in the day, held a growing sense of doom to one of his rear tyres and so ​Colin Chapman called him in to repair it. Once, it was Stewart was long gone, winning by a full lap over ​Jackie Ickx's Brabham-Ford. It was over for Rindt though as a late splash-and-dash cost him a podium, with the McLaren driven by ​Bruce himself coming home for 4 world championship points.
​​​​​The Stewart - Rindt on-track battle should've continued on, as they both won the World Championship, although Jochen would never know this. In practice for the 1970 ​Italian Grand Prix at Monza, under braking for the Parabolica, his car snapped into the catch-fencing causing fatal throat injures. The question of who would've come on top of the Stylish Stewart or Rugged Racer Rindt is up there with the Clark-Stewart and Senna-Schumacher debates...
​Emotional first for Frank
Coming out of the 1979 edition, ​(Sir) Frank Willams must've been feeling the proudest man in the world. As, finally after 11 years of trying, ​he was a Grand Prix winner - or rather the team that carries his name was.
​It had been 11 years of pain and testing times for the determined and driven Williams, losing close friend ​Piers Courage in a fiery accident in the 1969 Dutch Grand Prix made him doubt his future, but carry on he did, even after a pretty disastorous partnership with the Canadian Walter Wolf - no relation to Toto.
Picking up a certain designer called ​(Sir) Patrick Head, one of the most successful and respected combinations in F1 history, set about taking their team to the top. The first car designed by Head was the elegant FW07, and after a podium in Monaco, finally it all came good for man who to dodge the baliffs, used every trick in the book to simply go motor racing.
​Qualifying P1 and P4 with ​Alan Jones and ​Clay Regazonni, it was things were made a bit easier when the turbo ​Renault of Jean-Pierre Jabouille wanted an early bath. However, it was not to be for Jones, with a water leak abruptly ending his challenge, and that left Regazonni 24s ahead of ​Rene Arnoux at the chequer to lay the foundations of success in Britain asscioated with the popular team.
​​​​​​​​​​​Jones then won three of the next four, and although too late for a 1979 title tilt, just a year later Williams conquered the world, quite a far cry from just six years earlier when the Iso entered Williams scored just four points and a lowly 10th in the constructors. Talking about great Williams success stories at Silverstone that gives Vavel ​​​an idea...
1987 - Lap 63. Stowe
​'Our Nige' and Silverstone go together like Fish and Chips, Tea and Digestives, the Sunday Roast to name some great British combinations, and on July 12th 1987, he produced prehaps, one of the, if not THE greatest overtake[s] of them all.
​To say ​Mansell and teammate ​Nelson Piquet liked each other is a bit like saying Ayrton Senna and ​Alain Prost were BFF's. Using the Brazilian press, Piquet made comments about Mansell's family and taking exception, at Stowe on the penaultimate lap bar two, Piquet was made to look amateur.
​​​​Claiming pole, Piquet had Mansell covered and was all set to win the British Grand Prix when a loose front wheel bearing dropped Mansell 28s with just 30 laps to go. Not even ​'Red 5' could make that up. But Mansell didn't need 30 laps. Breaking the lap record NINE times, he carved chunks out of Piquet and knowing he had one chance to make his move, a good exit from Chapel down the Hanger straight presented such an opportunity.
"First to the left, now to the right", was how ​Murray Walker described the move to his BBC listeners as Mansell sold Piquet a third dummy and dived up in the inside at Stowe, touching wheels in the process. Needless to say, if it hadn't already 'Mansell Mania' well and truly arrived that hot summer's day.
​​​​Other Mansell magic moments at Silverstone include the memorable 1991 and 1992 editions where he romped home to take the chequer in front of his adoring fans, who after mobbing him, came back from where they came as if nothing had happened. 91 also saw the Williams graciously pick up the stranded Senna in one of the sport's most iconic pictures, witht the great Brazilian holding on for a lift home.
​Does it count?
​​Throughout his career, the great ​Michael Schumacher ​was no stranger to contreversial moments, (1994,1997 ramming excerises, Team Orders at Ferrari and the infamous 'Schumacher Chop'), but in 1998, Schmuacher won the race, but it's legality was questioned.
Qualifying second to McLaren's Mika Hakkinen​, he trailed the Finn for 42 laps in dire conditions, before a Finnish spin reduced the 49s lead he built up, before the damaged McLaren lost its advantage completely when many others followed Hakkinen in spinning and a Safety Car called for.
However, on lap 43, whilst the Safety Car was deployed, Schumacher passed Alexander Wurz and once the stewards got their act together, a stop-and-go was issued to the Ferrari. However, by the time Ferrari were notifed, a time limit on the handing down of penalties had expired, and when they called the German in, it was on the final lap of the race. But to get to his pit-box, Schumacher had to 'win' the race and technically won the race without serving his penalty.
10s was added to Schumacher race-time, in one of the weirdest finishes to any GP of the 623 at the time and 944 to date. However, Ferrari then argued that the penalty was illegal as a 10s time penalty could only be used in the final 12 laps of a race, the infraction had occured many laps before the cut off. Somehow, Schumacher became the only winner of a grand prix, sitting stationery in the pits.
Oh, and as for the penalty, it evantually got rescinded completely,​​ much to McLaren's chargain, an appeal was thrown out, and in the midst of a tight title battle, rival Hakkinen recovered to P2, losing four points to Schumacher. Funny what a bit of Ferrari pressure can do to the FIA...
​Hammertime for Lewis
​​​The 2​​008 edition of the race was held at Silverstone, in condtions not too disimilar to 1998. They all struggled to master the conditions, they all went off at least once, countless times if you're Kimi Raikkonen or ​Felipe Massa, ​but one man who did, was a certain 23 year old Brit, driving in his second British Grand Prix, for McLaren. Step forward Lewis Hamilton.
​​There'll always be those who don't like Lewis Hamilton, but even they agree that that July afternoon was one of the best wet weather drives the sport has ever seen, akin to something Senna in Monaco 1984, Portugal 1985, Europe 1993 or Schumacher in Belgium 1995, Spain 1996 or Belgium again in 1998 - (without the crash bit.)
Hamilton, from P4 on the grid immediately was up to P2 behind teammate ​Heikki Kovalainen and cleared him on lap 5, not looking back from there. A crucial choice was made in the first pit-stops, when McLaren seeing more rain coming replaced the balding tyres on the MP4-23 - having learnt their lesson from China the previous year whilst Ferrari gambled with Raikkonen and just refuelled him. Needless to say, that was the wrong call.
​A heavy flash downpour saw many spin off, ​Nelson Piquet Jr, and ​Robert Kubica among the members of that particular club, whilst Rubens Barrichello in the dreadful ​Honda Earth Dreams car, on the full wets dragged it up onto the podium, finishing a lap down in third, behind ​Nick Heidfeld's standout result for ​BMW Sauber, but he was 68 seconds down on the Walking - or should that be driving on water Brit, whose emotional win, he will hope to recreate for the fourth time this weekend.
​​​​​​​Honourable mentions and moments
Silverstone has provided many great memories including:
​1985 - A contender for the all time greatest pole lap from Keke Rosberg on slicks on a damp track took his turbo Williams and threw it around the circuit, lapping in 1:05.591 at an average speed of 160.925mph.
2003 - Rubens Barichello winning the race, dealing with everything from a punchy McLaren challenge of Raikkonen, ​Juan-Pablo Montoya and a crazed lunatic who went for a protest run down the Hanger straight.
2012 -​ Mark Webber, who hunted down Fernando Alonso's Ferrari in his Red Bull took his ninth and final F1 win, in a full-on fight between two of the toughest racers of their era.
​​​Here's hoping for another Silverstone classic come Sunday.